AMMEX Gloveworks® HD (Heavy Duty) Industrial Nitrile Gloves
Discontinued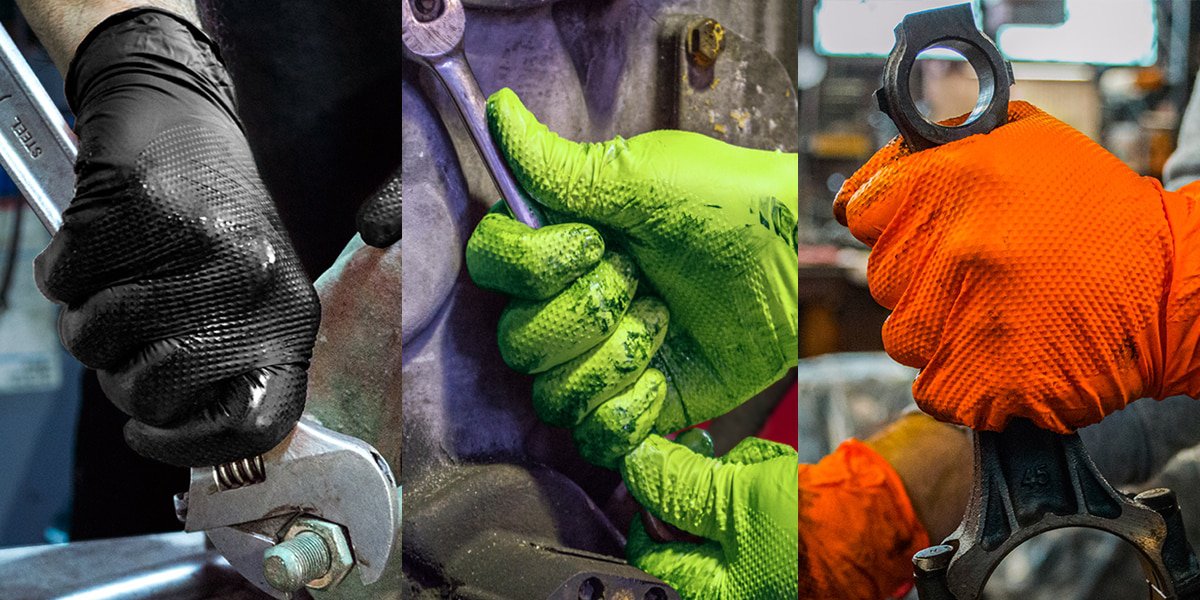 A very important tool for a mechanic isn't always the wrench, but rather his hand protection. The wrench is only as effective as it is used, and very often metal tools become slippery while working. Oil, grease, hydraulic fluids and such coat the surface of the glove and tool and this can cause havoc for the automotive mechanic. Property damage, efficiency, personal safety and focus can be compromised.
Ammex's Gloveworks® HD line of industrial powder-free nitrile gloves have been widely accepted by professionals seeking a durable, extra thick and heavily textured glove when working with caustic, slippery industrial fluids. These versatile industrial nitrile gloves will withstand the rigors of industrial applications while providing a dependable chemical barrier for the skin. Ideal for agriculture, automotive, chemical, janitorial, painting, plumbing and manufacturing job tasks.
Gloveworks® HD Attributes
Unmatched Gripping Power - No Glove Compares!
Gloveworks® HD gloves feature a pronounced anti-slip diamond textured surface on the fingers, palm, back of hand areas to act like tiny suction cups for superior wet or dry gripping power. These raised diamond texture will also perform like channels to funnel fluids through the contacted surfaces for less interference while working and greater surface contact-this translates to less slippage!
Color Option - Hide Stains or Enhanced Visibility?
In low light work conditions such as garages or warehouses, bright colored or high-vis Orange or Green gloves have multiple hand safety advantages. The first is obvious- they are easily seen by others, especially for safety directors and this leads to higher compliance rates. The second is bright colors draw attention to the hand while it works, thus preventing it from being placed in dangerous situations preventing possible injury. The black color option is often desired when working with dirt, grease or oil as black masks staining and presents a cleaner, more professional image.
Extra Thickness Means Enhanced Protection
For those interested in a very thick glove, the 10-mil Orange and Green Heavy Duty nitrile gloves fit and feel like a standard glove but equate to wearing two standard types. In fact, as the hand heats the compound, the gloves become very supple and conform to the hand as it works for an awesome fit. The extra thickness not only provides better tear resistance but also enhanced chemical resistance for longer breakthrough times and less glove changes. At 6-mils thick, the Black Heavy Duty nitrile gloves provide all the same benefits but with a thinner feel. Select these gloves when seeking protection against solvents, grease, pesticides, cleaning solutions and specialty chemicals.
Chlorinated Powder-Free
For a cleaner glove, the chlorinated rinsing process makes this glove soft and easy to don and rinses away any impurities. It is completely powder-free so there is no interference with industrial adhesives or coatings when working with these.
---
Gloveworks® HD black, lime green and bright orange colored nitrile gloves are available is sizes medium through double extra large. They are packed 100 gloves per dispenser box, 10 boxes per carton.
---
FREE DIRECT SHIPPING on 40+ Case Orders
As an
authorized wholesale distributor,
MDS is aggressively looking to earn your Ammex glove business. Please contact us for products not listed on the web, samples, non-published price discounts or volume discounts anytime! Put your Ammex gloves on automatic delivery (standing order) and we will extend you a discounted price. Don't forget to use your special coupon code to use toward your Ammex glove purchase today:
---
+800-274-4637 | +716-668-4001 | [email protected] | MDS Associates