Outdoor Safety & Heat Stress Protection
Thank goodness the long winter is finally over and spring has sprung! The sun is out, birds are singing, and before long we'll be getting the beach gear out of storage. But it's important to remember that after this particularly arduous winter not to get caught up in our outdoor excitement.
Outdoor Protection Begins When You Step Out The Door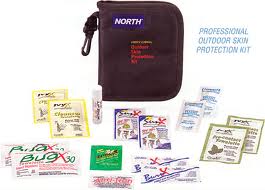 A common mistake that nearly all of us make is leaving ourselves open to exposure to the sun for too long. We're so eager to begin our work painting, landscaping or even building a sandcastle that we spend all day outside in our bathing suits or shorts, it's only later in the day that we realize how burnt our skin is. Sunburns greatly increase your risk of developing skin cancer at some point in your life, but this is an easily preventable disease.
Before you go out into the sun, especially early in the season, make sure to apply generous amounts of sunscreen to your exposed areas. The sunscreen will not only provide SPF-30 protection, but can also contain Aloe Vera gel and Vitamin E which will nourish your skin while you're out in the elements.
If you're going to be out and about for the day, it might be more convenient for you to bring an Outdoor Skin Protection Kit with you. These zippable kits are so helpful because they contain various protection products like StingX Pain Relief Pads and Hand Sanitizer Packs that you might not have anticipated needing.
Maintaining Heat Protection In The Workplace
Landscaping is a business that really picks up as the temperatures rise, but this is another outdoor activity that leaves you open to many risks. When you're active in hot weather, you are more prone to incidents like heat stroke or dehydration from perspiration. These risks can be greatly reduced by bringing Cooling Bandanas or Neck Wraps with you because they not only keep you cool, but are also lightweight and can be reused thousands of times. If you happen to be camping in a remote area, they also stay hydrated for several days which will doubtlessly come in use.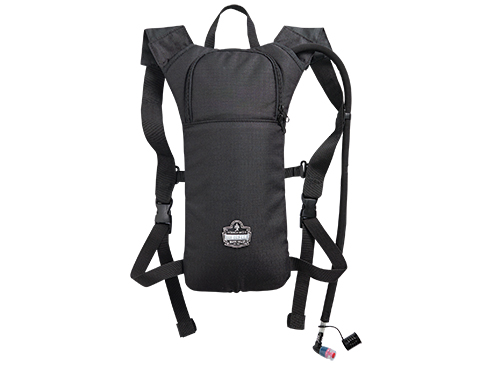 If you're going to be active in temperatures above 90 degrees, you may want to bring a Cooling Vest and a Hydration Back Pack with you to guard against overheating. For the men and women who spend the summer racing to repair our roads, equipment like this can literally be a lifesaver. Standing exposed to the sun from above and the hot asphalt below is not only very difficult, but dangerous to your health. Wearing a Cooling Vest is your best protection in this environment because unlike ice or gel packs, they provide cooling for up to 4 hours! It also doesn't hurt that their innovative design means that you only have to submerge them in ice water for 20 minutes for them to be fully energized. The Insulated Hydration Pack travels with you and is always available for immediate and constant fluid replenishment. The 2-Liter size eliminates coolers and bottles that are commonly misplaced ...and if it out of sight, it is out of mind and the result could be deadly.
Dehydration Protection In The Workplace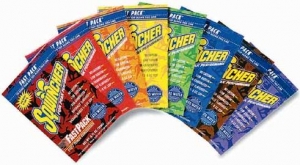 If you've ever worked in a warehouse or manufacturing plant during the summer, you know just how stifling the heat can be. Because of this you begin to sweat profusely, and unlike outdoor occupations, there is no breeze to cool you off. Sqwincher Electrolyte Drinks are designed to keep you replenished in tough conditions like this. Because they're liquid, the Fast Pack is actually your cup for a handy 6oz serving to keep you going. These great tasting drinks will also provide you with a boost of replacement Electrolytes, along with Potassium and Vitamin C. With their specially designed formula that will prevent dehydration when your body needs to replenish these specific nutrients.
Sqwincher also makes Sqweeze Zero Freeze Electrolyte Pops if you're not near drinking water like Fishermen, Farmers or even when you're out camping. Not only do these Pops have the same benefits as the packets, but they are also low calorie and low sugar for anyone who may suffer from Diabetes. If you're going to be on the go in hot weather, Sqwincher Pops are an easy and portable way to make sure you and those around you are protected from the likely risk of dehydration this summer.
Outdoor Safety That's More Than Just Skin Deep
Sadly, we will always live in a world populated with all kinds of insects that just love to bite. Not only is this irritating, but it can also expose you to diseases and pathogens. When you're not able to keep covered, it's always smart to carry Insect Repellent with you to deter these pests. Not only will you be the hero of the day for remembering to carry these when the bugs inevitably show up, but they come in small towelette packets that are no trouble to stick in your pocket. Because let's face it, you're going to need them.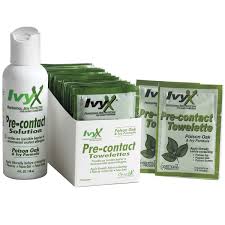 Another outdoor risk that we have to remember is the potential exposure to poisonous plants. Poison Ivy, Poison Oak or even Sumac can cause great pain, and are very common in wooded areas. Before heading out, it's important to protect your skin by applying Poison Plant Barrier Towelettes to your exposed areas. Each towelette provides enough protection for covering your face, arms and neck. The solution dries quickly and won't leave you sticky or greasy. After all, nobody wants to feel like their slathered in vaseline while they're trying to enjoy the great outdoors!
If you've already come into contact with a poisonous plant, don't worry because we've got you covered. In order to minimize the impact of these poisons, you can use Poison Oak and Ivy Cleanser. This will remove the plant's urushiol oil from your skin to stop the oil from causing you more discomfort. An added benefit of this cleanser is that if it's used within 2-8 hours of your exposure, it will actually remove the harmful oils before the rash even begins.
If you're already exhibiting signs of a rash and the associated irritation, there is also Poison Ivy Scrub to alleviate your symptoms. Not only will the scrub remove the poisonous oil from your skin, but it also contains an active ingredient to quickly relieve your itchy sensation so that you can enjoy the rest of your day!
Heat Protection for Animals
Now that you know how to protect yourself this summer, it's important to remember our four legged friends also have to deal with this heat. Farm animals like horses, cows and even your household furry dogs are susceptible to heat stroke just like the rest of us. That's why Cooling Blankets are so great to have on hand. Once fully activated after only 15-30 seconds under water, they provide immediate cooling from heat stress. Not only will this provide protection for your overheated animals, but also work wonders for ourselves when we're outside watching or participating in sports!
We hope that this has been a helpful reminder of the less pleasant aspects of enjoying the great outdoors. But an ounce of prevention is truly worth a pound of cure in this case. These products are extremely useful and even portable so that it is really no trouble to keep them with you. If you can keep these few things handy, then there's no reason to have a bad day at the beach or park or wherever you choose to enjoy our great weather.
If you'd like to learn more about some of our other protection products, feel free to click the links listed below!