Industrial Camo Work Gloves with

Knuckle Guards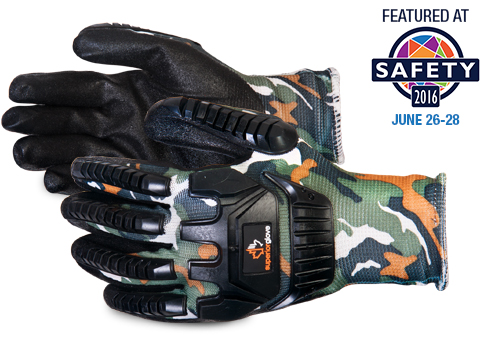 Awesome for Industrial Applications or Outdoor Enthusiasts!
For the serious outdoorsman, a pair of quality field gloves is just as important as the boots, and these camouflage gloves are the real deal when it comes to comfort, function, grip and dexterity. And yeah, the print is pretty cool too. After you slip these on, it won't take long for you to realize that you have found the perfect pair of industrial work gloves to join you to the next hunt, job site or waterhole. They are so awesome you may just start a chat about them around the next camp fire!

Look for the Superior Glove® logo!
Not Available in Retail or Outdoor Sporting Good Stores !
So let's talk about this glove's features and what makes them so unique. First off, they are industrial quality and designed for rugged industrial applications and professionals such as mechanics - we're pretty confident you won't be replacing these anytime soon.
Secondly, Superior Glove®'s machine knitted nylon material is extremely comfortable to wear. When one slides their hand into the glove, it immediately stretches and snugs the hand and fingers. A smooth, seamless interior lining translates to non-chaffing, non-irritating and all-day working comfort. The perfect balance in material weight allows for great tactility yet is strong enough to with stand rigorous activities.
Next up is the palm coating. (Why more hunting gloves aren't offered with a grip texture palm is beyond me?) If you look real close to the black coating, you might be able to see a texture - micropore nitrile. In the presence of liquids such as oil and water, this innovative micropore texture repels fluids and grips like tiny suction cups so you won't have to worry about trigger squeeze or dropped tools ever again! Perfect for those damp morning duck or turkey hunts or for handling that oily wrench!
Lastly, look at the knuckle guards-pure genius! No more knuckle-knock...ever! The addition of thermal plastic rubber (TPR) protectors just completes this impact-resistant work glove full circle, and they look pretty tough too. Allowing for complete freedom of movement, the TPR pads are welded to the material for strength and durability. They are designed and strategically placed to diffuse the force of an impact to protect the hand bones against crushing or scrapes. So go ahead, stack the firewood or ride that ATV with confidence!
---
MDS Product Compliment: Brave the Cold w/ PIP® Air Activated Heat Packs
Keep your hands warm while working or playing in the cold weather with PIP® Heat Packs. Reaching full temperature in about 2-5 minutes, this new ready-to-use heat pack is designed to provide 8 hours of warmth and is only active when in the presence of air. To suspend or pause the heating process, simply place the heat pack in an airtight container or sealed bag and remove it when you need to use it again. +Click here to purchase a box for the cabin.
---
Perfect for hunters, archers, shooters, farmers, ranchers, mechanics, DEC, Fish and Game, fisherman, landscapers, gardeners, construction and more! We sell these camouflage impact-resistant gloves by the pair, or for your best price, by the dozen pairs. Call MDS for volume discounts or click the links below and purchase your industrial quality camo field gloves today!
[email protected] | +800-274-4637 +716-668-4001 | MDS Associates