Grind

Safely

with

these Flame-Resistant Clutch Gear® Mechanic Gloves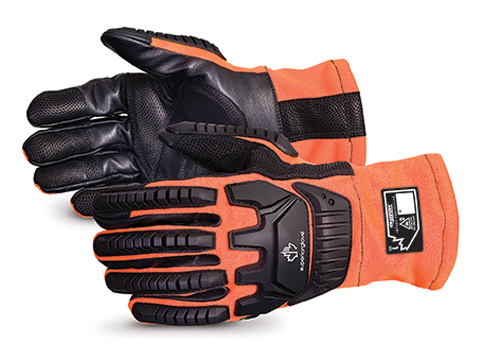 Grinding is an abrasive machining process that uses a grinding wheel as the cutting tool to manipulate a surface's texture. A wide variety of machines are used for grinding:
Hand-cranked knife-sharpening stones (grindstones)

Handheld power tools such as angle grinders and die grinders

Various industrial machine tools called grinding machines

Bench grinder
SPARKS
The grinding process is used to remove material from a workpiece via a grinding wheel. As the grinding wheel turns, it cuts material off the workpiece creating a smooth surface texture in the process. It also generates a vast of amount of sparks. The sparks that result from cutting or grinding is mostly steel dust hot enough to glow but typically do not cause injuries. However, a hotter spark larger in mass can linger just long enough to burn the eyes or exposed skin and can easily ignite combustible or flammable materials in the area, causing a fire.
Wearing hand protection can help prevent burns and keep delicate skin protected. It can also make the difference between completing the job or buying another pair of work gloves. Designed for spark and flame resistance, not thermal contact, these Clutch Gear® brand of gloves will not burn, melt or drip making them ideal for grinding.
These MXVSBFR Clutch Gear® Mechanics Gloves by Superior Glove® are a new addition to the Clutch Gear® line that offers puncture-resistance, flame resistance (Arc Flash - Hazard Category 2) and impact protection.
The addition of anti-impact thermo-plastic foam rubber (TPR) patches on the back of the hand allows protection only in the places where impact occurs, so glove stays fully flexible. Raised digitized leather palm patches offer durable, cushioned grip in just the right places and even more abrasion resistance.
IDEAL FOR:
Utilities

Mining

Petrochemical

Natural gas distribution

Mechanics

Refineries

Oil workers
SAFETY RATINGS
ASTM ANSI Puncture Resistance Level 3

Arc flash level 2 with an Arc-Thermal Performance value of 15 cal/cm2
The hi-viz orange color enhances worker visibility on the job. It also helps when directing or signaling vehicles or co-workers in the field. Long cuffs plus the thermoplastic rubber protectors (TPR) mean workers stay safer so you can reduce workplace accidents and injuries. These industrial mechanic style work gloves provide great styling and comfort but don't take our word for it, just tap the link and …
Monday - Friday 8:30am - 4:30pm EST
Questions. Samples. Special Requests.
Toll-Free +800-274-4637 | +716-668-4001 |

[email protected]
"We Want You To Return Home Safely...Everyday!™