Control Pests, Preserve Art with FreshPax® Patented Oxygen Absorbing Packets
Near-Total Oxygen Elimination
Conservators, planners and collection managers of art museums, natural history museums, science museums, war museums, libraries invest much care, expertise and expense in preservation efforts impeding decomposition.
The greatest threat facing aging documents and artifacts, artworks and other objects of artistic, cultural, historical or scientific significance for future generations are the negative forces we can't see such as excess moisture, relative humidity, pathogens and/or organisms.
HVAC technology helps regulate relative humidity levels and desiccant pouches protect items in glass displays but when it comes to delicate artifacts - aerobic pathogens, spoilage organisms such as molds and insects are responsible for significant damage to museum objects.
Insects such as booklice, termites, cockroaches, wood-boring beetles and various moths can destroy dried plant material, furs, dried insect collections, historic documents, books and textiles as well as the artwork housings. To combat insects, many museums have implemented a pest management program - thus the reason we sometimes see those "Removed for Conservation" postings.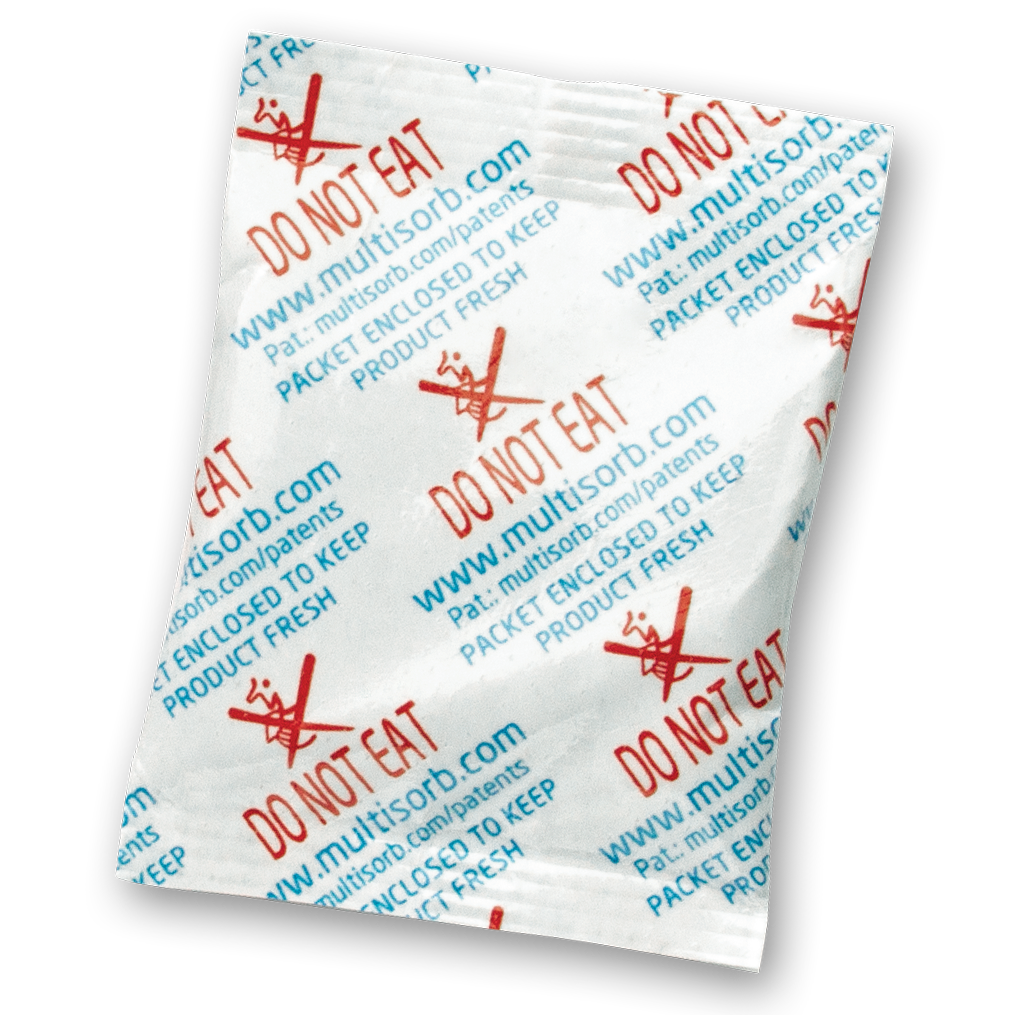 Integrated Pest Management (IPM) in museums, libraries, archives and historic buildings is an important part of preventive conservation, focusing on the prevention of pest infestations and the reduction of pesticide applications.
The concept of IPM was developed in the 1950s in the food industry and starting in the 1980s, it has also been applied in museums [1,2,3]. Today, FreshPax® Oxygen Absorbers continues to be a cost effective, non-chemical solution in preservation!
Trusted by Those Who Feed Us - You've Probally Seen These Packets in Food Items
Made in an ISO Certified USA facility, FreshPax® Oxygen Scaveger Packets are US FDA Food Contact Certified and commonly trusted in long-term dry food storage. They have been proven to prevent the growth of aerobic pathogens and safely protect consumables against spoilage, mold growth, color change, loss of nutritive values and loss of quality.
Use FreshPax® Oxygen Absorbing Packets as Part of Your Integrated Pest Management (IPM) & Preserve Your Artifacts for Future Generations!
The Science Behind FreshPax®
FreshPax® Oxygen Absorbers are small but powerful packets that contain iron powder (which never leaches) and are used to remove oxygen from within a sealed environment, thus creating a nitrogen environment where organisms cannot grow. The oxygen deprivation process causes a disruption within insect's bodies resulting in death. It's that simple!
How to use:

Simply place the appropriate quantity or size pouch in enclosures constructed of vapor impermeable materials such as steel or aluminized polyethylene and polypropylene films or hard-wall, soft-wall or mobile chambers. Oxygen Absorbers become warm to the touch when they are working and take about 4 hours to achieve their rated maximum absorption.

Capacity:

Quart or pint-sized jars and bags will store fine with 50cc. A gallon requires around 300 cc. Five to six-gallon containers require up to 2000 cc depending on the item you are treating or storing. Note: oversizing the packet may cause the packaging to pull a vacuum as the process works. While this shouldn't cause an issue you may want to take caution if item is considered delicate.
May We Suggest these Moisture Absorbing Suggestions: If you need to control condenstion during international shipping or within glass display cases, then check out Transorb® Cargo Desiccant Pouches to absorb "cargo sweats." Non-Leaking, they last up to 60 days in the most humid of conditions! If you seek a small moisture absorber packet for hand packing operations, MiniPax® desiccant packs are US FDA Food and Pharmaceutical Contact Certified and a very popular choice to protecting enclosed compartments. DriKette® desiccant sheets are a versatile and thin moisture absorber sheet comprised of silica gel. DriKette® paper can be custom cut to size and are ideal for lining boxes, envelopes, display cases or anywhere were space is limited.
---
Say good bye to destructive aerobic pathogens today...
Contact Us with Your O2 Absorber Requirements and Products Not Listed
Questions. Volume Discounts. Orders.
Monday – Friday 8:30 – 4:30 Eastern Time
Toll-Free +800-274-4637 | +716-668-4001 | [email protected] | MDSassociates.com
---
FreshPax® Oxygen Indicating tablet in the pouch will be purple in color if oxygen is present in the unopened pouch, and pink in the absence of oxygen. These carefully developed FreshPax® oxygen absorbers will irreversibly absorb and maintain oxygen inside hermetically sealed environments or packaging to a level of less than 0.01% AND any oxygen that may permeate the package when used with gas flushed/non-gas flushed packaging
+FreshPax Handling Instructions.pdf
+FreshPax Regulatory Certificate.pdf
References [1,2,3]
1. Story K.O.

Approaches to Pest Management in Museums.

Conservation Analytical Laboratory, Smithsonian Institution; Washington, DC, USA: 1986. pp. 85–101.
2. Linnie M.J. Pest control: A survey of natural history museums in Great Britain and Ireland.

Int. J. Mus. Manag. Curator.

1987;

6

:277–290.
3. Albert G.D., Albert L.M. Integrated pest management: A program for museum environments. In: Zycherman L.A., Schrock J.R., editors.

A Guide to Museum Pest Control.

The Foundation of the American Institute for Conservation of Historic and Artistic Works and Association of Systematics Collections; Washington, DC, USA: 1988. pp. 169–173.