Neon Green Heavy-Duty Industrial Nitrile Gloves
discontinued
100% Latex-Free | Powder-Free | Extra Thick Disposable Nitrile Gloves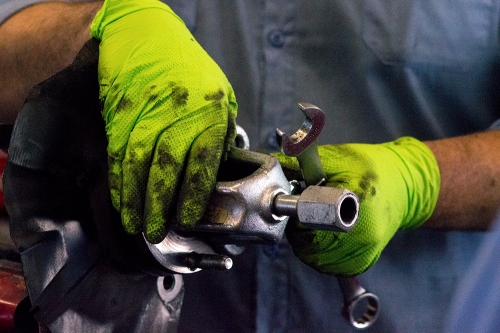 Mechanics, technicians and many operators who work with
oil, grease
and
chemicals
are required to wear
disposable gloves
to keep their hands clean and protected. Unfortunately
industrial liquids
and chemicals make gripping utensils, small parts and instruments very
slippery
and can degrade the
barrier
properties of the glove. Industrial nitrile gloves are also at risk to snags on parts, machines and tools. When it is comes to
disposable industrial nitrile gloves
, textured surfaces and glove thicknesses become of increasing
importance to the wearer.
Gloveworks Heavy Duty Nitrile Gloves | Features
Gloveworks Heavy Duty (HD) Nitrile Gloves are made for the tough working environments where extra grip and thickness matter. Use in industrial settings where breakthrough times and tensile strength are demanded most. Chlorinated to reduce contaminates and a polymer coating makes the glove easy to slide on.
This glove features excellent chemical resistance from common chemicals such as pesticides and herbicides, or specialty chemicals like iodine, brake fluid, oil, grease or butane. They are powder free to reduce particles. Gloves are ideal for working with sticky adhesives, wood stains or wet paint so that no residue from your gloves can get in the way of a perfect finish.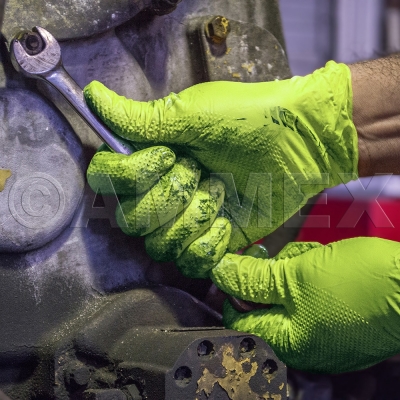 Amazing Raised Texture
An extra deep, pronounced diamond texture covers the fingers and palm and acts like suction cups when gripping items in dry, slippery or wet environments. This unique texture provides operators with a better sense of security and less on-the job injury accidents.
Heavy-Duty | Extra Thick
At 10-mils thick, 1-pair of Gloveworks HD Green Nitrile Gloves it is like wearing 2-3 pairs of typical disposable nitrile gloves. They offer longevity, strength and comfort with tactile sensitivity. This extra thickness reduces snag-related rips and punctures when working around sharp items.
Bright, Visible Green Color | A Call for Safety
A bold, high visibility neon green color stands out and enhances safety and focus. Perfect for color-coding departments, assembly lines or staff/personnel. Use lime green colored gloves to provide safety cues throughout the workday.
Ideal for Janitorial, Painting, Plumbing, Industrial, Automotive, Agriculture, Manufacturing, Food Processing
Packaging: 100 gloves per box, 10 boxes per carton
Product Codes:
GWGN44100 Medium
GWGN46100 Large
GWGN48100 Extra Large
GWGN49100 Extra Extra Large
---
We'll Sell for Less...FREE DIRECT SHIPPING on 40+ Case Orders
MDS is excited for this distribution opportunity and is aggressively looking to earn your Ammex glove business. Please contact us for products not listed on the web, samples, non-published price discounts or volume discounts anytime! Put your Ammex gloves on automatic delivery (standing order) and we will extend you a discounted price.
---
MDS is an authorized wholesale distributor of Ammex Brand Gloves. Call us for volume discounts, pallet prices, unpublished price discounts or to place an order!
+800.274.4637 | +716.668.4001 | in[email protected] | Fax +716.668.4496
---