These

Face Masks

Make

Mask Wearing Bearable!
With a Looming Tripledemic, Wearing a Mask Might Be a Smart Idea
---
There is no shame in wearing a mask out in public, mandated or not. In fact, this winter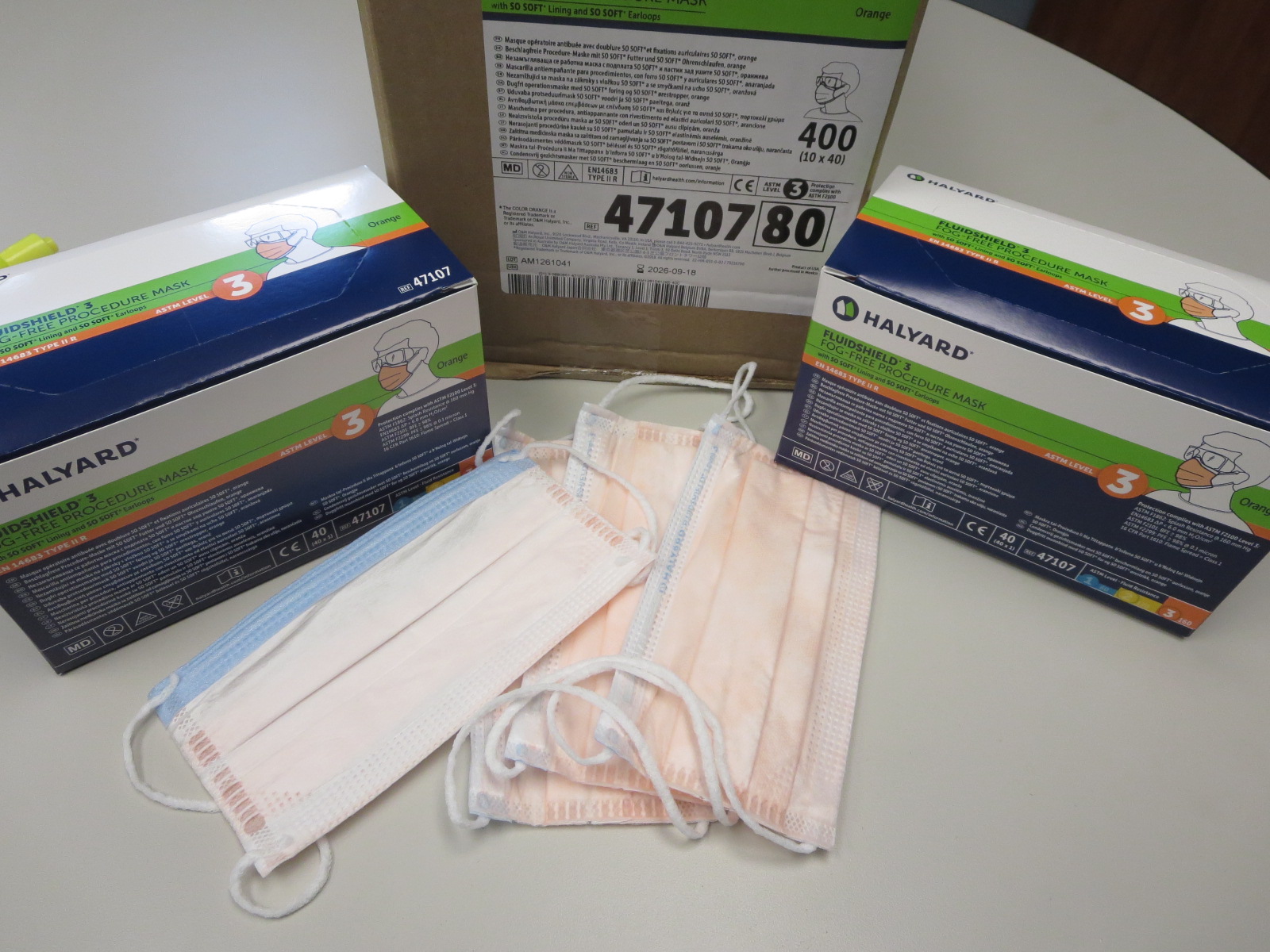 season is ramping up to be nasty one. It's only the infancy stages of the "cold and flu season" and the nightly news has been reporting elevated infection rates among all age groups all across the country with hospitals at or near maximum capacity with deaths rates on the rise. Add labor shortages that are backing up immediate care facilities and I think readers will agree the last thing anyone needs or wants is to be home sick or in need of hospitalization. Folks, data shows that face masks help prevent the spread of respiratory disease.
TRUSTED BY HEALTHCARE PROFESSIONALS WORLDWIDE
If you're unable to wear a respirator style mask for comfort reasons or you're searching for one of the most reliable, comfortable and highly effective procedure face mask available, then you need to be introduced to the easy breathing Halyard® FluidShield® 47107 (orange) and 00148 (blue) Level 3 Fog-Free So-Soft® Procedure Face Masks.
Boasting a patented high-filtration filter media and a fluid-resistant 4-ply construction with enhanced comfort and performance attributes, these high performing healthcare facemasks are the apex of respiratory protection and trusted by more researchers, scientists and healthcare providers worldwide.
PERFORMANCE THAT RIVAL RESPIRATORS
Halyard's FluidShield® 47107 and 00148 Procedure Masks are designed and developed for professionals who wear masks for extended periods of time in high-risk environments invo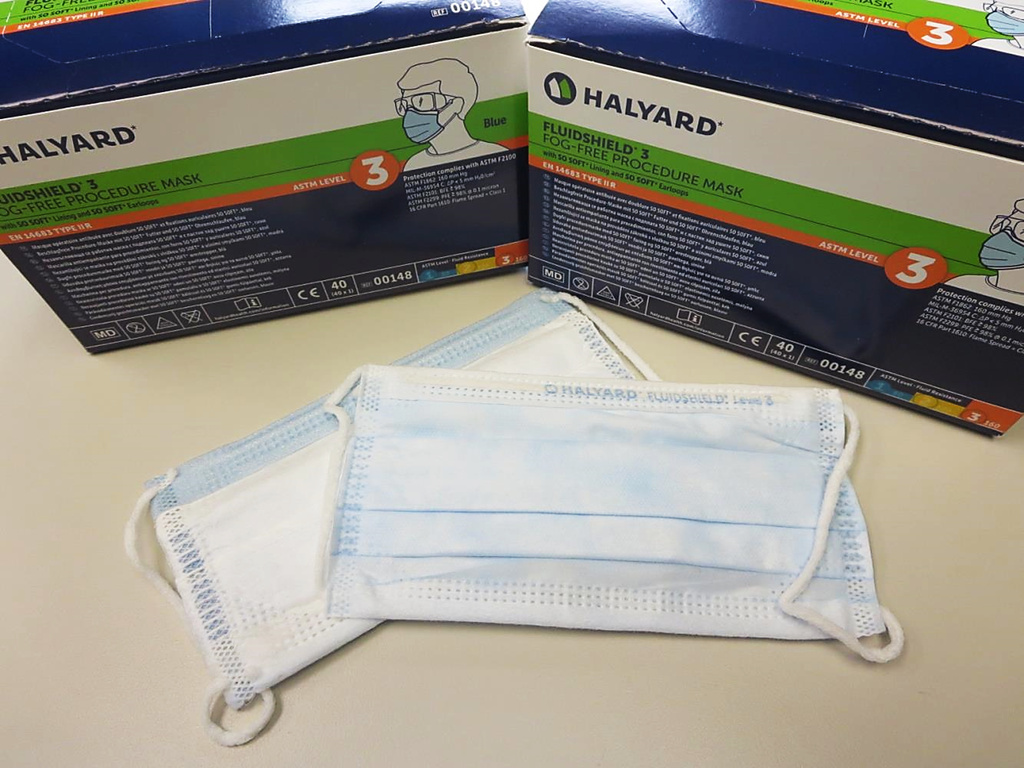 lving airborne particulates, fluid droplets, spray or splatter. A popular choice at the Centers for Disease Control (CDC) and National Institute of Health (NIH), FluidShield® 47107 and 00148 masks create a tight seal, filter fine particulates that rival respirators and KN95 style masks while preventing fluid strike-through. They're also very comfortable to wear, easy breathing, non-fogging and designed to soothe the most sensitive skin types.
The FluidShield® Advantages
Scientific data will show there are mask performance aspects that can mean the difference between staying healthy or becoming sick. Below are features that separate these FluidShield® masks from the competition.
ASTM F-2100-11 LEVEL 3 RATED SAFETY
The 47107 FluidShield® Level 3 Fog-Free Procedure Face Masks are designed to provide the maximum level of fluid resistance and breathing protection for hi-risk dental and healthcare workers as recognized by ASTM F2100-11.
PATENTED FILTER MEDIA TECHNOLOGY
The patented PowerGuard® filter media captures and traps microbes while providing wearers with outstanding filtration of fine micron particulates. This specialized filter media also allows wearers to breathe easier resulting in a cooler wear experien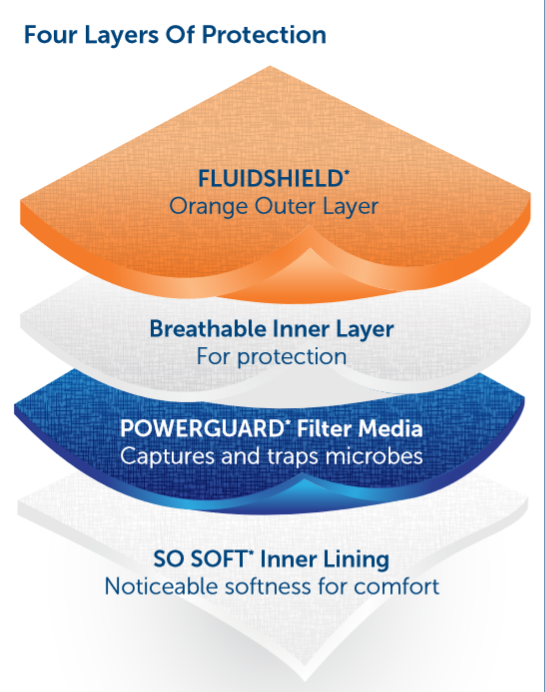 ce and easier speech.
Performance data
-PFE (.1) > 99.0%
-BFE (3) > 99.9%
-DELTA P: 3
-Splash Resistance- 160
-Fluid Protection - high
IDEAL FOR SENSITIVE SKIN & EXTENDED WEAR
While experts agree on the importance of wearing a mask as it can help slow the spread of respiratory infection, there are downsides for some people, especially those who must keep them on during full workdays. Anyone with sensitive skin or underlying skin conditions (e.g., acne, "maskne" or rosacea) dread wearing a mask. The So Soft® biocomponent technology offers sensitive skin users with soothing relief for the nose, lips, checks and ears.
The Halyard® engineers utilized the softness technology of Kleenex® brand tissue and applied this technology to the inner mask lining and ear-loops for soothing softness at critical skin contact points resulting in a more comfortable mask with less irritations making these ideal for extended wear applications.
An innovative foam strip works in conjunction with a generous adjustable noseband and a unique pleated design that allows wearers with the ability to secure and seal the masks under the chin, along the cheeks and the nose for enhanced safety performance. Once sealed, breath vapor easily escapes without fogging eyewear making the Fluidshield® 47107 and 00148 masks are ideal for use with safety or prescription glasses and in hot, humid conditions!
When the lives of patients and staff are on the line, more healthcare professionals choose Halyard®. From high-risk to routine, FluidShield® Facial Protection products make for excellent choices where comfort and protection are needed in a variety of tasks and procedures. Once you've worn these FluidShield masks, you won't wear another style mask again! Now what are waiting for? Tap the link and …
AUTHORIZED DIRECT DEALER
Monday - Friday 8:30am - 4:30pm EST
●Orders

●

Questions ●Volume Discounts

●

Special Requests

●

Samples
+800-274-4637 | +716-668-4001 | Fax +716-668-4496 | [email protected]
"We Want You to Return Home Safely Every Day"