Manage Cleanroom Risks with PUREZERO® Cleanroom Nitrile Gloves
Minimize submicron particles from operator's hands from contaminating the product or process being manufactured. PUREZERO® Cleanroom Gloves ensure reliable supply, regulatory compliance and consistent quality when handling delicate equipment.
---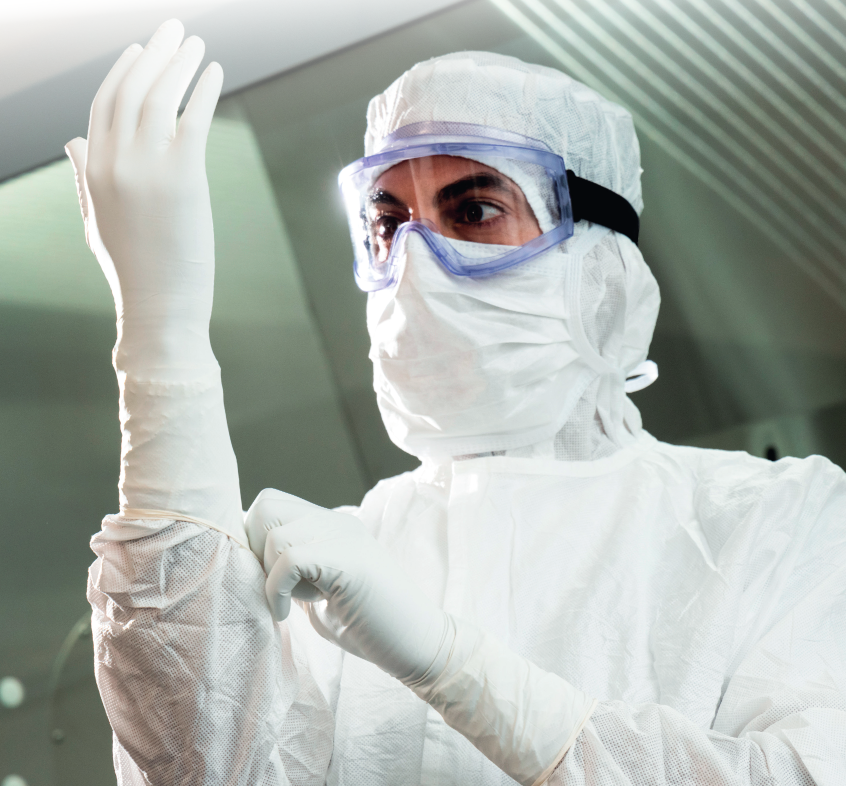 If you're searching for a single-use cleanroom glove to protect workers, products or your processes from contamination while avoiding operation disruptions, then consider Halyard's PUREZERO® Cleanroom Nitrile Gloves.
From the Halyard® glove portfilio, PUREZERO® Cleanroom Gloves are specifically designed to meet the stringent requirements of contamination controlled environments and are recommended for ISO Class 3 or higher, Grade A/B/C/D+ aseptic cleanrooms or cleanzones that have a max particle count of 950 > 0.5μm/cm2.
APPLICATIONS
PUREZERO® Cleanroom Gloves are designed to protect workers with effective barrier protection against chemical splash, micro-organisms, viruses, contaminations and meet ASTM D6978 Permeation testing on 14 chemotherapy drugs making them ideal for use in laboratories, compounding, research environments and clean areas with applications in microelectronics, semiconductors, pharmaceutical, optics, medical device manufacturing, biotechnology and food processing/handling.
COMFORT & PROTECTION
The accelerator-free formulation of PUREZERO* Nitrile Cleanroom Gloves reduces the risk of allergies and skin irritation such as Type IV allergic reactions associated with accelerator chemicals in other nitrile gloves. As a result, PUREZERO® gloves are very comfortable to wear, allowing workers to focus on their delicate tasks rather than their gloves.
PRODUCT CONTAMINATION
Halyard® has manufactured leading private label cleanroom gloves for more than 20 years at their Safeskin Medical & Scientific (Thailand) Ltd. manufacturing facility, which holds ISO 9001 and ISO 13485 certifications. Halyard® controls the materials and design while adhering to strict quality standards and product specifications in their own facilities, with their own teammates. Quality and sterility assurance levels are guaranteed, with all raw materials and components traceable to the original supplier.
Halyard's PUREZERO® Cleanroom Nitrile Gloves are clean processed (washed repeatedly in chlorine and deionized water) on both sides of the gloves to remove surface particles, powder-residues ensuring consistent control of low particles, extractables and endotoxin levels.
Low Particle Levels (max 950 > 0.5μm/cm2 for white gloves, max 1200 > 0.5μm/cm2 for blue gloves)

Sterility Assurance Levels (SAL) of 10-6 and an endotoxin level of 20 units/pair maximum

AQL of 1.0 for pinholes

Static dissipative in use

Double bagged plus case liner
When you have a big job to accomplish, or when you need to protect your workers, product and your process, be sure to consider PUREZERO® Cleanroom Gloves from Halyard®. They're specifically designed to meet the stringent requirements of cleanroom environments to help you manage the risks associated with user comfort and protection, product contamination and supply chain resiliency. But don't take our word for it, just click the link and …
Orders. Questions. Volume Discounts.
Click or Call
Monday - Friday 8:30am - 4:30pm EST
+800.274.4637 | +716.668.4001 |

[email protected]

| Fax +716.668.4496
"We want you to return home safely every day"