Hellberg Passive Hearing Protection : Modern Features - Advanced Design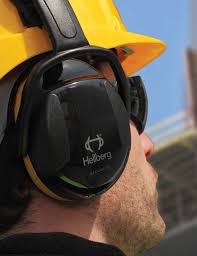 PIP®, short for Protective Industrial Products, is a global provider of innovative safety products and they offer a vast array of PPE that ranges from hand and arm protection, to eyewear, to hi-vis clothing and beyond.
Recently PIP® partnered with Hellberg Safety AB to produce a modern line of slim profile, color-coded hearing-protection ear muffs. Featured are passive noise-blocking muffs for professional users who demand superior and affordable hearing protection, with modern features and advanced design.
Passive Ear Muffs
Secure™ Series hearing protection is designed with all day comfort in mind. The durable headband construction with its soft cushions and easy size adjustment provides a comfortable and perfect fit for all head sizes. New "snap-in" ear cushions with minimal sweat retention and soft foam filling increases the high comfort and are easily replaced. All models feature ergonomic design, replaceable headband and ear cushions. Functional, comfortable, lightweight and easy to use,
HELLBERG offers a variety of electronic hearing protection options that keeps you motivated to keep your hearing protection on for long periods of time. Passive noise-blocking muffs attenuate based on the highest quality of insulating and dampening materials and are offered in three levels of protection to fit your working environment. They feature:
Slim Stirrup Design
Color Coded For Easy Identification
Smart Snap-In Ear Cushions for Easy Replacement
Smooth Size Adjustments
Highly durable Plastic Headband
There are three styles for you select from:
1. SECURE™ 1: For general industrial work levels (80-100 dB) and medium to high frequency noise (Hz) such as power tools and lawnmowers
Shop Now #263-41001 Headband / #263-42001 Cap Mount / #263-43001 Neck Band
---
2. SECURE™ 2: For work environments with a medium to high noise levels (110-130 dB). Best choice for high frequency noise (Hz) such as table saws
Shop Now #263-41002 Headband / #263-42002 Cap Mount / #263-43002 Neck Band
---
3. SECURE™ 3: For work environments with extreme high noise levels (140-150 dB). Best choice for low frequency noise (Hz) such as airports
Shop Now #263-41003 Headband / #263-42003 Cap Mount / #263-43003 Neck band
---
Contact MDS for Hellberg Replacement Hygiene Kits
Monday through Friday 8:30am-4:30pm EST
+800.274.4637 | +716.668.4001 | info@MDSassociates.com | Fax +716.668.4496 | MDSassociates.com