PREVENT

EXPOSURE
Limited-Use Protective Apparel
with
WRIST-SHIELD™ Cuff-Technology
IDEAL FOR OPERATORS WITH ZERO TOLERANCE FOR WRIST EXPOSURE
PPE apparel such as isolation gowns and protective gloves work together, but they unfortunately work against each other as well. The cuff areas of gloves and gowns often separate where they meet up causing bare-skin exposure and this puts wearers at risk to transmission or cross-contamination.
Our protective garments featuring WRIST-SHIELD™ appear at first glance, to be an ordinary disposable isolation gown or sleeve protector with knit wrist cuffs. But a closer look will reveal a simple, yet effective optional Thumb-Slit™ that operators can engage anytime, multiple times.
A SOLUTION TO NUISANCE SLEEVE-RISE
Simple and fast to engage and cooler to wear than poly thumb loop gowns, this adaptive material uses the thumb to secure the garment cuffs in place so they won't slide up the forearm when working thus exposing bare skin to pathogens, chemicals and other threats. WRIST-SHIELD™ eliminates dangerous PPE apparel breach adjustments and the potential for touch contamination.
By locking in the cuffs, it ensures an effective barrier layer and a fast seal between the protective glove cuffs and the garment sleeve cuffs without having to tuck them under each other. Made with an absorbent and soft knit material, this simple yet effective technology provides undeniable health and safety benefits for operators concerned about self-contamination, heat build-up and hand hygiene.

Sleeve Protectors, Isolation Gowns with Knit Thumb Saddles for an Economical Balance of Safety and Performance that Elevates Compliance and Increases Productivity!
---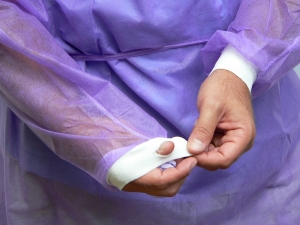 TECHNOLOGY BENEFITS:
• Faster and easier
P.P.E.
apparel barrier layering
• Secured continuous barrier protection
• Easy and fast to engage
• Reduce cases of exposure and related costs
• Comfortable and cool to wear
• Thumb Slit™ can be engaged anytime, multiple times-ideal for frequent glove changes/hand washing
• Fully optional and universal
• Soft, absorbent, raised ribbed knit material
SPECIFICATIONS: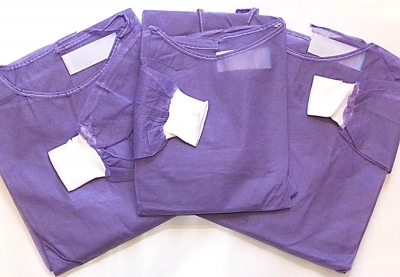 • Knit wrist cuff with Optional Thumb Slit™
• Naturally adapts to fit all sizes
MARKETS:
• Pharmaceutical/Cleanroom Manufacturing
Personal safety starts and ends with quality protective gear and isolation gowns are a first line defense against the spread of diseases. Selecting a quality made disposable gown can be the difference between being healthy or sick. If you are searching for an economical solution to protect the personal safety of your staff against exposure, transmission or the cross-contamination of unwanted contaminates, then …
Orders. Questions. Samples. Volume Discounts.
Click or Call Today
Monday - Friday 8:30am - 4:30pm EST
Toll-Free +800-274-4637 | +716-668-4001 | [email protected]
"We Want You To Return Home Safely Every Day™"