Featured News - Current News - Archived News - News Categories
FluidShield® N95 Particulate Filter Respirator Surgical Masks
by mdsassociates
Mon, Feb 13th 2023 07:30 am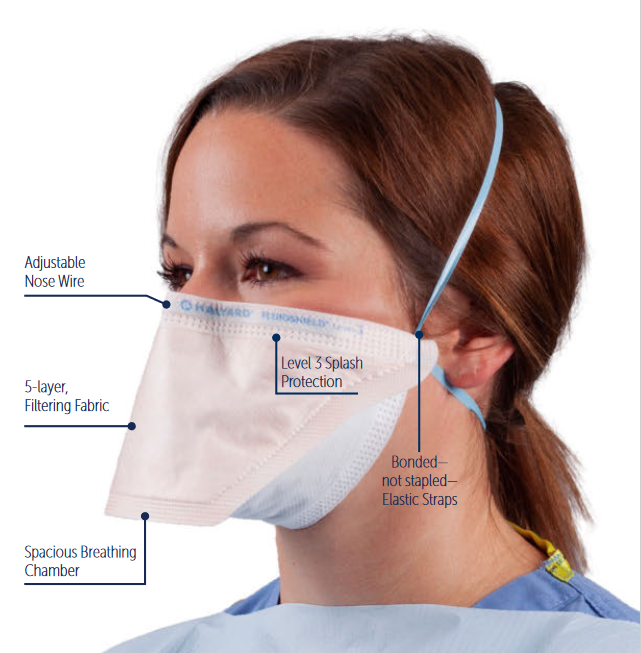 THE APEX OF SURGICAL N95s
When it comes to respiratory protection products within healthcare, the Halyard® brand of masks are considered by many as the best in class. Whenever there's a threat for high risk respiratory disease, professionals often select the Halyard® FluidShield® ASTM Level 3 N95 Particulate Filter Respirator and Surgical Masks to protect their personal health and safety.
NIOSH APPROVED/FDA CLEARED/CDC LISTED
With added comfort and performance features, these Halyard® Surgical Respirators are highly sought by workers in hi-risk medical and dental settings for the ability to filter out at least 95% of very small particles (0.3 micron) including viruses and bacteria while providing high resistance against fluid strikethrough.
FDA CLASS 2 REGISTERED MEDICAL DEVICE
These FluidShield® Surgical Respirators feature a 5-layer construction. The outer layer delivers ASTM Level 3 splash and spray protection — the highest-recognized level of protection. The inner layer touching the skin features So-Soft® - a silky smooth, refreshing hypoallergenic material perfect for delicate or sensitive skin types and extended wear. The duckbill breathing chamber is more than twice as large as the leading competitive surgical N95, and exceeds NIOSH standards for breathability. Pouch styling allows for great downward vision.
Not all masks are created equal - get the best of the best! Make sure you are up to healthcare standards with Halyard's FluidShield® Surgical N95 respirator masks and build your stockpile. In stock for quick shipping!
+read more about FluidShield® Surgical N95 respirator masks here
___________________________________________________________________________________________
Related Articles