FOR WHEN YOU LOOK UP
PEAK VIEW™ PATENTED TRANSLUCENT HARD HATS
ANSI/ISEA Z89.1 Certified See-Through Safety Helmets Provide Maximum Peripheral Upward Vision!
If you check out any construction site you'll see laborers wearing safety helmets in different styles and colors. That's because these workers are at risk to many hazards from up above. The basic purpose of hard hats has always remained the same – to help protect the head against severe impacts from falling debris. Unfortunately the hard hat that's designed and worn to protect workers can also put them at risk to injury.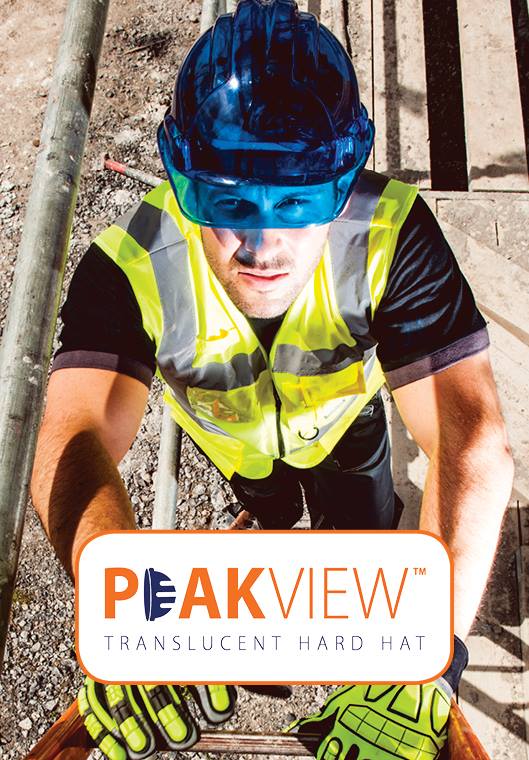 If you wear head protection while on the job and are required to look upward, climb ladders, stairs or scaffolding, then you need to learn about Peak View Hard Hats.
The Phenomenon
There are some visibility drawbacks to traditional type hard hats that become magnified for workers who need to look upward while on the job.
Typical cap style hard hats are constructed with a safety brim that's designed to enhance protection to the facial region and block the sun's rays. This protruding brim often handicaps a worker's upward vision causing anyone who's required to climb ladders or stairs to tilt their head to the side to look up. This awkward motion causes a shift in body position/weight putting one at risk to a slip or fall. As a response, some laborers opt out to the safety brim and reverse their hard hats putting them at heightened risk to injury.
Long Term Exposure
In addition, if I told you that something as simple as tilting your head back could cause harm, would you believe it? Well it's true. This simple movement can cause a worker not only to lose balance resulting in a permanent injury or death from falls or electrocutions, it can cause the neck muscles and tendons to become strained or injured when they're overused. Compounded over time, long term exposure can lead to cumulative stress disorder of the neck region, and workers compensation.
Peak View™ is Patented Peak Protection
Peak View™ is the safest and most comfortable solution for your head protection and it's growing in popularity. If your crew works on ladders, scaffolding, stairs, sky lifts or in ladder trucks then you need consider this new safety helmet- it's revolutionizing industrial head protection PPE and a must for tree service, construction, utilities!
Why Pick Peak View™ Translucent Safety Helmets:
Allow for safer working conditions

ANSI/ISEA Z89.1 EN 14683 - TYPE II certified

Stop the need for wearers to reverse the head harness in the helmet

Work sites are filled with tripping hazards such as lumber, pallets, cable, beams and more.
The Peak View™ safety helmet is a Portwest® exclusive design. The translucent shell and see through peak and sides allow the wearer to look upwards without the need to tilt the head. The extra strong yet ultra-light weight polycarbonate shell offers UV ray protection. This innovative, market leading design is available in 2 styles options (vented or non-vented) in 8 color ways and includes a 6 point textile suspension with wheel ratchet adjustment.
Features:
Buckle size adjustment for easy fitting

6 point textile harness

with wheel ratchet size adjustment

Compatible accessories available

Available in an excellent choice of corporate colors

Vented hard hat allowing a refreshing airflow around the head

Non-vented style has electrical properties

Soft foam sweat band included

UV 400 stabilized

Extra strong yet ultra light weight Polycarbonate shell

Translucent shell to see through peak and side
Protecting your skull is an important part of safety and hard hats can prevent or minimize injuries to the head and brain, protecting against falling debris, impact, electric shock, rain and the sun. Increase wearer acceptability and reduce workplace injuries. When selecting safety helmets for the jobsite, you should consider Peak View™ brand safety helmets for your crew!
Prevention is just a tap away. All you need to do is click the link below and …
Questions. Orders. Special Requests.
Call or Click Today
Monday - Friday 8:30am - 4:30pm EST
Toll-Free +800-274-4637 | +716-668-4001 |

[email protected]
"We Want You to Return Home Safely Every Day™!"