Give Your Cell Phone a PowerNap® & Stop "Low Battery Anxiety"
Advanced Cell Phone Charging Solution Amps Up the Customer Dining Experience!
No one likes when their tablet or phone's battery dies. Even low volume users despise the inconvenience of not having cell service or power. There isn't a household in this country that doesn't have at least one or more cell phone charger, cell phone power adapter, power cord, rapid charger, charging station, wall charger or car charger!
For many of today's cell users, especially those who use their phones all day, staying charged can be difficult and even stressful. Access to a mobile phone isn't just about the instant communication, it's also about security, personal relationships and peace of mind. Once that little percentage bar hits 20%, people start to panic at the very thought of their smartphone dying and often do crazy things. They'll head home, borrow cables from coworkers' desks, seek chargers from strangers or businesses. Some people act so thoughtlessly that a false story about a girl disconnecting her grandpa's life support to charge her phone actually seemed plausible enough to go viral on the internet.
THE POWER TO STAY CONNECTED
Like or not, battery-powered devices have become the main focus of people's lives. Many businesses are choosing to provide their customers with phone charging options as a way to combat "battery anxiety" as many business owners have observed that their customers often opt leave the establishments once their phone battery gets low. In short, providing phone chargers leads to customer retention and larger profits.
ELEVATE PROFITS & CUSTOMER EXPERIENCE
Powers Paper, a pioneer in the away-from-home towel and tissue market, was brilliant enough to create a charger for one of the most frequented gathering areas for consumers – the dining table. Powers Paper is proud to announce the latest innovation in napkin dispensers, PowerNap® - a napkin dispenser turned charging port!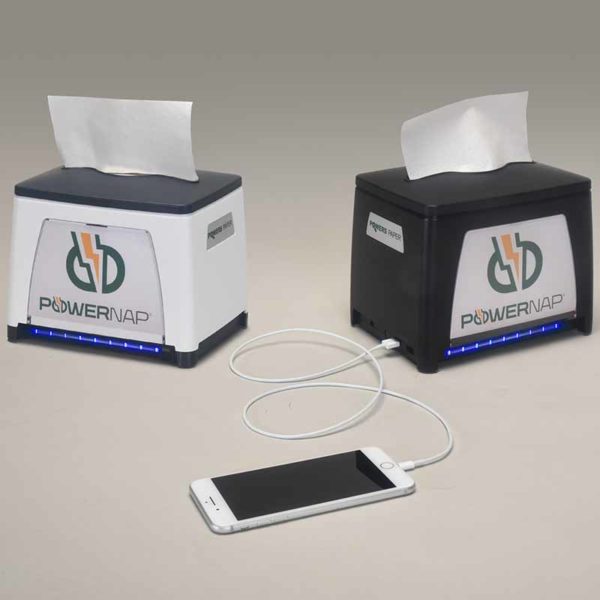 PowerNap® enables restaurant patrons to personally charge their phones directly at the table, which helps keep patrons in the establishment longer and generates return customers, ultimately increasing revenue.
After spending extensive time in the market and witnessing restaurants struggling, Brian Powers, president of Powers Paper, said. "By incorporating a charging solution into the napkin dispenser with PowerNap®, it enhances the patrons' experience resulting in increased foot traffic, branding and revenue."
POWERFUL. CONVENIENT. ADVANCED.
PowerNap® napkin charging station offers patrons charging ports for their phones while sitting at the table allowing them to keep their devices in their possession at all times while charging. In addition, PowerNap's sleek design incorporates customizable panels to display unique advertising or messaging, and its one-at-a-time dispensing reduces napkin usage.
Key product features include:
10,000mAh battery charges multiple devices before needing to be recharged

Includes rechargeable 12V UL-approved power supply

Built-in safety features prevent overcharging

Two USB ports to simultaneously charge phones, tablets and more without power outlet

Device stays in patron's possession while charging

Lights elevate look and indicate the need to recharge with the included 12V plug-in adapter

Multi-purpose design acts as charging station, napkin designer and advertising panel

Small 8.4″ x 6.5″ x 7″ (LxWxH) footprint doesn't crowd the table

Holds 250 soft, absorbent PowerNap® Premium Napkins

Ability to add custom graphics with the

PowerNap® Ad Designer

Available in white (special order) or black colors

Accepts most interfolded type napkins

AVAILABLE AS A BUNDLE THAT INCLUDES 1 CASE (6000) INTERFOLD NAPKINS
Like WiFi, charging has fast become an in-demand amenity. With a fully charged phone, customers are able to stay on premises longer, maximize spending, leave reviews, and post about the experience on social media. The overall customer satisfaction experience for the business is increased. If you don't have one you should - all you need to do is ...
Monday - Friday 8:30am - 4:30pm Eastern Time
Orders. Questions. Samples. Volume Discounts.
+Free Shipping on Orders +$499
+(800) 274-4637 | +(716)668-4001 | [email protected]