Buffalo N.Y. Does More Than Chicken Wings!
There's something special happening in the 716 Corridor of Buffalo New York! Known for many things such as chicken wings, four AFC Football Championships and the mighty Niagara Falls, the city of "Good Neighbors" is leading a humanitarian effort to manufacture protective N95 disposable respirators during a global supply crisis. Here's how one medical professional is making a difference.
March 11, 2020: WHO Declares COVID-19 a Pandemic
When the pandemic hit our shores, inventories across the U.S. were quickly depleted creating shortages of PPE such as isolation gowns, disposable exam gloves, facemasks and face shields. Without these safety items, it left front line personnel, essential workers and dental professionals vulnerable to infections that could lead serious life threatening illness. While the supply chain has opened up slightly, critical personal protective supplies such as disposable N95 respirator face masks are still difficult to procure.
GLOBAL SHORTAGES
N95 respirators are highly sought by and generally reserved for hi-risk healthcare workers and industrial operators. Unfortunately the covid-19 pandemic has created global shortages leaving essential workers and contractors to seek alternative measures to protect their respiratory health. Wearing improper protective gear is like wearing no gear and when our government pleaded the private sector for manufacturing assistance, some took notice. As it turns out, one those people happens to live right here in my community – referred to as "the 716", our area code.
AMERICA ASKED, PLEADED & DEMANDED FOR DOMESTICALLY MADE N95's
A CALL FOR DUTY
In the forefront of new dental procedures, Dr. Todd E. Shatkin is an expert at dental implants and is a proud recipient of the Five Star Diamond Award for customer care, an honor bestowed upon only a handful of dentists in the entire country. He lives in the Buffalo New York community and history will show he loves, serves and gives back to the community through a multitude of charitable organizations, events, and sponsorships.
Recognizing that follow dental associates across the nation were facing PPE shortages, he hired 50 people, secured American raw materials, applied for permits, procured state-of-the-art equipment and utilized his clean room manufacturing originally designed for the production of mini denture implants and created Shatkin F.I.R.S.T.® Pure Environments. Thanks to Dr. Shatkin, Buffalo N.Y. can be proud of the production of N95 respirators along with our famous chicken wings, professional sport teams and the mighty Niagara Falls!
N95 RESPIRATORS PROUDLY MADE HERE IN THE "716" - BUFFALO, NY USA!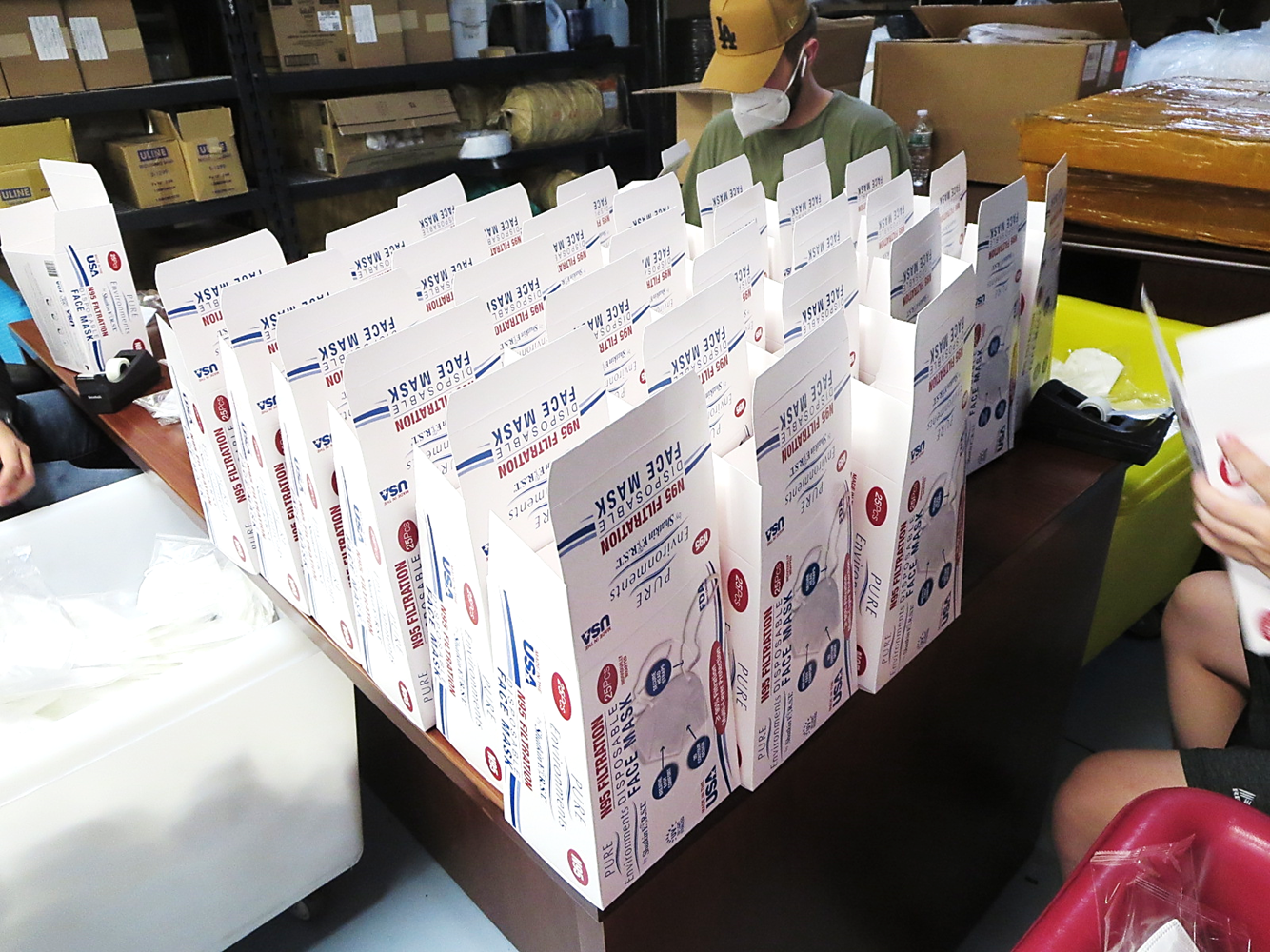 Pure Environments by Shatkin F.I.R.S.T.® is a domestic, round-the-clock manufacturing facility producing high-quality and compliant N95/FFP2 NIOSH approved disposable face masks in Buffalo NY, just a short drive from our corporate office. Our ownership visited their facility and boy were we very impressed!
VERIFIED VENDOR
On-Site Visit
The FDA has banned hundreds of companies from fraudulently selling inferior and counterfeit masks claiming to be N95 and recently, the FDA banned many Chinese imported KN95 type masks for performance fraud. With this in mind we're confirming that Pure Environments brand is the real deal – folks, they're producing high quality, comfortable and compliant N95 filtering respirators here in the USA.
TEST DATA (Links at Bottom)
Updated 12/2021 - Headband Sytle Masks in Now NIOSH Approved
Pure Environments model number SFN95H Disposable N95 Filtration Face Masks are currently listed as FDA Class 1 device listing number 401288. The masks have been laboratory tested by ICS Inc. Laboratories in Brunswick, Ohio and have exceeded the NIOSH N95 Precertification requirement which include both N95 filtration efficiency and exhalation and inhalation resistance qualifications. In addition, the masks have been tested by Vance Lab and SGS IBR Laboratories (the world's leading inspection, verification, testing and certification company) under European standard EN 149, where they also passed and exceeded the N95 filtration and exhalation and inhalation efficiency requirements.
Pure Environments masks are currently being sold as laboratory tested Pre-Certified NIOSH N95 Filtration Masks conforming to NIOSH N95 standards prior to NIOSH approval, which will be completed in late fall 2020. After NIOSH approval, the masks will then be listed with the FDA and CDC as USA made N95 NIOSH respirator masks. This pre-certification testing was a necessary step in the NIOSH certification process.
FEATURES
Pure Environments N95 disposable respirator face masks feature five layers of filtration, alternating polypropylene with cotton for maximum filtration, less heat and extended wear comfort. They also feature:
99% filtration testing results

Ergonomic 3D contour design for comfort and easy breathability

Substantial breathing area allows for sufficient airflow circulation without touching lips

Individually wrapped to prevent contamination

Adjustable nose strips for optimal sealing

Vertical flat fold for easy storage

Ultrasonically welded headbands
FDA Class 1 Listed D401288
CE Certificate PENDING
NIOSH Certificate PENDING
PERSONALIZED SERVICES
Pure Environments respirators can be personalized. If you prefer ear-loop bands they can be produced for you. They can also imprint low runs of N95 respirators with a company logo, school logo, team logo or personal message in full color, for a minimal up charge.
MDS Associates is proud to partner with Shatkin F.I.R.S.T.® and is a stocking distributor of Pure Environments brand N95 respirator masks! Please contact MDS for a free sample and try one for yourself. When you purchase these disposable respirators you are truly supporting American workers and helping one of our local community businesses. Now all you need to do is tap the link and …
Monday - Friday 8:30am - 4:30pm EST
Questions. Samples. Special Requests.
Toll-Free +800-274-4637 | +716-668-4001 |

[email protected]
"We Want You To Return Home Safely...Everday!™