BEAT THE HEAT
WITH A
FROZEN TREAT!
SHIELD® Electrolyte Freezer Pops Help Manage Core Body Temperature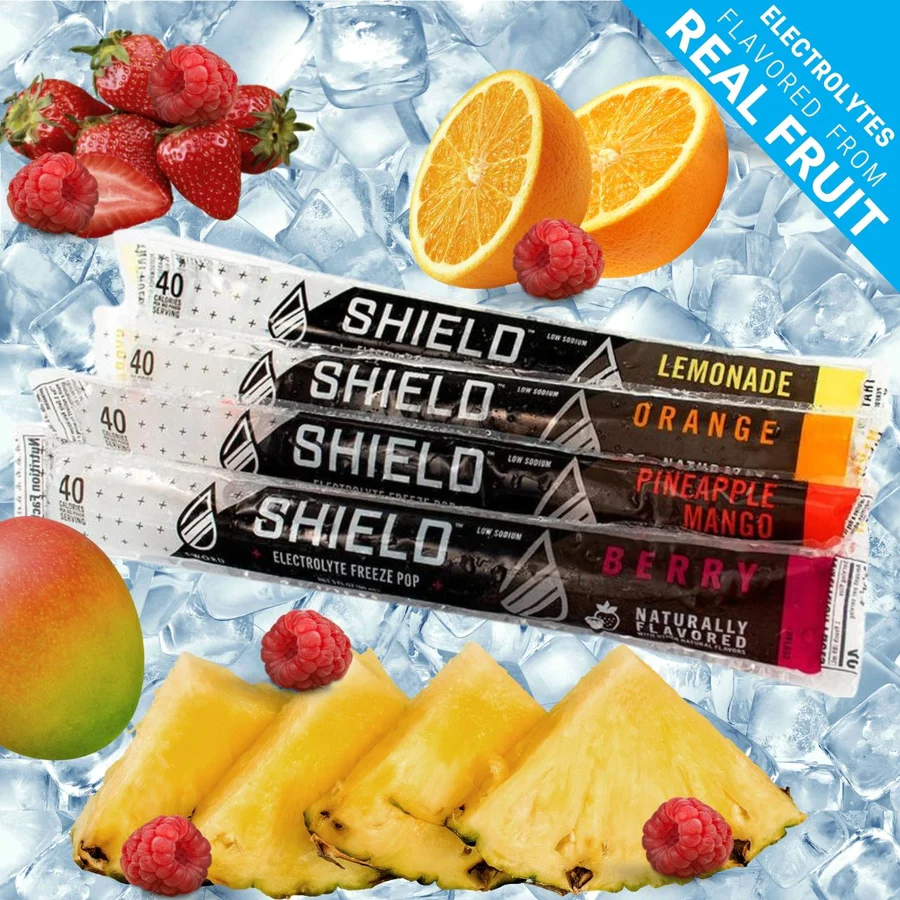 As the summer's temperatures soar, heat-stress becomes a concern, especially when working outdoors. It is very important to stay hydrated in hot , humid places, while out in the sun and even indoors.
Any time the body's deep core temperature is raised, heat stress can set-in. Heat stress occurs when your body gets heated up and cannot cool itself down. A fun and unique way to rehydrate and cool the body's core temperature is to digest anything cold like ice or better yet, a Popsicle!
PPE is Hot To Wear
A common complaint among operators who don personal protective equipment (PPE) is it's extremely hot to wear, even in cool environments and especially when working in the summer heat and blazing sun!
For outdoor laborers, heat is compounded by physical workloads, the environmental conditions and by the layers of PPE gear they are required to wear on the job for their personal safety. Fire fighters, tank cleaners, hazmat personnel, construction workers, cleanroom operators, hydro-blasters, mold/mildew remediation are protected from head to toe. When worn, barrier-proof body suits, safety gloves, high-visibility apparel, hard hats, respirators etc. are concerns for heat stress, heat fatigue and dehydration.
Cooling Strategy
Sport science evidence has demonstrated that cold fluid consumption can help counteract the rise of core body temperature. Eating anything cold has an effect on the body temperature, because it absorbs heat from the stomach, which in turn absorbs heat from the blood. But something that primarily consists of frozen water, like a Popsicle, has the most dramatic effect. That's because it takes quite a bit of heat to melt ice, two or three times as much as it takes to warm the Popsicle up to your body temperature. Hence, eating a Popsicle cools you down at least three times as much as drinking an equivalent amount of cold water!
SHIELD® Freeze Pops Contain No High Fructose Corn Syrup, Zero Artificial Sweeteners or Added Colors. And They Taste Great Too!
Replace What the Body Sweats Out
Rapid Rehydration
There's no tastier way to keep cool than enjoying a cold treat like SHIELD® Electrolyte Freeze Pops from Sword® Performance. The fluids from these freeze pops help rehydrate the body while the coldness helps reduce the body's core temperature and enhance endurance performance.
SHIELD® is your daily defense against dehydration. Flavored from REAL FRUIT, it's light and refreshing with a finely tuned ratio of Sodium and Potassium electrolytes to support fluid balance, muscles, and nerves. SHIELD® frozen pops are also low-calorie so you can consume it anytime without worry.
PRODUCT FEATURES
Electrolyte hydration freeze pop for replenishing electrolytes lost during hard work

Helps cool the body's core temperature, relieving potential symptoms of heat stress

No High Fructose Corn Syrup (HFCS), artificial sweeteners, or added colors

Bold fruit flavors, not overly sweet but thirst-quenching
PROUCT DETAILS
3 Fl oz. (10.2-inch) individually wrapped pouches

Thick plastic protective sleeves

Refreshing & replenshing core-cooling rehydration with electrolytes and fuel

REAL FRUIT FLAVORS Berry (raspberries & strawberries), Orange (mandarin oranges & tangerines), Pineapple Mango (pineapples & mangoes)
NUTRITIONAL FACTS
Serving Size: 1 Pouch (89mL)

Calories: 40

Total Fat: 0 g

Sodium: 25 mg

Total Carbohydrates: 11 g

Sugars: 11 g

Protein: 0 g
Ingredients: Water, Cane Sugar, Natural Flavors, Citric Acid, Salt, Xanthan Gum, Sodium Benzoate (preservative), Potassium Citrate, Potassium Sorbate (preservative)
Packaging: Sold 36 mixed flavors per case, or 225 cases per pallet
SHIELD® Freeze Pops require minimal equipment, is quick to prepare, is not labor intensive and is highly affordable and effective. Perfect for athletics, worksites or community events, be sure to bring your cooler full of SHIELD® popsicles and keep your people hydrated and cool! Now all you need to do is tap the link and ...
Monday - Friday 8:30am - 4:30pm EST
Call or Click
Questions. Samples. Special Requests.
Toll-Free +800-274-4637 | +716-668-4001 |

[email protected]
"We Want You To Return Home Safely...Every day!™