SUSTAINABLE
SINGLE-USE NITRILE
EXAM

GLOVES
MADE IN FAYETTE, ALABAMA

USA

!
PPE supplies such as single-use nitrile gloves, which provide vital two-way barrier protection for medical professionals and front-line workers, are almost exclusively produced overseas. While in very high demand, procurement of these gloves was severely hampered by supply chain issues in regions such as Asia. This provided an opportunity for companies such as SHOWA® to boost their domestic production and begin supplying customers who prefer to buy from U.S.-based sources.
TAA COMPLIANT DISPOSABLE HAND PROTECTION
The inventor of single-use nitrile gloves in 1991, today SHOWA® is currently the only U.S. manufacturer of single-use nitrile gloves, through its U.S. manufacturing facility in Fayette, Alabama. They provide a portfolio of high performing single-use hand protection designed for the comfort and safety of our American workers.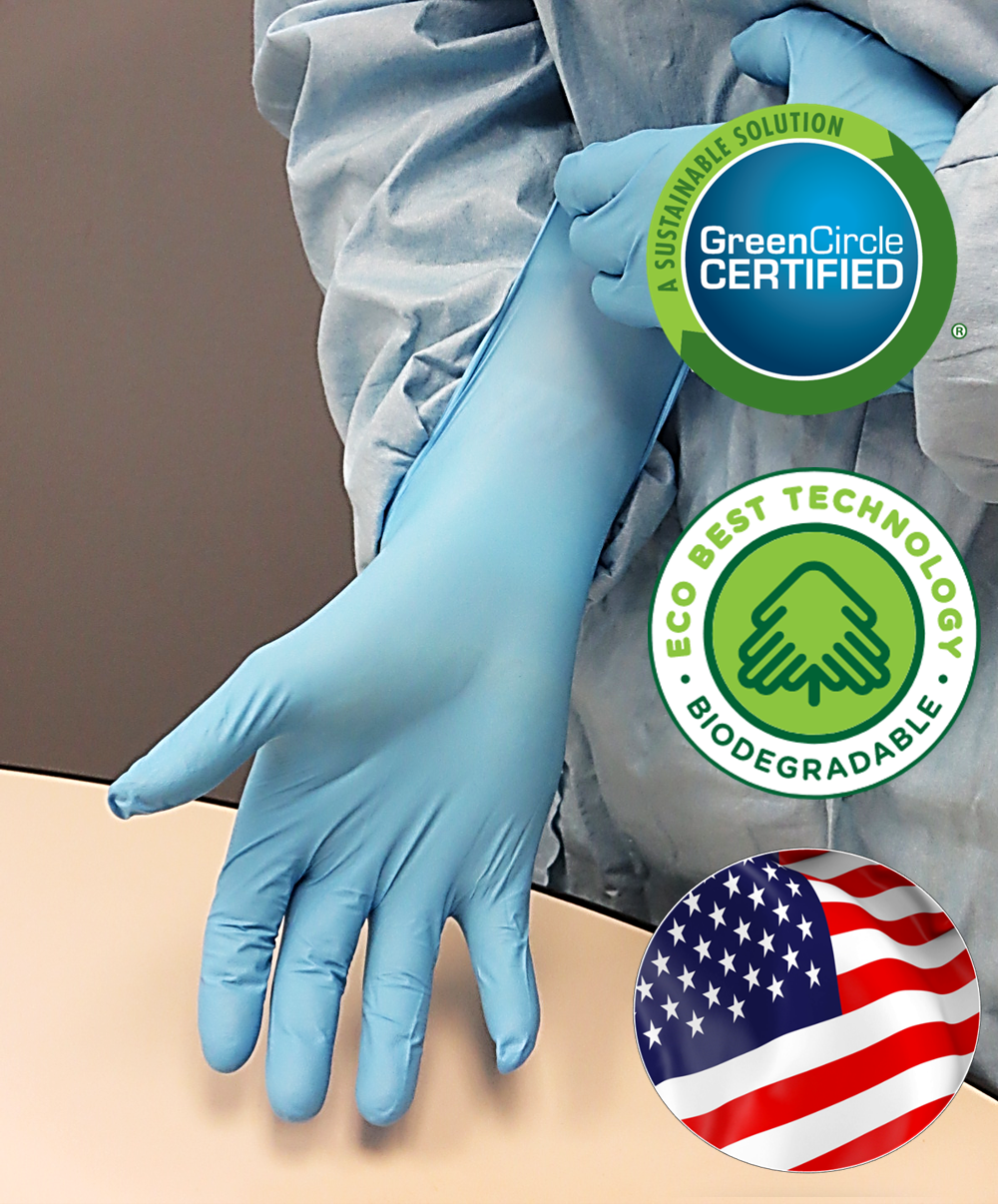 After a 45 million dollar investment to reshore nitrile glove products, and the desire to protect Americans with American made gloves, SHOWA® supports "Buy American" at a time when the U.S. needs to keep as many American manufacturing jobs at home as possible while also creating job and business growth opportunities.
Adding to an impressive portfolio of TAA compliant single-use nitrile gloves, SHOWA proudly offers the U.S. healthcare market with the first ever U.S. manufactured FDA Class 1 medical glove with accelerated biodegradation properties.
AMERICAN MADE
EXAM GRADE
LATEX-FREE DISPOSABLE GLOVES
Offering the same protection, texture, performance and grip as their regular glove counterparts, the +SHOWA® M7005PF 4-mil Blue and +SHOWA® M7002PF 2.5-mil Blue Medical Nitrile Gloves are ultimately better for the planet.
VALIDATED BIODEGRADATION PROCESS
Validated by GreenCircle®, a renowned independent 3rd party laboratory, the SHOWA® M7005PF and M7002PF single-use nitrile examination gloves feature Eco Best Technology® (EBT). This proprietary technology uses special additives to accelerate its biodegradation in landfill – as much as 82% decomposition in 386 days per ASTM D5526 with Zero Waste, whereas conventional nitrile gloves require more than 100+ years to decompose.
SUPPORT "BUY AMERICAN"
SHOWA® is an end-to-end integrated U.S. manufacturer of high performance single-use gloves made from 100% sourced nitrile made in America. The SHOWA® M7005PF and M7002PF Biodegradable Single-Use EBT Nitrile Exam Gloves are TAA compliant and an ideal replacement for those cheap foreign made nitrile gloves. The SHOWA® M7005PF can help government agencies, GSA schedules, GPOs, hospital networks, municipal services, laboratories, and the like support "Buy American".
UNMTACHED PERFORMANCE, FIT & PROTECTION
SHOWA® single-use nitrile gloves are serious disposable hand protection. SHOWA® latex-free nitrile gloves feature a proprietary soft, low-modulus glove formulation that converts hand heat to soften the glove's texture for a more elastic, softer, flexible and pliable wear experience that elevates tactility, dexterity and comfort with durable, chemical-resistant barrier properties.
Support onshoring efforts and consider SHOWA® for your disposable hand protection. SHOWA® offers you the ability to take the next step in sustainability while supporting American jobs without sacrificing performance.
The pandemic lessons we endured must never be forgotten and it starts with you buying American made essential personal safety supplies such as single-use latex free nitrile gloves from SHOWA®. Invest back into America & Protect Americans with American Made PPE - All you need to do now is tap the link and … SUPPORT & PROTECT AMERICA
FREE SHIPPING ON ORDERS OVER $499
Monday – Friday 8:30am – 4:30pm EST
Call or Click Today
Samples. Non-Published Volume Discounts. Questions.
Toll-Free +800-274-4637 | +716-668-4001 | [email protected]
"We Want You To Return Home Safely...Every Day! ™