Disinfect, Deodorize & Sanitize Automobile Interiors
Commonly touched automotive surfaces breed germs but they're often neglected! Before the global health event, it was easy to put cleaning and disinfecting our vehicles off to another day, but disinfecting cars regularly is a good habit to develop now.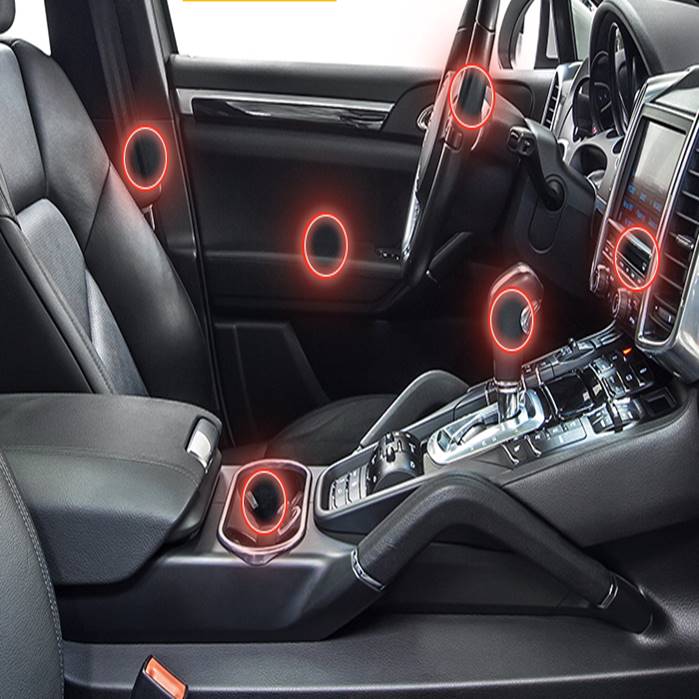 Car interiors have numerous surfaces that are frequently touched and consequently they're a potential breeding ground for all sorts of microorganisms. Steering wheels, seat belts, door handles, fuel caps, window/door locks, gear shifters, keyless entry devices and touchscreen displays are some of the dirtiest surfaces to touch.
Bacteria and viruses can easily travel from the hands onto these surfaces. In fact, if you were to put bathroom germ samples next to car samples, they'd probably look very similar. That's why when you're considering how to keep your cars clean; you need to think beyond the basic vacuum and car freshener. This is why you must clean the interior of your car after every use just like you would clean your hands after entering your home.
POTENTIAL CROSS-CONTAMINATION
Think about it. How many times has that steering wheel been touched or sneezed on, the seat belts released, the audio changed? While you may have taken the proper steps to insure that your hands are clean, have you disinfected those commonly touched automotive surfaces?
If these surfaces aren't sanitized between rentals or test drives, you might be putting people at risk to cross contamination and possible infection. Now you take the next step in infection control and prevention and safely disinfect hot spot surfaces with SONO® Healthcare Surface Disinfectants.
Before you get started, be mindful of the products you use. Not all cleaning products for car interiors are disinfectants, nor are the safe. Cleaners only remove dirt and other debris from a surface. Disinfection is a chemical process designed to attack pathogens and doesn't require wiping and it should be labeled safe for the surfaces you intend to disinfect.
When you are disinfecting your car, you need to give the chemicals time to stay on a surface without them being disturbed. That's how viruses and bacteria are killed. If you just wipe a surface really quickly with a disinfectant, it won't be too effective. You'll clean the surface, but you won't do much disinfection. So be sure to make surfaces look "wet" with a disinfectant—and keep it that way for the time listed on the product label. For example, most SONO® Disinfecting Wipes require 4-5 minutes to kill 99.99% of viruses and bacteria.
SAFE FOR ALL SURFACES-NO GLOVES REQUIRED
SONO® is the next generation of disinfection as it is recognized as one of the safest and most effective disinfecting ingredients available on the market. SONO® Hospital-Grade Disinfectants are recognized by the United States EPA (#6836-340-89018) and the Center for Biocide Chemistries as an effective solution against 99.9% of bacteria, fungi and kill more than 47 pathogens such as:
SARS-CoV-2
Staphylococcus Aureus (MRSA)
Enterococci (VRE)
Carbapenem-Resistant Enterobacteriaceae (CRE)
Carbapenem-Resistant Klebsiella pneumoniae (CRKP)
HIV
Hepatitis B and C
Norovirus
Avian influenza, H1N1, H3N2, and H5N1
MEDICAL-GRADE DISINFECTING SURFACE WIPES
Using a patented Hydrogen Peroxide technology, SONO® Disinfecting Surface Wipes are a broad-spectrum, one-step, medical-grade disinfecting wipe with a 4-minute kill time, a two year shelf life and 1 year expiration (once opened). These t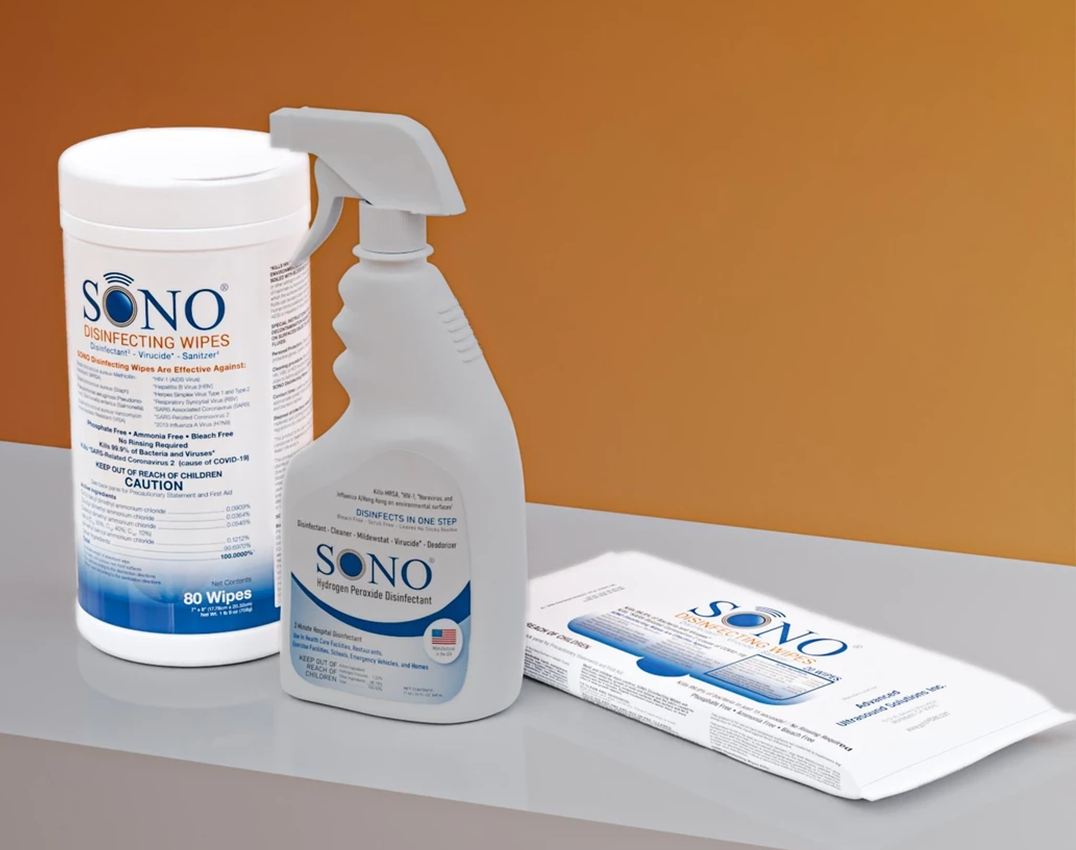 extured wet wipes are quaternary ammonium compound based with a low VOC formulation that is ammonia, bleach and phosphate free. They also don't contain harsh solvents, added alcohol or strong oxidizing agents making it safe for all surfaces. This means you don't need to wear gloves to use them, and they're not flammable making them ideal for everyday use!
#SONO4094 33 PACK - Disinfecting Wipes - 20ct. Travel Softpack
#SONO4018 12 PACK - Disinfecting Wipes - 50ct. Softpack
#SONO4479 12 PACK – Disinfecting Wipes – 80ct Softpack
#SONO4032 6 PACK – Disinfecting Wipes – 80ct. Canister
SONO® DISINFECTING WIPES ARE DIFFERENT
SONO® performs compatibility tests on a variety of electronic devices (phones, tablets, keyboards) and other common surfaces to be sure their disinfectant wipes don't damage them. SONO was the first to develop an automated compatibility process for medical devices in the healthcare industry, and we brought the same process to the consumer and professional market. Now you can keep your devices germ-free and worry-free!
WHO USED THE CAR LAST?
In response to the pandemic, many well named car rental agencies are providing assurance that the company has modified its cleaning procedures and are doing what they can to ensure their fleets are safe to use. Extra concentration is being be placed on interior items that users are most likely to touch that includes dashboards, door handles, gear shifter, keyless devices, consoles, seats, steering wheels, touchscreens, buttons among others.
Preventing the spread of germs between consumers is very important for proper infection control be it a car showroom, rental agency, detail shop or test drive. Surface disinfecting and surface sanitation are part of this infection prevention protocol but harsh cleaning chemicals can potentially attack automotive surfaces and leave unpleasant odors and dangerous VOC's. Now you can take sanitation one step further and implement these easy to use and affordable SONO Surface Disinfectants.
Remember, 80% of common infections are spread by hands and germs are everywhere. SONO® Healthcare makes hospital-grade disinfection and sanitization products that are safe to use in homes and businesses. These products are made in the USA and meet FDA and EPA regulations, so you can be certain your customers and employees are safe. When you use SONO® Hospital-Grade disinfecting and sanitizing products in your business, you are letting your customers know you have their best interest at heart. But first you need to tap the link and …
Monday – Friday 8:30am – 4:30pm EST
Samples. Non-Published Volume Discounts. Questions.
Toll-Free +800-274-4637 | +716-668-4001 |

[email protected]
"We Want You To Return Home Safely...Everday!™
** Stay Clean. Stay Protected. Use SONO® Disinfectant Wipes Along with Our Automotive Poly Barrier Covers