SONO® Healthcare | An EPA Registered USA Manufacturer
DISINFECTANT PRODUCTS TRUSTED

BY

HOSPITALS
In case you haven't heard of SONO® Healthcare, they're a USA producer of lab tested, EPA registered (#6836-340-89018) disinfecting wipes, disinfecting spray, BZK hand sanitizing wipes and foaming hand sanitizer. Like many companies, SONO® was founded as a unique solution to a particular industry problem. Fast forward to today and SONO® disinfecting products have become the standard for cleaning delicate equipment after proving their effectiveness year-after-year.
BACKGROUND
Serving in the Ultrasound industry since 1998, the SONO® team had identified a growing pattern among doctors, sonographers, and their machines they used. Unbeknownst to them, the disinfectant supplies they were applying had been degrading sensitive ultrasound components, leaving them worn and possibly unsafe to use. This not only posed a liability for the facilities using such machinery, but more importantly, it placed patients at risk.
Solvents dissolve things and apparently the disinfectant products used contained solvents such as alcohol, which not only destroyed pathogens on the surface of the equipment, but also the equipment! This translated to enhanced profits for the manufacturer due to the increased turnover of each machine.
SAFE FOR USE ON ALL SURFACES
SONO® founders convened and began researching what they could do to help. After developing a functional disinfectant wipe, they took it a step further and pioneered a rigorous process for testing the material compatibility of their solution and yes, it worked.
Medical facilities and professionals now not only trust and depend on SONO® to maintain the integrity of their equipment, but also garner the confidence and comfort of their patients. Today they are used extensively in a wide variety of applications, from the travel industry to the automotive, from food service to surgical suites and everything in between.
A BRAND YOU CAN TRUST
Protect yourself and those around you with SONO®. SONO® has invested a considerable amount of time, energy, and resources into ensuring that they are delivering a product that is not only effective and safe for the medical community, but the global community as well. Developed with over 20 years of experience in the ultrasound industry and exclusively manufactured in the USA, SONO's hospital-grade products are second to none in quality, efficacy and material compatibility. Regular use will not degrade surfaces.
All SONO® disinfectants are recognized as an effective solution against 99.9% of bacteria and kills viruses such as SARS-CoV-2, Norovirus, H1N1, and more by the United States EPA (#6836-340-89018) and the Center for Biocide Chemistries. Using a patented Hydrogen Peroxide technology, it is the next generation of disinfection as it is recognized as one of the safest and most effective disinfecting ingredients available on the market (EPA CAT IV. No gloves required). Rest assured, you're safe with SONO®.
MEDICAL-GRADE DISINFECTING SURFACE WIPES
SONO® Disinfecting Surface Wipes are a broad-spectrum, one-step, fast-acting, medical-grade disinfecting wipe with a two year shelf life and 1 year expiration (once opened). These textured wet wipes are ammonium compound based with a low VOC formulation that is ammonia, bleach and phosphate free. They also don't contain harsh solvents, added alcohol or strong oxidizing agents making it safe for all surfaces!
When used as directed, they effectively kill a market-leading number of bacteria, fungi and viruses with exceptional cleaning performance against 47 pathogens in 4 minutes. Their EPA-registered formulation does not contain high-levels of solvent that can cause wipes to dry out or lose efficacy.
SONO® Disinfecting Surface Wipes are lint free, highly absorbent, and the water-based formula makes these safe to use on plastics, laminates, metals, Plexiglas screens and rubber surfaces. They can be used to disinfect and sanitize a wide variety of hard surfaces, from medical equipment like ultrasound and ECG machines, to common items in your home, such as computers, door handles, remotes, floors, cell phones and bathroom fixtures. You can also use them on gym and exercise equipment, as well as interior automobile surfaces. And here's the best part, you don't ever need to wear gloves to use them and they're not flammable!
#SONO4094 33 PACK - Disinfecting Wipes - 20ct. Travel Softpack
#SONO4018 12 PACK - Disinfecting Wipes - 50ct. Softpack
#SONO4479 12 PACK – Disinfecting Wipes – 80ct Softpack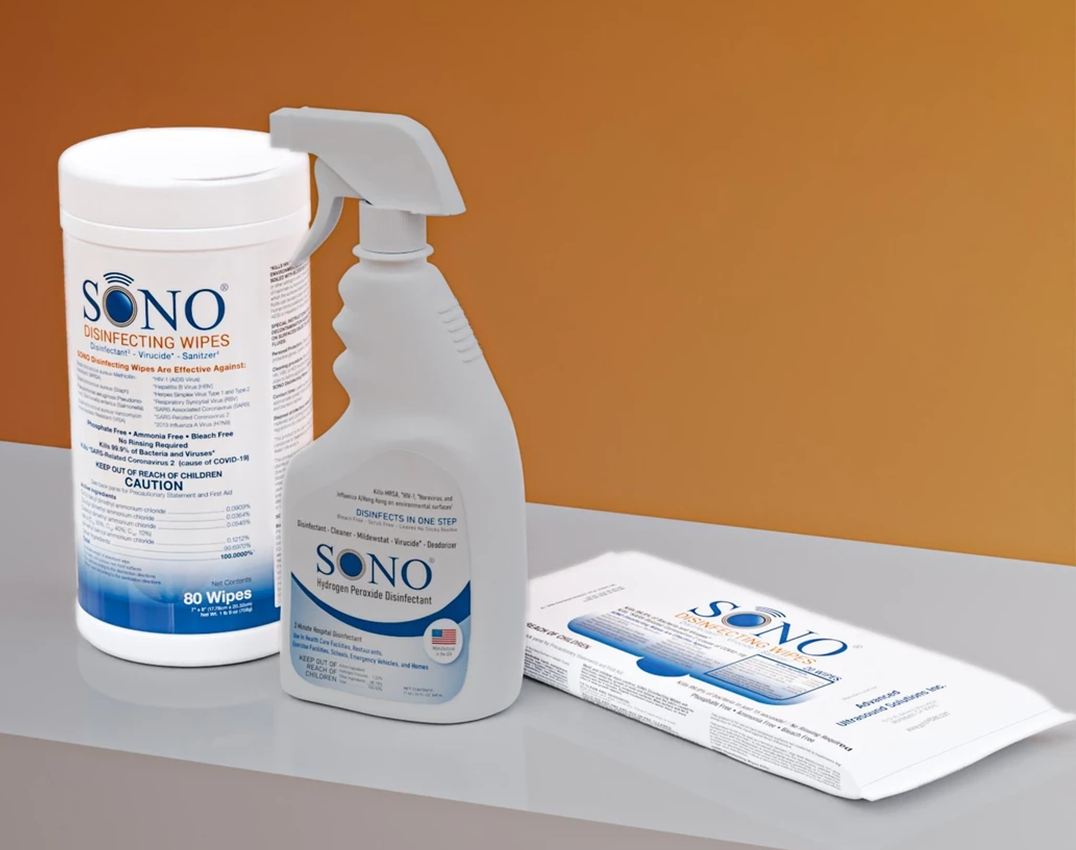 #SONO4032 6 PACK – Disinfecting Wipes – 80ct. Canister
HOSPITAL-LEVEL DISINFECTING SURFACE SPRAY
Perfect for hospitals and nursing homes, SONO® ready-to-use disinfecting spray cuts through soap scum, grease, grime and deodorizes in one easy step while killing tough germs like Norovirus.
SONO® Surface Spray is listed on the EPA N-List for efficacy against SARSCoV-2 and qualifies under the EPA's 'Designed-for-Environment list.
While some other brands can take up to 10 minutes to kill bacteria and viruses, this unique germ-fighting spray is formulated with patented hydrogen peroxide technology that kills microorganisms in as little as 3 minutes across a broad range of surfaces and contains no abrasives, bleach, harsh chemicals or fumes.
SONO® Disinfecting Spray kills 99.9% of mold, mildew, bacteria and viruses on nonporous surfaces and it's safe to use everywhere from homes to gyms to offices. Use it to keep your patients, customers, employees, visitors and family safe with a quick spray on high-touch surfaces where germs can easily be transferred from person to person such as day care centers, schools, colleges, universities, commercial kitchens, gyms, health clubs, locker rooms, lodging establishments, military installations, office buildings, play areas, public restrooms, restaurants, recreational facilities, retail businesses, sports arenas, transportation terminals and more.
SONO® Disinfecting Spray can also be used on fabrics that are composed of 100% cotton or 100% polyester. This product is safe for mattresses, couches, drapes and cushions to stop the spread of infection-causing bacteria, as well as to remove smoke odors from fabrics.
#SONO4322 6 PACK - Hydrogen Peroxide-Based Disinfecting Spray - 32oz.
SONO® Healthcare makes hospital-grade disinfection and sanitization products that are safe to use in homes and businesses. All of their products are made in the USA and meet FDA and EPA regulations, so you can be certain your customers and employees are safe. When you use SONO® Hospital-Grade disinfecting and sanitizing products in your business, you are letting your customers know you have their best interest at heart. But first you need to tap the link and …
Monday – Friday 8:30am – 4:30pm EST
Samples. Non-Published Volume Discounts. Questions.
Toll-Free +800-274-4637 | +716-668-4001 |

[email protected]
"We Want You To Return Home Safely...Everday!™