Prevent Tearing

with

Sterling® Brand Nitrile Gloves!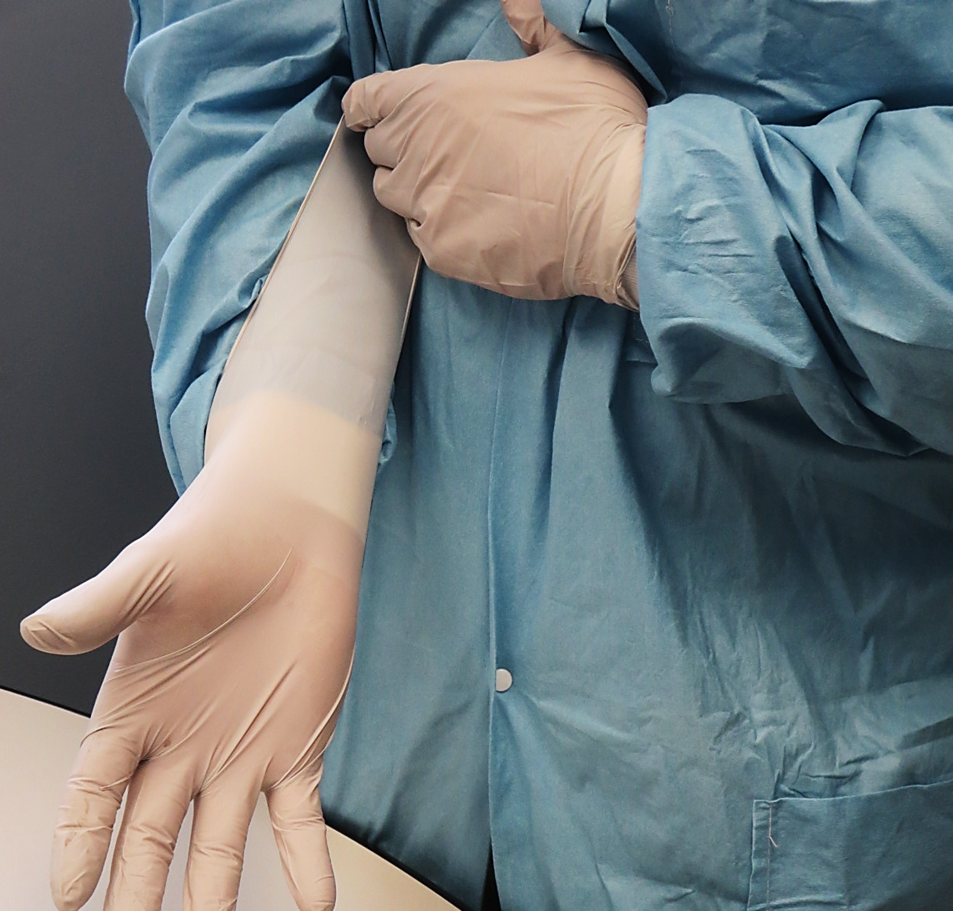 Here's the deal folks, single-use nitrile exam-grade gloves shouldn't rip when manipulated onto the hands, nor should they shred easily when brushed against abrasive surfaces. It defeats the purpose of the glove and is useless.
Disposable gloves are worn practically everywhere nowadays. Latex-free styles such as nitrile and synthetic vinyl are the most popular styles. You see them in doctor's offices, restaurants, tattoo salons, hair salons, and anywhere else that workers need inexpensive hand protection at the ready.
Single-use gloves might get dirty quickly, but they're very easy and cheap to replace. There's always a new pair waiting, and they don't need special laundering. For workers who need a tactile protective barrier but don't require a specialized protection such as cut resistance, disposable gloves are the best option.
Here are three things that make disposable hand protection indispensable:
Single-Use Gloves Prevent Cross-Contamination or Touch Contamination.

They prevent pathogens from spreading.

They protect you from unknown hazards.
Unfortunately the global health event has created worldwide glove shortages and has introduced an influx of inferior made exam gloves that rip very easily. Ripped gloves translate to money wasted and for professionals working in high risk environments, a glove that tears puts lives at risk to infection. Sure other gloves maybe cheaper, but how many are thrown out before they are worn?
Are you tiered of single-use gloves that rip easily? Have you lost confidence in its protective abilities? Higher quality glove formulations, manufacturing standards and processes will stop the complaint "Our gloves tear all the time". This is what separates the Halyard® brand of powder-free nitrile exam gloves from the many other brands offered before and during the outbreak.
NOT THE CHEAPEST, JUST THE BEST!
Halyard® Health is a cutting edge medical technology manufacturing company based in Alpharetta Georgia and provides healthcare solutions focused on infection prevention. Their quest to become the market leader in disposable hand protection started back in 2000 with the acquisition of SafeSkin Glove Corporation. Today, Halyard's innovative portfolio of non-latex medical grade examination gloves help keep healthcare employees safe from exposure to bloodborne pathogens and infectious materials. What separates Halyard® is their renowned glove engineers, clinical researchers, scientists and proprietary glove formulations. They strive to create the perfect glove product in hopes consumers will convert to their brand ...because once you've worn them, you won't ever wear another style glove ever!
THE HALYARD® DIFFERENCE
Over the years, Halyard® has developed and grown their innovative line of competitively priced non-latex exam gloves by manufacturing processes that boost the tensile strength of nitrile—the force required to break through the glove—to increase its already superior barrier protection qualities. The process also allows a for a reduction in glove thickness, which means that less force is required to stretch the material. This provides a latex-free glove with the dexterity and tactile sensitivity of natural rubber latex. Their soft, supple and flexible glove texture is a result of rinsing glove residues off with non-chlorinated water. Chlorinated water is used in oversea countries to kill bacteria and rid contaminates in the water but it has a hardening effect to a glove's elasticity and texture. Halyard's soft texture is a result of rinsing the gloves with fresh water which I was told was discovered by total mistake! And lastly, Halyard's attention to details carries through to their unique glove dispensers that features Smartpull®. Smartpull® is a two stage opening that prevents waste by grabbing multiple gloves by mistake.
CONSISTENT PERFORMANCE & STERLING QUALITY
Halyard's Sterling® and Sterling SG® brand of nitrile exam gloves provide outstanding tactilty feedback and meet high strength and durability standards making them the pinnacle of disposable hand barrier protection. Relied on by healthcare professionals every day, they meet or exceed FDA standards and are cleared for chemotherapy applications.
Go ahead and pull-on these gloves then stretch away! If you want to standardize on one nitrile exam glove that fits virtually all your needs, facility-wide, Sterling SG® (3.5-mil thick) and Sterling® (4-mil thick) Nitrile Gloves are consistent, reliable and trusted disposable hand protection! Both styles feature a micro-textured grip surface and Malaysian quality.
Glove Packaging:
Sterling® - 200 gloves per box, 10 boxes per case (2000 gloves)
Sterling SG® - 250 gloves per box, 10 boxes per case (2500 gloves)
These high performing, high quality Halyard® Sterling® Powder-Free Nitrile Exam Gloves feature a patented proprietary technology that allows for a reduction in glove thickness without sacrificing barrier properties or durability. Halyard® Health's manufacturing process boosts the tensile strength of nitrile—the force required to break through the glove—to increase its already superior barrier protection qualities.
HIGH PERFORMING SINGLE-USE HAND PROTECTION
Gloves should be worn for all medical activities involving chemotherapy drugs, including compounding, administration, the handling of waste from recently treated patients, patient exams and cleanup of bodily spills. Try these Sterling® brands of nitrile gloves and experience excellent fit, strength, tactile sensitivity. These elastic, flexible single-use nitrile exam gloves boast quality standards that include:
AQL of 1.0

Approved barrier protection for use with bodily fluids

FDA 510K registered

Latex-free

Cleared for use in Chemotherapy

SG® Meets or exceeds Biocompatibility-ISO Standard for Primary Skin Irritation and Sensitivity

Exceeds ASTM D 6319 Standard Specification for Nitrile Examination Gloves for Medical Applications
Halyard® Sterling® brand of nitrile gloves feature SmartPull® dispenser boxes that's designed to significantly reduce the incidence of getting more than one glove while dispensing. Eco-packed in space saving high-count dispenser boxes, they capture a 50% savings in the storage space. It also means there are fewer boxes to discard, which means less waste for your facility.
Are you in the market for high-performing and reliable disposable gloves with the newest innovations? When it comes protecting personal safety, select Halyard® Sterling® brands. They aren't the cheapest, just the best. But don't take our word for it, tap the link and stretch away!
Monday - Friday 8:30am - 4:30pm Eastern Time
Orders. Questions. Samples.
+(800) 274-4637 | +(716) 668-4001 |

[email protected]
"We Want You to Return Home Safely…Every Day"