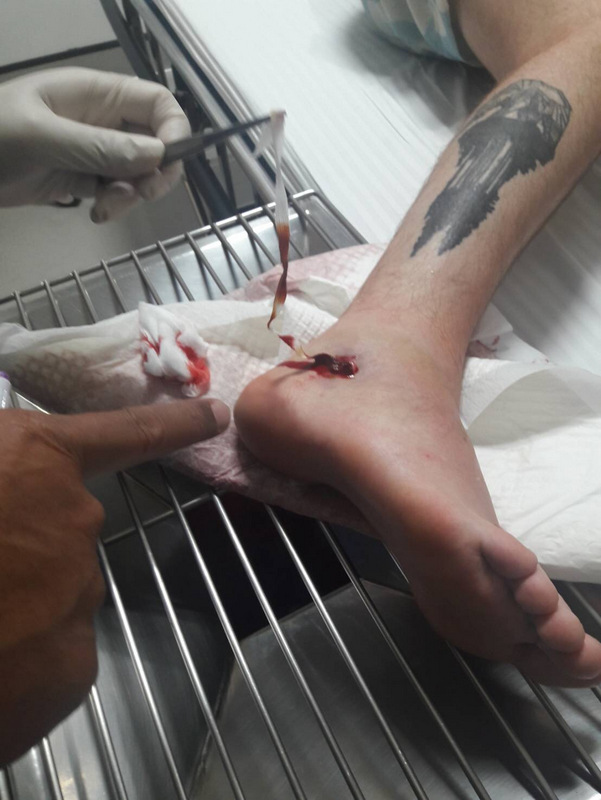 Protect Yourself Against Stingray Stingers with Stingray Guardz™
Certified Stingray Resistant
Common in coastal tropical and subtropical marine waters throughout the world, stingrays are cartilaginous fish that are related to sharks and are one of the largest groups of venomous marine animals and are common in coastal tropical and subtropical marine waters throughout the world. They are generally passive, solitary creatures that only sting in self-defense yet stingrays account for 750 to 2000 injuries annually.
Stingrays don't attack aggressively or even actively defend themselves and when they feel threatened, rather their primary reaction is to just swim away. However, when attacked by predators such as a shark or when they are accidently stepped upon or harassed by a human, they swing or arch their tail in the direction of the intruder as a defensive maneuver to protect themselves.
Stingrays often lie on the shallow, sandy bottom of a beach area and they cover themselves with sand for camouflage while resting, hunting or hiding from predators, so they can be hard to see. Most stingray injuries typically occur when a diver, swimmer, surfer or oceanic researcher walks along the beach and accidentally steps on a ray causing their venomous stinger (spine) near the base of their tails to lash out causing puncture or lacerations to the foot or lower leg region.
Fishermen and marine scientists working out at sea on marine vessels are also at great risk to stingray puncture injuries. These injuries often occur when stingrays become hooked on fishing lines or tangled in fishing nets.
Contact with the stinger causes local trauma (from the cut itself), pain, swelling, muscle cramps from the venom, and later may result in infection from bacteria or fungi.[1] The injury is very painful, but seldom life-threatening unless the stinger pierces a vital area.[2] The barb usually breaks off in the wound, and surgery may be required to remove the fragments.[3]
Certified Protection. Made in
USA
. Lifetime Warranty.
Don't wade out into the water without your certified Stingray Guardz™ industrial protective foot and calf apparel from CrackShot Corp. Weighing only 8 ounces, these ultra-lightweight sting ray leg protectors with metatarsal protection are designed to protect from the heel of the foot to the height of 12 inches. These stingray guards are manufactured with 600 Denier Polyester fabric encasing polycarbonate inserts and have been tested by the United States Testing Laboratory at ASTM-4873D specifications.
StingRay Guardz™ feature quick release 1" wide buckles, two 1" polyester adjustable secure straps and buckles on the back of the calf and one underneath the foot to prevent guardz from floating up while wading in the water. Stingray Guardz™ are to be worn over wading shoes or boots. The material has 2 oz. rubber waterproof applied to the inside surface to prevent water pockets from forming inside of the guards. Tan color only.
Ideal for:
Fishermen
Commercial fishing
Beach hikers
Oceanic researchers
DEC
Fish and Game
Border patrol
When heading to work, make sure you grab and wear Stingray Guardz™ – one prevention pays for itself!
Monday - Friday 8:30am - 4:30pm EST
Toll-Free +800-274-4637 | +716-668-4001 | [email protected]
"We Want You to Go Home Safely Everyday"
---
Slaughter RJ, Beasley DM, Lambie BS, Schep LJ (February 2009). "New Zealand's venomous creatures". The New Zealand Medical Journal. 122 (1290): 83–97. PMID 19319171. Archived from the original on April 17, 2011.

"Stingray Injury Case Reports". Clinical Toxicology Resources. University of Adelaide. Retrieved 22 October 2012.

Flint DJ, Sugrue WJ (April 1999). "Stingray injuries: a lesson in debridement". The New Zealand Medical Journal. 112 (1086): 137–8. PMID 10340692.