The New Trend-Camouflage Work Gloves
Not Available in Stores
The new fashion color is camouflage and work safety gloves are no exception. A popular choice with both men and women, the camo trend is rising in popularity in the industrial market. Half the battle of PPE compliance is having employees wear their protective gear. More and more machine operators, construction workers, farmers, ranchers, automotive workers and material handlers are requesting camo print gloves in the workplace.
Made for professionals who work in the field or water, they will appreciate the quality, fit, strength and dexterity of these gloves. Perfect for DEC, Fish and Gam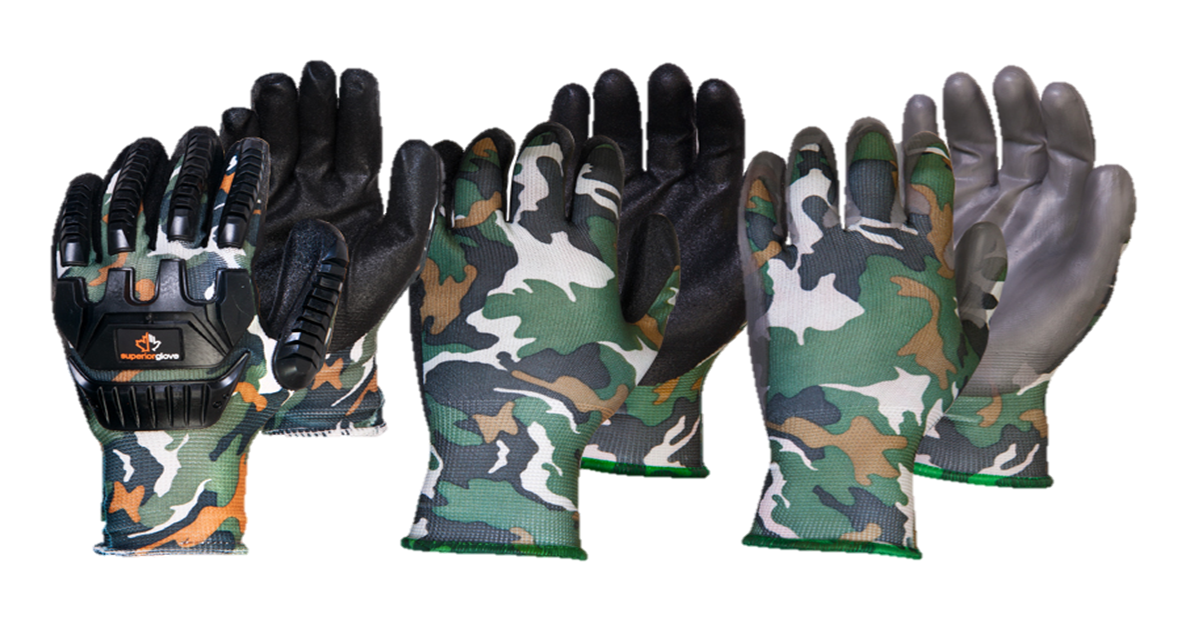 e, Sheriff, Coast Guard, Hunters, Foresters, Fishermen, Landscapers, Gardeners and more!
Eye-catching camo-print gloves deliver big on aesthetic and function. Superior Glove® now offers three styles of camouflage work gloves to choose from and each are well, simply awesome! Perfect for extended wear situations, all three styles feature a 13-gauge seamless knit non-linting nylon construction which provides a smooth, seam free interior lining for non-chaffing, all-day comfort against the skin. Highly dexterous and durable, these gloves are designed for rugged environments that demand touch sensitivity indoors or outdoors. Palm coated with either micropore nitrile or polyurethane, these gloves provide secure gripping power in wet or dry environments.
+Dexterity® Camouflage Work Gloves | Two Styles
Featured at ASSE's Safety Show in June 2016, the Dexterity® Anti-Impact Camo Gloves were a big hit! Welded to the back of the hand, black Thermo Plastic Rubber (TPR) guards protect the knuckles against crushing bumps or impacts without restricting movement or creating any stiffness. This extra safety feature can be the difference between a good day and a bad day. If the TPR guards aren't your thing, the Dexterity Camo Glove is your answer. Both styles feature a black nitrile coated palm with micropore technology. Infused with millions of tiny pores, they act like suction cups that strengthen grip and displace liquids when pressed against smooth surfaces. For more Anti-Impact protection, check out D30® work gloves in orange.
The perfect choice for those who work around CNC machines, handle oily metal parts, work with water and more. The addition of the micropore coated palms also boosts puncture and abrasion resistance — all without adding bulk or reducing touch sensitivity. Available in sizes 6-11. MDS is an authorized distributor of Dexterity® brand gloves by Superior Glove®.
+Superior Touch® Camouflage Work Gloves
Superior Touch® Camouflage Gloves feature a low particulate shedding grey polyurethane palm coating. These gloves are an excellent choice for use in any fine assembly work where contamination is an issue. They are also effective at protecting hands from nicks and minor cuts, while still allowing for a bare-hand feel during tasks where essential. DMF free. Available in sizes 6-11. [PDF]
---
Think these gloves belong in your tool kit, field bag or locker? What are you waiting for? Visit MDSassociates.com to request your sample pair today, for volume discounts or to place an order!
+800.274.4637 | +716.668.4001 | in[email protected] | Fax +716.668.4496