Protect The Insides

with

Drinkable PPE®
Game-Changing Natural Electrolyte Hydration Drink Products Backed by Science - NOTHING Compares!
Delivered to Your Door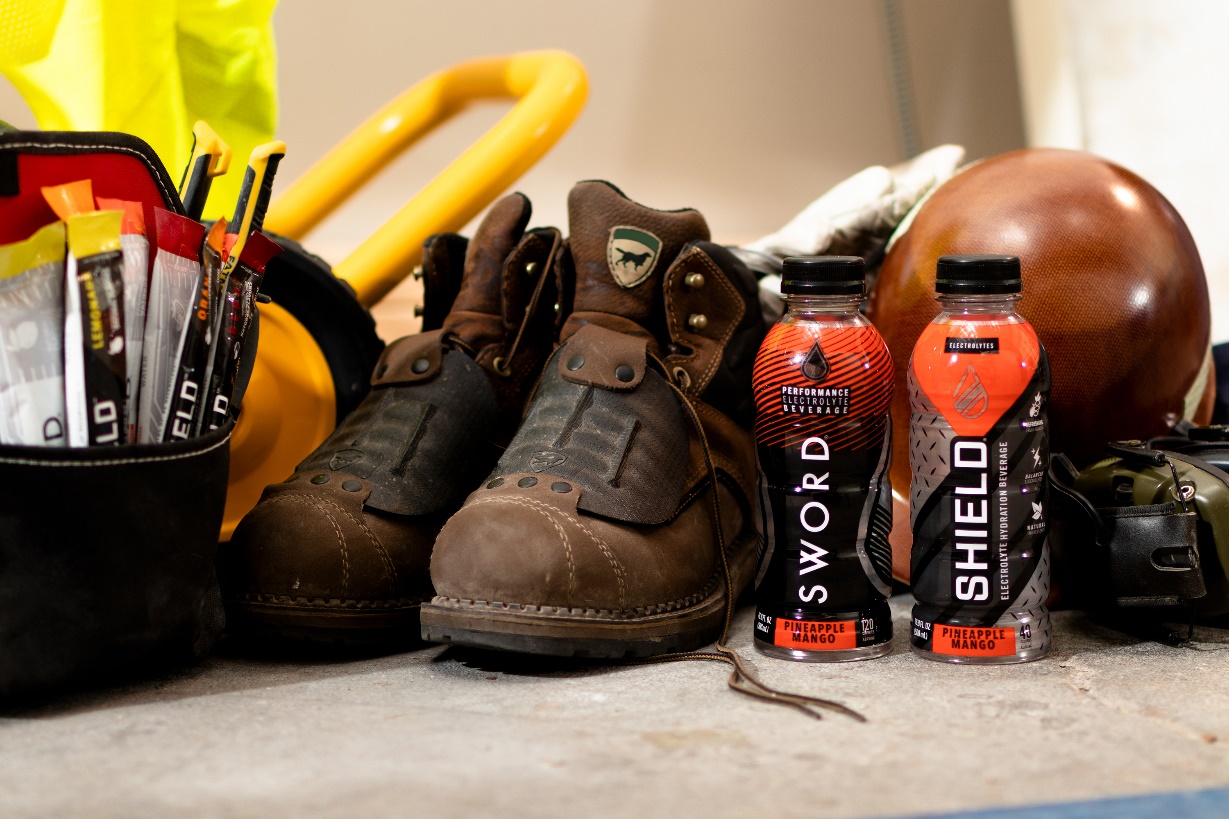 What's the buzzword PPE mean?
PPE is personal protective equipment such as hard hats, goggles, respirators, coveralls/body suits and work gloves. These safety devices are required by the federal governement to be worn to protect the wearer's body or personal safety from on-the-job related hazards that include physical, electrical, heat, chemicals, biohazards, particulates and pathogens.
PPE has traditionally been focused on external protection of the body, and understandably so. Helmets protect the head, gloves protect the hands and special footwear protect the feet. But why not apply the same logic to protecting the inside of your body? After all, hydration is vital to keeping your body working and healthy!
Being hydrated helps maintain and improve:
Mental clarity – no brain fog

Endurance – delayed physical and mental fatigue

Motor control skills – no shaky hands or loss of grip due to fatigue

Muscular strength – avoid cramping
Made in America, SWORD® Performance Products Has You Covered!
SWORD® Performance was founded with a purpose: use clean, natural ingredients to provide great-tasting, effective hydration to hard-working men and women everywhere. From stadium lights to job sites, SWORD® Performance products is Drinkable PPE®! Specifically designed to work with the body to battle dehydration and physical fatigue so your staff remains safe.
Below are two high performing blends scientifically created for you! Available are two product lines: select SWORD® for when you're sweating and working hard; select SHIELD® for when water just isn't enough.
Most of the time, we drink SHIELD®.
But when the going gets tough, SWORD® can't be beat.
1. SWORD® PEAK PERFORMANCE ELECTROLYTE HYDRATION
SWORD®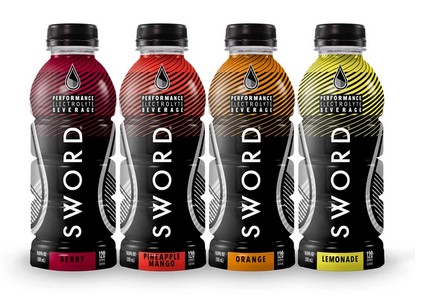 is peak performance hydration fuel to battle heat stress and fight fatigue when working hard. Drink SWORD® when you are:
+Sweating

+Wearing heavy PPE or layers of clothing such as a mascot uniform, coverall or heavy costume

+Physically working hard

+Hot or in a hot environment
SWORD® is a revolutionary long-lasting carbohydrate-electrolyte drink scientifically formulated to help maintain hydration, improve productivity and avoid heat and fatigue related illness, even in the most challenging conditions. SWORD® is designed to support extreme physical work in harsh temperatures by supplying the fluids, essential electrolytes and fuel you need to push your boundaries. Used by elite athletes, fire fighters and by patients undergoing chemotherapy.
KEY POINTS
Premium product- "I.V. in a bottle"

Hydrate faster and better than water.

Sustain energy longer – lasts one hour

Reduce upset stomach

TaseAdapt™ delivers real fruit flavors that satisfy

Sodium electrolytes support blood flow, replaces sodium lost and helps regulate temperature

All-natural, nothing artificial

Gluten-free, caffeine-free, dye-free, vegan-friendly
+SWORD® products are available in a ready-to-drink 16.9 oz bottles and convenient 16.9 oz single powder packs in all natural Orange, Lemonade, Pineapple Mango and Berry real fruit flavors.
2. SHIELD® MAINTENANCE ELECTROLYTE HYDRATION
SHIELD® is great tasting any time hydration when water isn't enough, or as maintenance electrolyte hydration. Drink SHIELD® when you are:
+Thirsty

+Relaxed or performing mid-low intensity work

+In a temperature-controlled environment

+Preparing or recovering from strenuous activity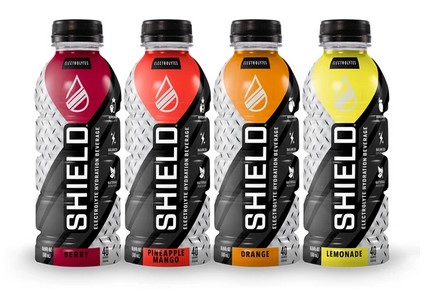 SHIELD® is a low-calorie, low-sodium drink with a purpose: to provide a great tasting, healthy option to quench thirst and stay hydrated without highly processed sugars or artificial ingredients. With no caffeine, high-fructose corn syrup or anything artificial, consuming SHIELD® helps your workforce prevent dehydration, improve mental clarity, and maintain productivity.
KEY POINTS
All-natural, healthy alternative product

Maintain mental clarity

Reduce upset stomach

Balanced electrolyte blend replenishes sodium and potassium electrolytes to promote fluid balance and nerve function
+SHIELD® products are available in a ready-to-drink 16.9 oz bottle, convenient 16.9 oz single powder packs and freeze pops in all natural Orange, Lemonade, Pineapple Mango and Berry real fruit flavors.
NEW
SHIELD® Zero Electrolyte Enhanced Water
Zero Calories, Zero Sugar, Zero Artificial Sweeteners, Zero Compromises!
SHIELD® ZERO is an electrolyte enhanced water that is diabetic friendly. SHIELD® Zero is a full-flavored healthy hydration beverage with balanced electrolytes that hydrates better and faster than water with zero sugar and zero artificial sweeteners.
SHIELD® ZERO products are available in a ready-to-drink 16.9 oz bottles and convenient 16.9 oz single powder packs in all natural Orange, Lemonade, Pineapple Mango and Berry real fruit flavors.
No matter who you are, no matter what you do, everyone has gear that they rely on to get them through the task at hand. Turns out what you're drinking is as important as the gear you use on the outside of your body! So the next time you grab your cleats, shovel, paddle or helmet, be sure to stay hydrated and protected with Drinkable PPE®!
Orders. Questions. Volume Discounts. Special Requests.
+800-274-4637 | +716-668-4001 | Fax +716-668-4496 |

[email protected]
"We Want You to Return Home Safely Every Day"