When It Comes

to

Hand Sanitizer, Trust Synergy™
A New Hand Sanitizer is Proudly Made in North America & Rivals Purell® Brand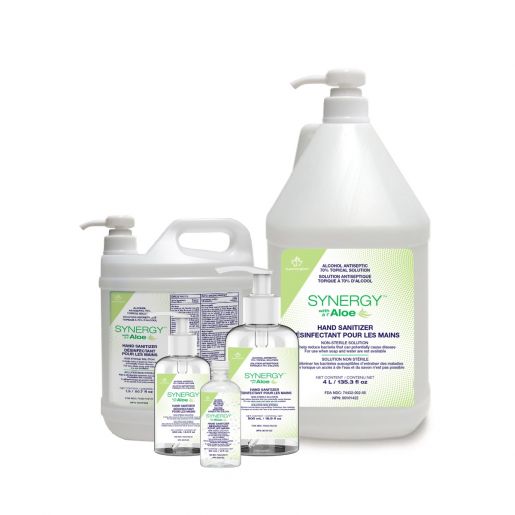 I'm sure many readers would agree that shopping for essential supplies during a pandemic has been surreal. High demand, all-time high prices, long lead times and limited supplies has brought out many "retrofitted" businesses, "entrepreneurs", scammers and counterfeiters making claims that are unproven. From KN95's to disinfectants, hand sanitizer too has seen its share of unproven claims and dangerous formulations that are often misleading to consumers.
Don't Put Your Hands at Risk!
Just recently, the FDA issued an alert to consumers not to use any hand sanitizer manufactured with methanol (wood alcohol). Methanol isn't comparable to other agents often used in sanitizers and is a substance that can be toxic when absorbed through the skin or ingested. Substantial methanol exposure can result in nausea, vomiting, headache, blurred vision, permanent blindness, seizures, coma, and permanent damage to the nervous system or death. Does your brand clearly state the content?
Hand Hygiene is Critical to the Spread
The pandemic introduced America to a disease that's easily transmitted from person to person by contacting a contaminated surface or inhaling infectious particulates. To prevent the spread of disease, it is important that individuals take the proper precautions to prevent the spread of pathogens by using products such as infection control surface barriers and most importantly, practicing good hand hygiene.
CDC Recommendations
According to the Centers for Disease Control Prevention (CDC), "hand hygiene is an important part of the U.S. response to the international emergence of infection". Practicing hand hygiene, which includes the use of alcohol-based hand rub (ABHR) with greater than 60% ethanol or 70% isopropanol or hand washing, is a simple yet effective way to prevent the spread of pathogens and infections." If soap and water are not readily available, the CDC recommends consumers use an alcohol-based hand sanitizer that contains at least 60 percent ethanol. The FDA reminds consumers to wash their hands often with soap and water for at least 20 seconds, especially after going to the bathroom; before eating; and after coughing, sneezing, or blowing one's nose.
Hand Sanitizer is a Regulated OTC Drug | Which to Trust?
Hand sanitizers are regulated as over-the-counter dru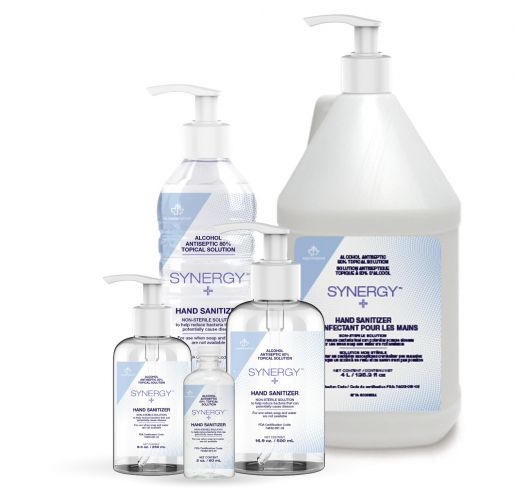 gs, and legitimate ones should have a Drugs Facts label like sunscreens. Avoid purchasing or using hand sanitizers without such labels as they might not have been properly formulated and/or manufactured. Also avoid "false and misleading" claims on hand sanitizers being sold during the COVID-19 pandemic. If you are shopping for hand sanitizer that you can rely one for your hand hygiene, we have just the solution!
Trust Synergy™ Alcohol-Based Hand Sanitizer
We are proud to introduce Synergy™ instant hand sanitizer. Synergy™ sanitizer is manufactured by the renowned and trusted Superior Glove® Company - a 150 year old family-owned glove manufacturer. Superior Glove® engineers are serious about industrial hand protection and now they're serious about hand sanitzer!
Made in North America
Synergy™ Hand Sanitizer is available in liquid or Aloe gel formulations and is made with Canadian and USA materials. Formulated for professionals, Synery™ sanitizer helps reduce 99.99% of germs that can potentially cause disease so you confidently incorporate it as a vital componet to your infection control and prevention program.
A. Synergy™ Liquid Hand Sanitizer
Synergy™ liquid hand sanitizer contains 80% alcohol, the strength recommended by the World Health Organization, Health Canada and the FDA to combat the COVID-19 coronavirus on hands. FDA Certification Number: 74432-001-03
B. Synergy™ Moisturzing Hand Sanitizer Gel
Sanitize and Moisturize!
Superior® Synergy™ Gel Hand Sanitizer with Aloe Vera contains 70% USP-Grade ethanol alcohol antiseptic topical solution and is formulated for repeated use making it ideal for healthcare and dental professionals. Synergy™ hand sanitizer contains Vitamin E for extra moisture AND aloe Vera for smooth, soft, hydrated skin that translates to healthy hands. Citrus scented.
Stop shopping, stop scrutinizing and get clean! Perfect for home or business, Synery™ hand sanitizer is a brand you can trust! But don't take our word for it, tap the button below and …
We Offer Free Shipping On Bulk or Pallet Orders of Synergy Hand Sanitizer - Contact MDS with your requirements
Monday - Friday 8:30am - 4:30pm Eastern Time
+800-274-4637 | +716-668-4001 | [email protected]