Cold Condition Gear for Canines
Air Activated Heating Products That Keep an Animal's Core at a Comfortable Temperature for Hours!
When the temperature starts to drop and work outside is not complete, industrial laborers take the proper precautions to keep their
body temperature from dropping to an unsafe level. Adding an extra couple of layers of clothing or putting gloves and a hat on is easy and convenient for us humans to do when we get chilled or when the temperature drops too low. But what if your work partner happens to be a canine?
Like humans, animals working or dwelling outside in frigid weather can be very dangerous and lead to injury or death.
Watching a working dog or loyal pet suffer or pass is devastating. Knowing we are partly to blame can be unbearable. Realizing that this was preventable will haunt you.
For many, outdoor work doesn't stop because the temperature dropped and for others, the fun or work may be just beginning and having a dog as a companion in either situation means taking the extra precautions to protect them against the cold conditions as well. We have a simple and effective solution for you and your loyal companion!
Protect your dog's safety today and have peace of mind when sharing the moment together- just one prevention and HeatPax™ cold weather dog safety gear pays for itself.
Techniche HeatPax™ Air-Activated Heated Gear for Dogs
The Techniche HeatPax™ Dog Gear Line helps you keep your canine friend or work buddy warm in frigid temperatures. Through air activated heat, your dog can keep a safe, comfortable temperature for hours and even day-long activities in the cold conditions. Techniche portable heating products take the worry out of hunting, camping, guiding and working outside in the extreme cold with your dog.
Using the HeatPax™ technology that keeps you warm can also keep your dog warm. HeatPax™ contains a mixture of non-toxic ingredients (iron, activated carbon, cellulose, vermiculite, water and salt) that create heat when they are exposed to air or removed from their outer packaging. Techniche HeatPax™ warmers are inserted inside the pockets of the 100% polyester softshell fleece dog coat or pet pad. A single HeatPax™ delivers up to 24 hours of controlled, comfortable, 135˚F/57˚c warmth. In 10-15 minutes, you will have heat that can last up to 24 hours in the palm of your hand. Although these are offered in the form of hand, body, and toe warmers, the hand warmers are all you need to keep yourself and your dog warm.
Cutting off the air supply to any of these warmers, by storing them in an airtight bag or container will stop them from producing heat at any given time and can be reactivated unless fully used. Techniche manufacturing also offers the appropriate line of apparel to ensure your warmers stay secured where you want them, and where heating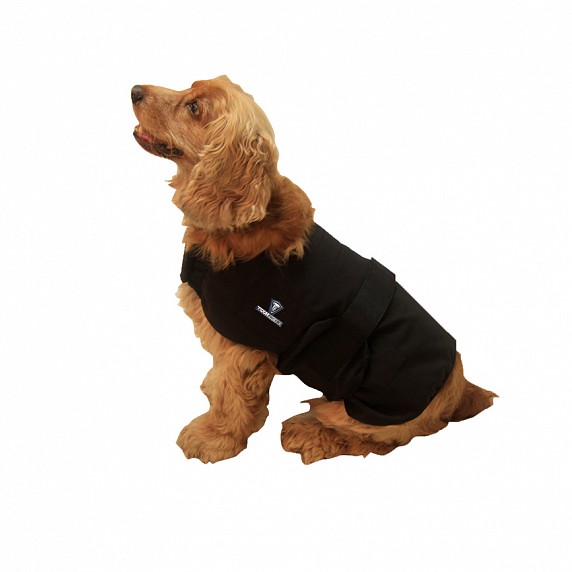 counts most in those chilling temperatures.
Techniche HeatPax™
Dog Coats
are an easy way to keep your dog warm in extreme cold working conditions where the pup
needs to maintain safe heat while in motion. Through the use of a 100% polyester softshell fleece garment that is water and wind proof, these dog coats hold and include the correct amount of Heat Pax™ Warmers to keep your canine companion warm, no matter their size.
Techniche HeatPax™
Dog Pads
are another way to keep your dog warm in cold conditions where the pup can maintain a comfortable body heat for hours while at rest. Perfect for barns truck cabs or home. The 100% polyester softshell fleece dog pads/mats that are water and wind proof also hold and include the correct amount of HeatPax™ Warmers to keep your canine companion warm, no matter what size.
TechNiche International strives to bring you the most current and up to date technologies in advanced Heating and Cooling Apparel while providing performance, safety and above all else comfort.
Techniche Manufacturing also offers HeatPax™ products that keep you warm in extreme cold temperatures as well as battery operated heat through their IonGear™ line. Stay warm and comfortable -just hit the button and...
+Free Shipping on Orders +$499
Monday - Friday 8:30am - 4:30pm EST
Orders. Questions. Volume/Educational Discounts
+800.274.4637 | +716.668.4001 | [email protected] | Fax +716.668.4496