Working or Playing Outside can be Dangerous in Frigid Temperatures
Stay Safe & Warm with Battery Heated Clothing
Whether you're stuck working in the bitter cold or having fun on the slopes, being cold takes your energy and concentration away from the task at hand. Using some of the most advanced technologies on the market, Techniche Manufacturing's IonGear™ battery powered heat makes it easier to stay warm in frigid conditions during industrial work, recreation, and other activities.
Techniche IonGear™ gloves, jackets, and vests offer battery activated heat that is lightweight and easy to use. Heat is distributed evenly throughout the product with micro-wires that are built into and woven through the fabric to provide effective heating functionality without feeling any wiring.
Techniche IonGear™ Battery Heated Apparel
Techniche
IonGear™ Gloves
offer full hand heat coverage including the back of the hand and fingertips using one battery per glove. Each glove also features water and wind resistant inner liner as well as a fleece inner liner. With the high-tech rechargeable lithium-ion batteries provided and 4 temperature control settings, you can keep your hands warm for up to 10 hours in a matter of only 30 seconds. Each pair of Techniche IonGear gloves comes equipped with one pair of rechargeable batteries (1 battery per glove), the battery charger for wall outlet, and a carrying/storage bag. Constructed with synthetic suede, no-slip silicone screened palms for comfort and protection. Techniche IonGear Gloves are available in sizes S/M and L/XL.
IonGear Battery Powered Heating Gloves Duration Settings:
Level 1 Heats up to 10 hours Up to 90°F
Level 2 Heats up to 6 hours Up to 105°F
Level 3 Heats up to 4 hours Up to 120°F
Level 4 Heats up to 3 hours Up to 135°F
Keeping your body warm in the frigid temperatures without adding layer upon layer of clothing is a difficult task, plus layering can hinder movement. Techniche
I
onGear™ Heating Jackets
and
IonGear™ Heating Vests
offer those layers in the form of just one that contains removable battery powered heat that you can control! With a single battery (included with each jacket or vest) you can select a heating zone to keep your body warm for up to 9 hours. The jackets and vests feature Wind and Rain repellent softshell barrier fleece material, a high collar, zippered front pockets, an elastic cord at the bottom, and zipper closure.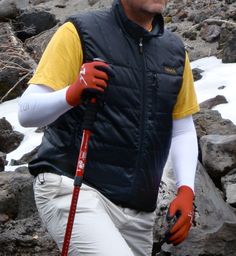 IonGear Battery Powered Heating Vest Heat Settings
Level 1 86°F Average Temperature Up to 12 hours
Level 2 104°F Average Temperature Up to 10 hours
Level 3 122°F Average Temperature Up to 8 hours
Level 4 140°F Average Temperature Up to 6 hours
Level 5 158°F Average Temperature Up to 4 hours
IonGear Battery Heated Apparel Size Chart
XSmall 29"- 32" Chest 23" Length
Small 33"- 36" Chest 24" Length
Medium 37"- 40" Chest 25" Length
Large 41"- 44" Chest 26" Length
XLarge 45"- 48" Chest 27" Length
2XLarge 49" - 52" Chest 28" Length
3XLarge 55" - 56" Chest 29" Length
IonGear™ Key Features and Benefits
Portability is key: with Techniche IonGear™ Hi-Tech Rechargeable Battery Powdered Heating Products, you can warm your jackets, vests, and gloves without being connected to a vehicle battery system. The included batteries are easy to remove from apparel, lightweight, easy to store within the product, can last 8+ hours on a single charge, and contain a 500-cycle life. All Techniche IonGear™ products are both wind and waterproof, and have multiple heat control settings so that you can maintain a safe temperature without worrying about your garments getting ruined in the wind and rain or overheating.

These products are also designed to be used in a wide variety of activities including, but not limited to: work, recreation, power sports and outdoor events like football games, gardening, golfing, riding/biking, hiking and many other cold weather activities. Each garment is also easy to use and comes with a detailed instruction guide that allows users to easily learn how the systems work. One year limited warantee.
TechNiche International strives to bring you the most current and up to date technologies in advanced Heating and
Cooling Apparel
while providing performance, safety and above all else comfort. Techniche Manufacturing also offers
HeatPax™ personal products
and canine products that
keep your dog warm
in extreme cold temperatures. Stay warm and comfortable -just hit the button and...
---
Monday - Friday 8:30am - 4:30pm EST
Orders. Questions. Volume/Educational Discounts
+800.274.4637 | +716.668.4001 | [email protected] | Fax +716.668.4496