Summer Time Heat Stress Relief for Animals
Evaporative Cooling Products Keep the Animal's Core Temperature Stable
But what happens if your work tasks or training involves an animal? Animals like humans are highly susceptible to heat stroke and working in heat conditions can cause injury or death. But for many professionals, animals such as horses and dogs are relied on daily, and regardless of the weather.
When the high heat and humid weather hits, training and the work doesn't stop because of the extreme heat conditions - the horses need to run and the dogs to patrol. For the average homeowner, a pet is our beloved friend and missing a walk because of the heat is not an ordeal. But for a border patrol agent or policeman, their canine or horse is a highy vested work companion and crime won't wait for waterbreaks.
Techniche Evaporative Cooling Products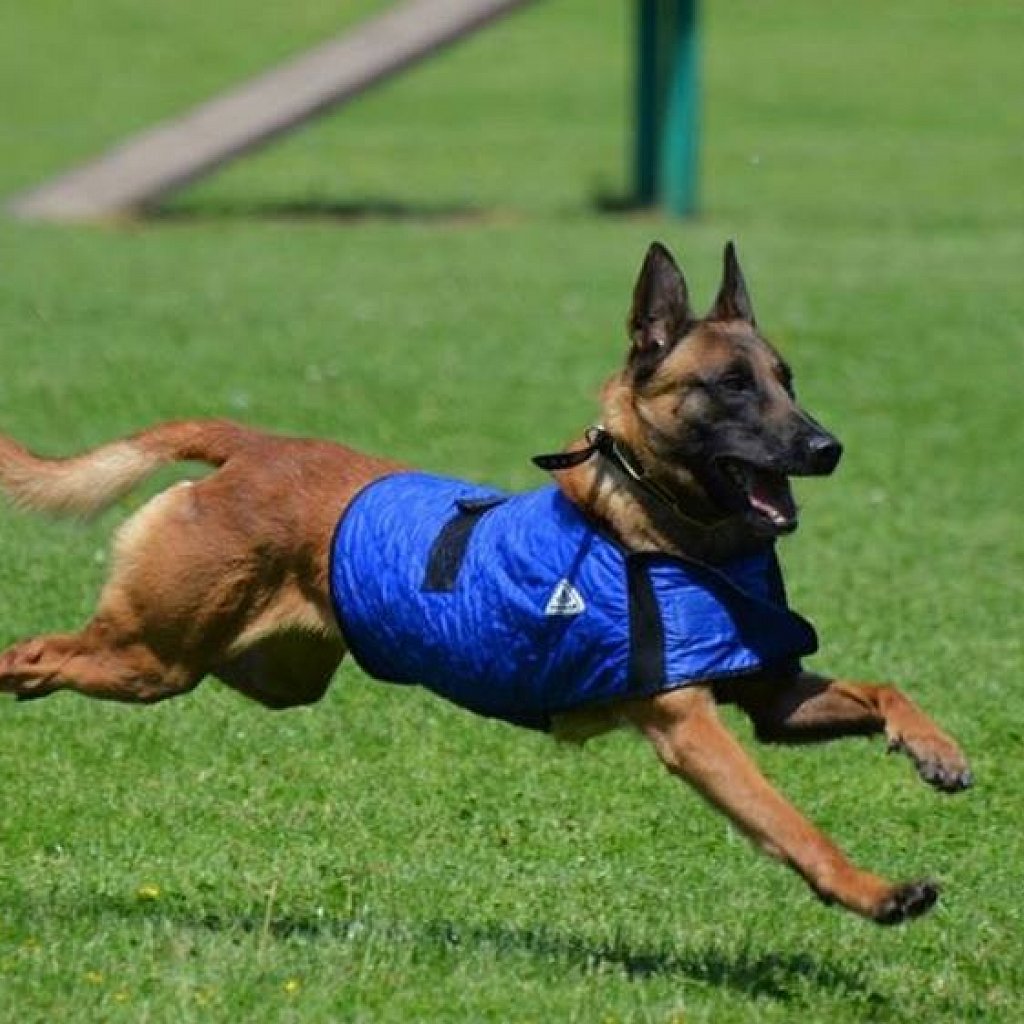 An ounce of prevention is worth a pound of cure! Protect service dogs, working dogs and horses with new line of patented evaporative cooling vests, blankets, wraps and coolers that prevents heat stroke in pets.
The Techniche line of evaporite cooling products is currently being used by Disneyland Parks and Resorts, Harley Davidson Motor Cycle, The Home Depot, Kawasaki, Staples, BMW, MSA, Adidas, Trek, and KTM Racing. These products have also been used at the 2010 and 2012 Olympics. Lightweight, durable and easy to use, the HyperKewl line will keep pets cool for up to 10 hours with each soak and without restricting movements!
In addition to the risks associated with working outside or in other hot environments, pets at greater risk of heat stress also include the following:
Police Canines (K9)

Seeing Eye Dogs

Service Dogs

Ranch Horses

Herding Dogs

Race/Show Horses

Working Dogs
Patented HyperKewl™ Plus Cooling Technology
HyperKewl™ Evaporative Cooling material is a unique polymer fabric that absorbs and slowly releases water through evaporation. Look at this process as "super-charging" the body's natural cooling process, thereby protecting the wearer against heat stress. While other technologies are effective for pre and post cooling while you compete, HyperKewl™ works to cool you during the competition or strenuous activity. Simply soak HyperKewl™ products in water for 1-2 minutes, gently squeeze out excess water and enjoy the cooling effect for 5-10 hours. Simple, fast and easy to use, it can provide temperatures that are 10-15 degrees (F) cooler than ambient temperature with each soak.
CoolPax™ Evaporative Cooling Technology
Enjoy controlled or targeted cooling with Phase Change Cooling technology called CoolPax™. CoolPax products use cooling inserts that are made of a non-toxic carbon-based liquid material that's activated by exposing them to any condition below their Phase Change Temperature. This means that CoolPax can be activated in freezers, fridges, ice water, ice coolers or any other situation where the temperature is below 58°F/14°C and will maintain this temperature for 2-3 hours. This unique feature means that with the use of ice in a cooler, users can re-activate inserts by simply placing them in a cooler full of ice.
DryKewl™ Evaporative Cooling Technology (discontinued)
Using patented HyperKewl™ fabric in combination with specially prepared nylon that keeps water inside but allows air to flow through. This combination allows HyperKewl inserts to be incorporated inside the cooling vessel between the nylon. Pets are cooled through evaporation but remain completely dry.
Users can expect the evaporative cooling to provide temperatures that are 15-20F degrees cooler than the ambient temperature depending on airflow. DryKewl products are easily charged and re-charged. No soaking of the vest, or pouring water through a small hole. Simply remove the insert, soak and put it back in the vessel, and enjoy.
---
TechNiche International strives to bring you the most current and up to date technologies in advanced Cooling and
Heating Apparel
while providing performance, safety and above all else comfort. Techniche Manufacturing also offers cooling products that
keep you cool
in extreme high heat temperatures. Stay cool and comfortable -just hit the button and...
Monday - Friday 8:30am - 4:30pm EST
Orders. Questions. Volume/Educational Discounts
+800.274.4637 | +716.668.4001 | [email protected] | Fax +716.668.4496