There are No K's on These N95 Disposable Face Masks
We're still in the middle of a global emergency, and protective gear is in high demand with broken supply chains that are slowly healing. As states reopen their economies, the possibility of another wave of the coronavirus (COVID-19) is very possible. As such, the CDC recommends wearing face coverings to help prevent the spread of this respiratory virus, creating even more demand for legitimate, quality face masks.
As a result, hucksters, shysters and scam artists have been running around accepting deposits and leaving town. The FDA has banned hundreds of companies from fraudulently selling inferior and counterfeit masks claiming to be approved N95's and many Chinese imported KN95 type masks.
Even legitimate suppliers are struggling. Are their masks actually landed in the United States or are they a month away by sea? Will the overseas factory deliver on time, and will they completely fill the order? They may not if the plant's owner is auctioning off the day's production to the highest bidder on the loading dock (true story!).
AMERICA-YOU PLEADED & DEMANDED for DOMESTICALLY MADE N95's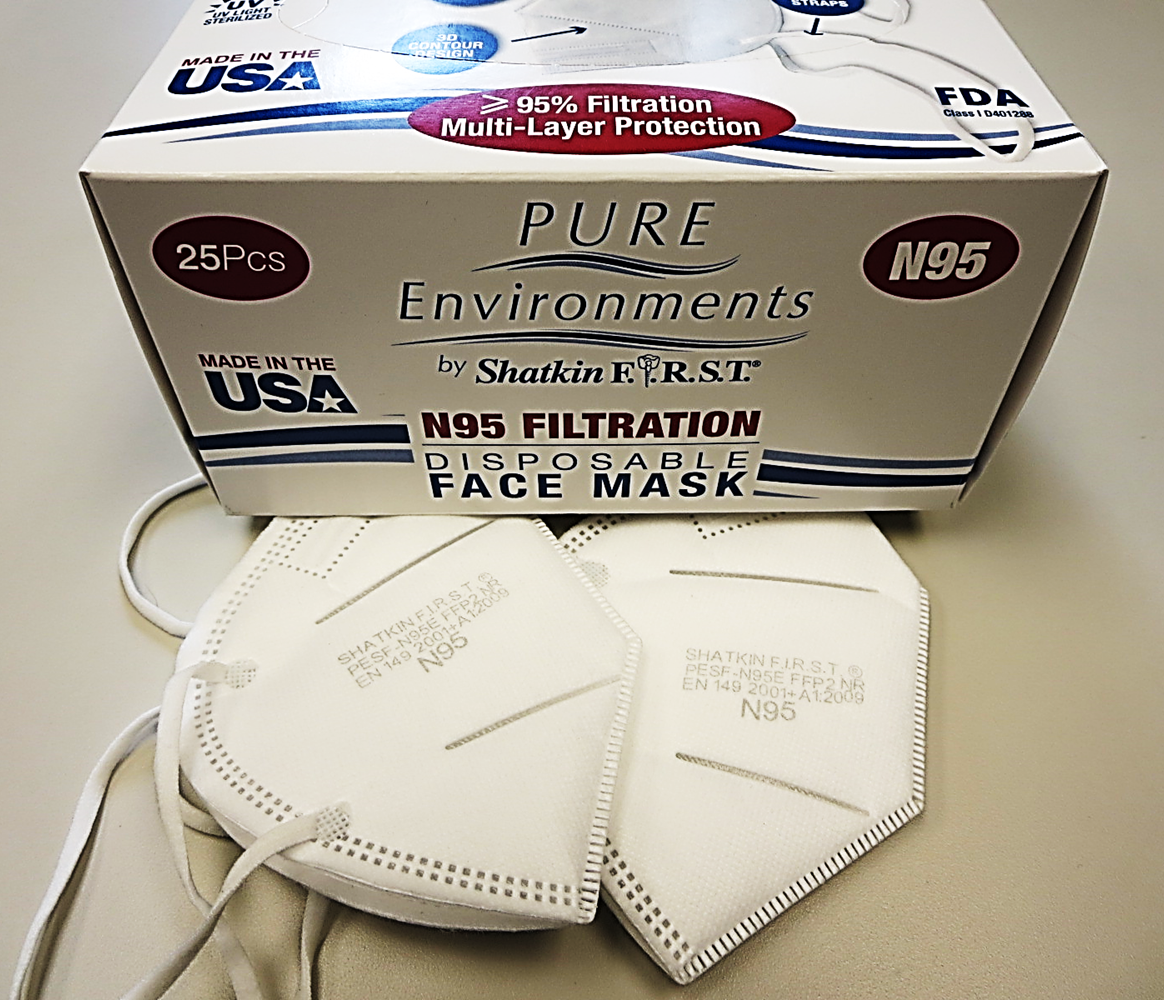 We have the answer America needs to help #StopTheSpread – NIOSH Certified, FDA Registered N95 Filtration disposable respirator face masks manufactured in the United States, not China. This is not a promise for the future or an offer of uncertified KN95s - the machines are humming and inventory is ready for immediate shipment.
Pure Environments by Shatkin F.I.R.S.T., located in Buffalo, NY, recognized a need for high-quality PPE to help health care professionals continue their vital work. Utilizing their clean room manufacturing capabilities originally designed for production of mini denture implants, they quickly shifted to sourcing critical materials for N95 mask production.
The result is a domestic, round-the-clock facility producing high-quality respiratory protection against airborne contaminants. We recently visited the facility and were very impressed.
Pure Environments N95 filtering masks feature five layers of filtration, alternating polypropylene with cotton for maximum filtration and comfort. They also feature:
99%+ filtration testing results

3D contour design for comfort and breathability

Substantial breathing area allows for sufficient airflow circulation without touching lips

UV light sterilization of each mask

Individually wrapped to prevent contamination

Adjustable nose strips for optimal sealing

FDA Class 1 D401288 Certification
Stop the guesswork. Avoid the K, the scams, promises and delays. Arm your team with registered and certified PPE Made in the USA: choose Pure Environments N95 disposable face masks.
Monday - Friday 8:30am - 4:30pm EST
Questions. Samples. Special Requests.
Toll-Free +800-274-4637 | +716-668-4001 |

[email protected]
"We Want You To Return Home Safely...Everday!™