Keep Hands Safe

with

Thermal Work Gloves
Keeping your hands safe from the heat and cold calls for the best in hand protection, and that requires a pair of cold conditions winter work gloves. They keep your hands at a comfortable temperature, so the you can perform your set task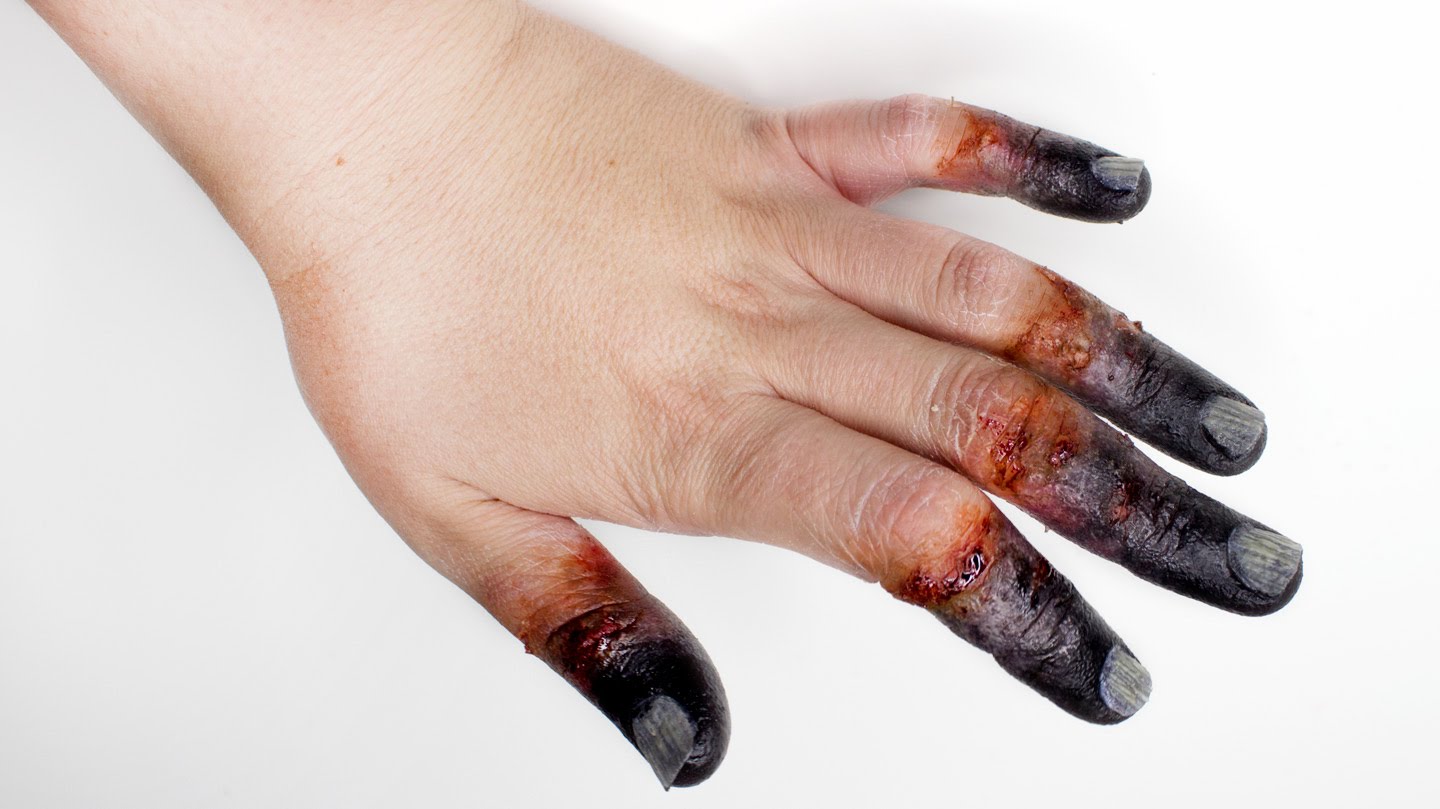 with comfort and dexterity. The wearer can use them for jobs such as construction as a standard industrial safety precaution or as protection during activities like snowmobiling.
Thermal work gloves play a huge role in prevention and can be the difference between a tolerable and a horrible afternoon out in the elements. Injuries to the hands and fingers accounted for 12.5 percent of incidents that caused workers to lose time away from work in 2009.1 Without proper glove protection, exposed workers are left to suffer thermal discomfort, increased strain and even tissue damage from frostbite (ISHN, 2013). Glove design is extremely critical in ensuring proper hand protection to avoid these problems.
- - - - - - - - - - - - - - - - - - - - - - - - - - - - - - - - - - - - - - - - - - - -
DESIGN & STYLE
For one, a textured coating enhances the wearer's ability to do their job without having to take off their gloves. This increases the amount of protection the gloves provide, as the wearer is not forced to take them off to actually perform a task. The rubber nubs grip the handles of a snowmobile, for example, or a steering wheel of a tractor. An extra layer of glove durability is stitched into the area between the thumb and index finger, keeping the glove together for longer lasting protection.
Insulation is one of the most important features of thermal gloves. Warmth is the exact reason why workers wear gloves in the first place, so if the insulation doesn't measure up to the task, then why bother wearing gloves at all? Insulation works by trapping warm air between the outside of the glove-wearers hand. However, downside of insulation is that the more you have, the higher the warmth, but it also means lowered dexterity. It is bulkier and thicker the more layers you add and it makes doing any job nearly impossible. When selecting a glove, you need to think about how important movement vs. warmth is to the job you're performing, and whether you are willing to pay bigger bucks for higher quality insulation to increase that dexterity.
There are two major types of thermal gloves, which are explained below:
+ Hot/Cold Thermal Gloves for Cleanroom Use
Thermal gloves play a crucial role in cleanrooms and in this situation more than any other, proper hand protection is needed. QRP's Qualatherm series of gloves provide dependible thermal protection for dry or moist handling applications: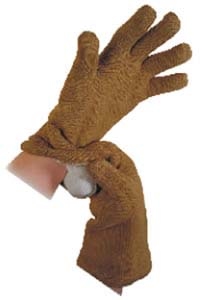 The Qualatherm® 1400 Dry Thermal ESD Glove (see right) is a 14-inch thermal protective glove that contains no PCB, asbestos or fiberglass and are RoHS compliant. The exterior shell is knit from a proprietary blend of fibers, selected for excellent heat resistance, plus ultra low linting and ultra low particulate generation characteristics. They are rated for Class 100/ISO 5 Cleanrooms and are perfect for quartz wafer boats, liquid gas flask handling (ultra cold), and hot/dry glassware handling.
For wet/dry protection, the Qualatherm® 450 Thermal Mitt provides clean, liquid-proof mid-temperature protection specifically for wet or dry environments. It withstands excursion temperatures from -78.5°F to 450°F (-61.4°C to 232°C), and offers excellent resistance to chemicals, solders and fluxes while remaining flexible even at those elevated temperatures. The micro-coated, high density, continuous filament nylon liner assures clean, easy donning and removal. Applications include diffusion furnaces, burn-in ovens, ceramics, porcelains, and food processing and handling.
+ Winter & Cold Weather Thermal Work Gloves
Like the name thermal gloves implies, these modern gloves are windproof and waterproof with a built-in layer of Hipora® liner. The thermal layer makes them useful for a variety of work related tasks, such as snow removal, refrigeration, cold storage, marine,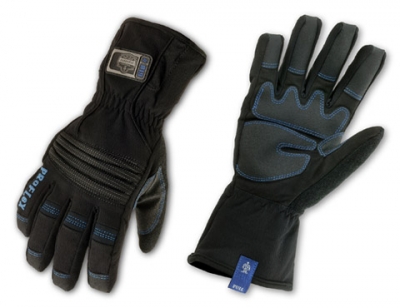 construction, ice sculpting, petrochemical, auto repair, landscaping, mining, demolition and fabrication. These strong thermal work gloves protect your hands on just about any adventure, including snowmobiling, skiing, sledding, hunting/fishing, motorcycling, auto racing, motocross and other outdoor activities.
Ergodyne's® Proflex® Gauntlet Gloves are the ultimate in windproof and waterproof thermal gloves. They are constructed of durable synthetic leather with abrasion resistant 500D nylon back and breathable Hipora® liner with 40 grams of 3M Thinsulate to keep the hands warm and dry. The sure grip PVC reinforced palm, fingers and saddle are incorporated for durability and strength to stand up to the harshest of jobs. A built-in terry thumb brow allows worker to keep the glove on to clear rain or snow from the face. Machine washable. Color black.
Snowforce™ Fully Thinsulate™ Lined Winter Driver Gloves are an awesome all-purpose winter recreation work glove! Incredibly lightweight, extremely durable, they are tough, dexterous and offer great performance in wet conditions. The synthetic polyurethane padded palms provide a barrier to wind and water while the elastic back for a contoured fit. The knit cuff keeps the elements out and heat in! Reflective accents for enhanced safety. Sizes M-2XL. Warmth Rated 14◦F. +Click here for PDF.
---
*** Keep in mind that just because a glove is thermal and designed for winter weather, it does not automatically make it resistant to water. Make sure to get a glove that is specifically waterproof if you will run into wet elements on the job.
+View all winter/cold weather work gloves here
---
GLOVE HIGHLIGHT
: BEST SELLER |
If you're searching for the ultimate in thermal protection, look no further. Ergodyne's® Proflex® Thermal Dorsal Impact Gloves provide the warmest, driest, dorsaliest protection around. Its patented design with rugged Kevlar palm stitching offerslong lasting wear and durability, while molded TPR armor on fingers, carpal bone and knuckles avoids pinch injury and blow deflection with added protection. The contoured neoprene cuff gloves features reflective pull on tab which resists snagging and renders immense secure fit with quick on or off. This glove also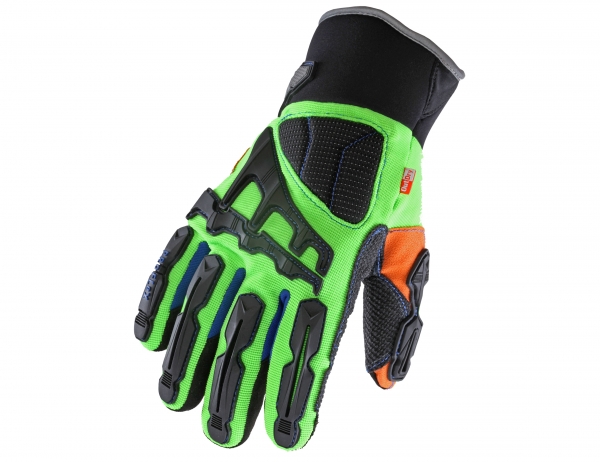 features non-slip Armortex® reinforcement zones on thumb saddle and index finger for enhanced protection, grip and durability. Features include:
Abrasion resistant PVC on palm and 3 fingers limits liquid penetration

5 mm EVA dorsal pad protects vulnerable metacarpal region

Armor flex zones for high dexterity

5 mm EVA palm and ulnar padding protects against chopping blows

Reflective accents and Hi-viz orange color scheme for optimal hand visibility
Applications include fracking, tool pushing, mining, demolition, cargo handling, ironwork, bat chain pulling, heavy construction and oil or gas drilling - in other words, pretty much perfect for any job you're looking to do! CLICK HERE to Buy a Pair
---
Contact MDS for samples, volume pricing or to place an order
+800.274.4637 | +716.668.4001 | [email protected] | Fax +716.668.4496 | MDSassociates.com