Patent Pending Technology
LXT® is Extending the Longevity of Work Gloves!
New Water/Oil-Repellent Seamless Knit Cut Safety Gloves
Raising the safety bar once again, TraffiGlove® has launched their LXT® series of industrial work safety gloves and it's a real game changer! New to United States, TraffiGlove® is an industry leading designer and manufacturer of PPE industrial safety gloves and the originator of the "traffic light system" that shows the cut protection or safety levels of a work glove at a glance or from a distance.
Saturated or oily work gloves can lead to personal injury, high inventory turnover and reduced productivity. Up until now, there haven't been many innovations for operators or businesses that need fluid-resistant or oil-resistant work gloves. Typically leather driver gloves or dipped type gloves were the only options but these are costly, bulky and sometimes offer little to no protection against sharp objects.
Keep Hands Dry & Clean!
New LXT® Treatment Creates a Protective Shield on a Knitted Work Glove's Surface
LXT®, short for life extending technology, is a patent-pending proprietary treatment applied to the knitted glove shell that acts as a protective barrier that limits staining and causes water, dirt, contaminates and even oil to bead off the work glove's surface. Suitable for sensitive skin, this special bonding process translates to enhanced safety, less inventory turnover and money saved.
Work Gloves that feature LXT® technology are ideal for inclement outdoor tasks making them ideal for construction workers, landscapers, fence installers, delivery and roofers. Mechanics will appreciate the powerful grip, dry texture and cleaner hands!
Do More Longer with these LXT® Engineered Grip Safety Gloves
To enhance longevity, TraffiGlove's LXT® seamless knit gloves utilize engineered yarns with triple wrapped cores that protect the yarn's cut resistant property while increasing comfort. TraffiGlove® LXT® work gloves also feature reinforced thumb crotches as this area is prone to 'blow-outs' from high work stresses.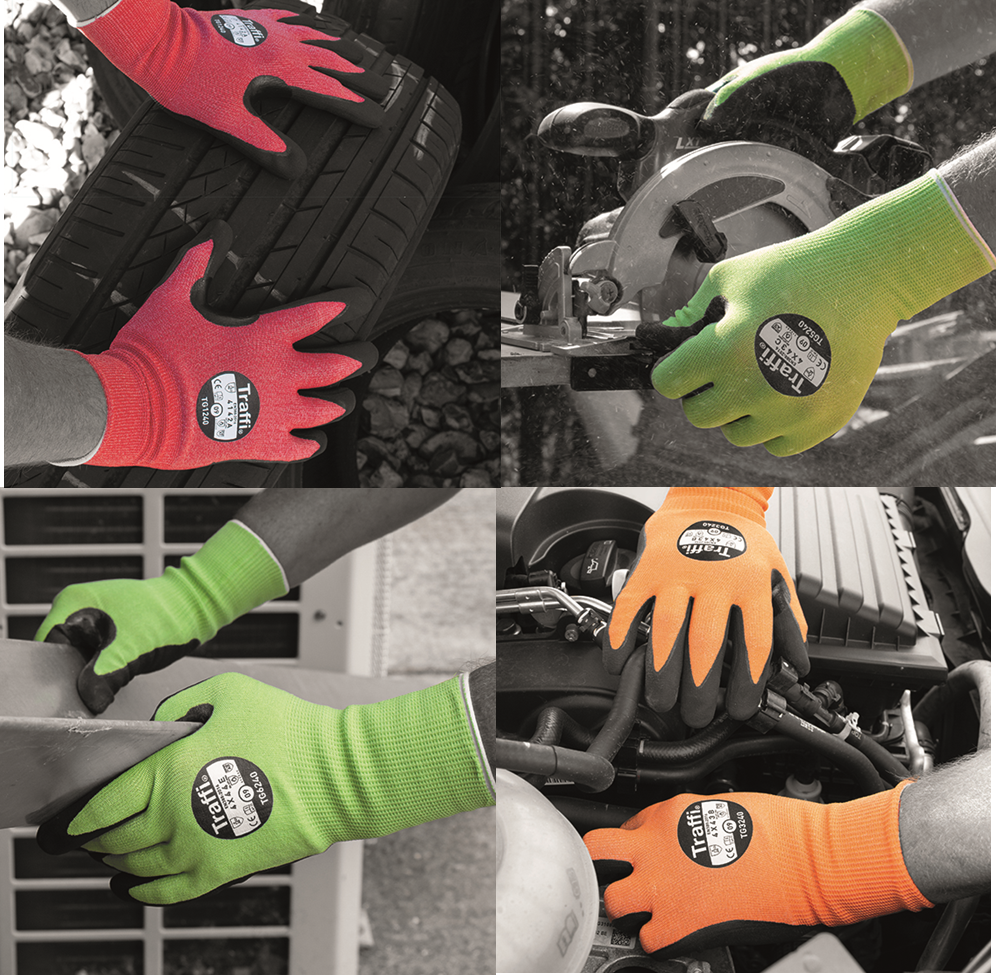 These water-repellent work safety gloves are available with a dexterous and breathable 15-gauge seamless knit liner and textured with a black colored MicroDex Ultra (nitrile microfoam) palm coating specially selected for aggressive, precise gripping in wet and oily working conditions.
Super lightweight, breathable and fast drying, LXT® knitted gloves allow better freedom of movement and provide heat contact resistance to 212◦F. For easy size identification and inventory control, LXT® gloves feature color-coded hems and are available in hand sizes (XS) 6 - (XXL) 11.
The road to safety starts with the TraffiSystem and these color-coded LXT® Gloves participates in the innovative traffic light visual awareness system making compliance checks quick and easy:
RED: |

WARNING

- gloves are lower protection

AMBER:

|

BE AWARE

- gloves are basic to medium protection

GREEN: |

SAFE TO GO

- gloves are higher protection
TG1240 LXT® Gloves are ASTM ANSI Cut Level A1 rated and is constructed with a high tenacity Polymide Nylon liner
TG3240 LXT® Gloves are ASTM ANSI Cut Level A2 rated and is constructed with a triple wrapped Nylon/HPPE liner
TG5240 LXT® Gloves are ASTM ANSI Cut Level A3 rated and is constructed with a triple wrapped Nylon/HPPE/Spandex liner
TG6240 LXT® Gloves are ASTM ANSI Cut Level A5 rated, touchscreen compatible and is constructed with a triple wrapped Nylon/HPPE/Spandex/Stanless Steel liner
Elevated comfort translates to elevated compliance levels...
Monday - Friday 8:30am - 4:30pm EST
Toll-Free +800-274-4637 | +716-668-4001 | [email protected]
"We Want You to Go Home Safely Everyday"