Successful Safety Starts with

TG310

Gloves from TraffiGlove®
AMBER: Cut Level A2

|

Warning
Wearing work gloves all-day, everyday can be a real ordeal for operators. The most common complaints we receive from PPE users is that their industrial work safety gloves are bulky, restrict hand movements or they reduce touch sensitivity. These factors ultimately reduce productivity and increase the potential for a workplace injury.
In a quest for the perfect balance between productivity and industrial safety, environmental health officers and production supervisors spend much time evaluating industrial work safety gloves for their staff. If you are seeking a brightly colored safety glove that's barely noticeable when worn, then check out these cut-resistant Traffi® TG310 brand gloves from TraffiGlove®.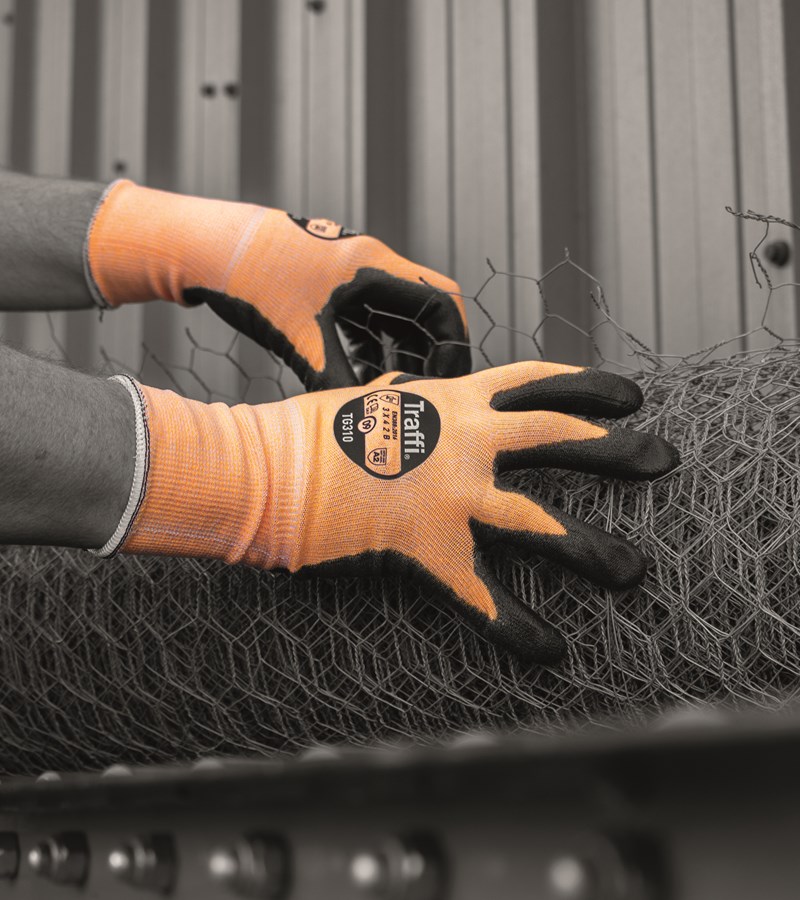 These TG310 brand gloves are form fitting, breathable, dexterous and so lightweight that it doesn't feel like one is even wearing a cut-resistant glove!
Once you slide your hand into this amber colored knit shell, you will immediately notice the difference. The fabric of these work gloves are constructed to gently expand and cover the curves of the fingers and hand without any restrictive forces. As the material stretches to form, it feels like the fabric is thinning out, and once on the hand, it stays snugly in place.
You may be asking yourself how can this possible? Well, the answer lies in the knitting construction!
The gauge of a glove indicates the number of knitting needles or stitches per square inch. As the number of stitches per inch increase, the glove's gauge increases. But as the volume of yarn increases, the thickness of yarn will decrease. So a 15-gauge glove will be much thinner and conform more to the curve of the hand than let's say a 10-gauge made glove.
Many of the palm coated work gloves offered today are commonly constructed of 13-gauge or 15 gauge knits. The TG310 style glove is constructed with an amazing 18-gauge seamless knit shell!
Achieve brand gloves are ANSI Cut Level A2 rated and feature a textured polyurethane (PU) palm coating that's flexible and thin making them perfect for gripping objects in dry working conditions. Highly abrasion and tear resistant, they are perfect for:
Maintenance

Light engineering

Automotive assembly

Construction trades
See the Difference- TrafficGlove® : Where Hand Safety is Headed!
By incorporating new, innovative technologies into TraffiGlove® color-coded traffic light system in cut blends and coatings, TraffiGlove® has developed a leading range of proven and affordable safety gloves to keep operators safe on the job. But don't take our word for it ...
Samples. Volume Discounts. Orders.
Monday - Friday 8:30am - 4:30pm EST
Toll-Free +800-274-4637 | +716-668-4001 | [email protected]
'We Want You to Go Home Safely Everyday'