TranSorb® Commercial Moisture Absorber/Humidifier Pouches Protect Against Mold, Mildew & Corrosion
Disposable Pouch Preserves, Prolongs & Protects Quality from Moisture, Mold & Mildew for up to 90+ Days at 86ºF+ & 90% Humidity!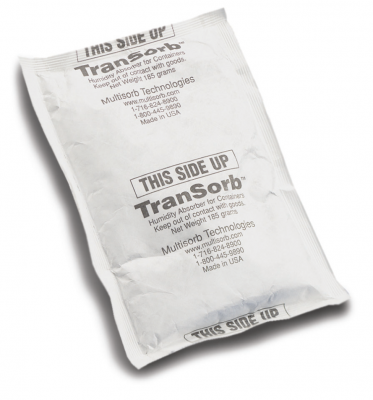 Excess moisture is one of the top air quality offenders and attacks product quality. Condensation can develop in confined environments subject to temperature changes such as automobile interiors, shipping containers, boat cabins, RV's, gun cabinets, sheds, lockers and gear bags. It can also lead to the growth of mold/mildew, foul odors and potential corrosive rust, all of which can create damage beyond repair.
Originally designed for use within freight containers and secondary packaging to protect products against moisture damage during shipping, TranSorb® Humidity Absorber / Condensation Control Packs use patented technologies to lower dew points and maintain ideal relative humidity that keeps sealed areas dry and fresh. It captures and converts moisture into non-toxic, non-caustic dry crystals that won't ever leach.
+Watch a Video on Transorb here
No-Leak, No-Drip Moisture Control!
Unlike other Moisture Absorber products that drip when their capacity is reached or those that suck and hold water in a reservoir container, TranSorb commercial humidifier pouches are designed to slowly absorb and encapsulate over 1-lb of excess moisture from confined areas. Packets will always remain dry- even when pouch has reach its full product life! Humidifier Packets can be place inside confined areas or under car seats to maintain ideal relative humidity for up to 90+ days at 86ºF+ & 90% humidity! Packet won't drip or leak when fully saturated and doesn't need to be removed during transportation! To increase the duration of days or to gain absorption volumes, place an equal amount of extra packs in area to be treated! Keep all unused desiccants air tight.
Absorber Pouches Only Activate in the Presence of Moisture
TranSorb is easy-to-use and highly effective. Simply toss pack in confined area to be treated and forget about it. When pouch has reached maximum capacity, it will weigh approximately 2-lbs. Remove pouch, toss in trash and replace.TranSorb is non-toxic, fragrance-free and made in the U.S.A. It eliminates the use of cleaning chemicals, air fresheners and dangerous VOC's that degrade porous surfaces.
These 7" x 11" heat sealed medical grade Tyvek® and film encapsulated packs treat 36 cubic feet (3' x 4' x 3').They are available in single packs, 3-strip format and in a netted bag to use with a hang hook. Sold in 4-packs, 32-count master cartons and 800-count drum.
Where To Use Transorb Moisture Control

Automobile/RV/Boat interiors
Ocean, truck, rail and air shipping containers

Protection of machinery, canned goods, and steel products against rust

Protection of food packages from moisture contamination

Protection of goods in warehouse storage

Storage containers

Boat Seasonal Storage

Classic Restorations

Why Use Transorb Moisture Control

Absorbs and encapsulates large quantity of moisture
Lowers the dew point inside interiors and storage/shipping containers
Long-lasting design provides protection against mold, mildew, rust & corrosion up to +90 days
Easy-to-use - Simply place bags in containers
Durable, heat-sealed Tyvek and film construction
Non-Toxic, Non-Caustic, Non-Hazardous
Won't Drip or Leach