Tychem® Chemical Suits for HazMat Emergencies
Protecting the human body from caustic chemicals, poisonous vapors and toxic liquids requires the rugged durability and dependability of Tychem TK chemical suits. Tychem garments undergo rigorous testing by other laboratories to ensure all suits remain impermeable and resistant to hundreds of chemicals found at industrial sites, HAZMAT events and petro-chemical facilities. Made of stratified film barriers that have been professionally laminated to polypropylene substrate, Tychem chemical suits offer the following features that enhance their ability to protect the skin, lungs and moist body tissues against infiltration by liquids or vapors: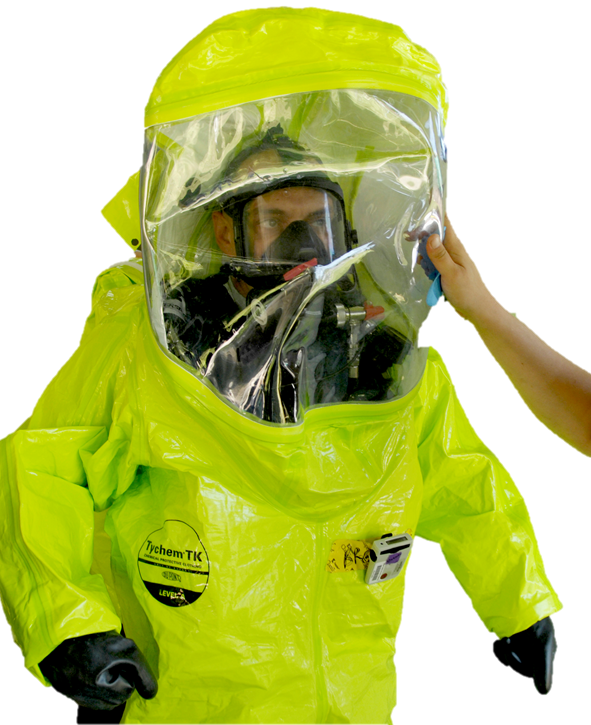 - Double taped seams
- Double storm flaps over zipper closures
- Attached hoods and sock boots with flaps
-Attached Dual Layer Gloves
- Elastic wrists
- PVC face shield
- Exhaust vents
-Front or Rear Entry
-Expanded Back
- Internal waistband/belt
Tychem TK Level A Chemical Suits
Tychem chemical suits also offer up to 30 minutes of indutrial protection and barrier protection to 322 challenge chemicals with no observed breakthrough. Tychem® TK is specifically developed for protection against toxic, corrosive gases, liquids and solid chemicals. Puncture, abrasion and tear resistant, Tychem suits are also made to allow for enhanced range of motion and comfort level when dealing with dangerous chemicals or a Hazmat emergency.
For triple hazard protection, the single layer, Tychem Level A Chemical Suit offers a superior barrier defense against electric arc, flash fire and chemical/liquid splashes. In addition, Tychem suits provide permeation protection against powerfully toxic chemicals and chemical agents potentially used in a biological warfare attach. Applications that may warrant the wearing of high-visible lime yellow color Tychem Chemical Suits includes chemical processing facilities, fire brigades, HAZMAT and clandestine laboratory inspections. Additionally, Tychem chemical suits are also made to protect specifically against a broad range of toxins and chemicals that resist permeation breakthrough longer than eight hours of full exposure.
---
Contact MDS with your preferred style or for Volume Discounts Today!
Call MDS for samples, volume discounts or to place an order!
+800.274.4637 | +716.668.4001 | [email protected] | Fax +716.668.4496 | MDSassociates.com