The

Aftermath Clean-Up
Decomposition creates a highly potent and distinct odor that very often requires professional attention and specialized cleaning solutions to remove. If you have a lingering smell on your property, residential or industrial, that you just can't get rid of, or if you've pinpointed the exact source of the smell, when have a solution that you should consider.
Virex® II 256 is a professional-grade, hospital level one-step quaternary-based disinfectant cleaner and deodorant concentrate formulated to clean and disinfect hard surfaces while deodorizing and eliminating odors caused by: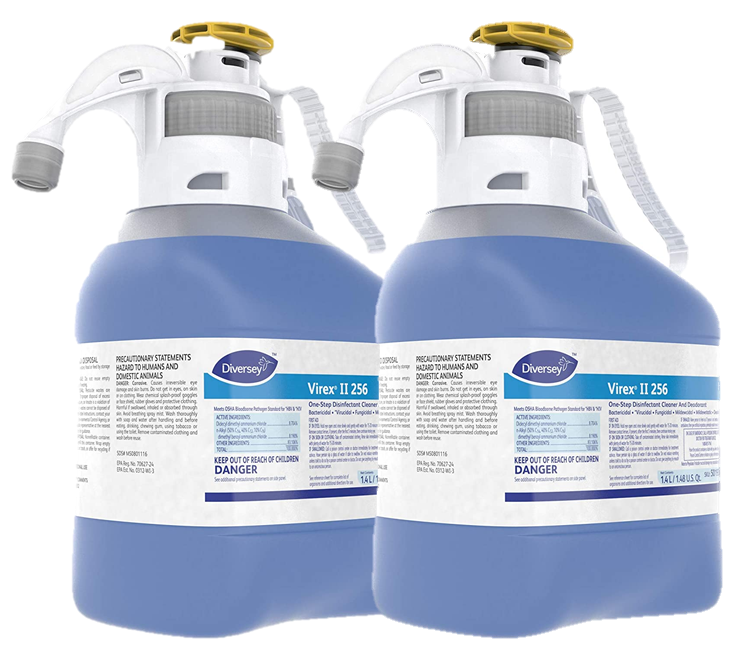 Death & Decomposition

Animals

Biohazards & Waste

Garbage & Hoarding

Mold & Mildew

Smoke
Decomposition occurs as a result of an unattended death, crime scene, trauma, and can even involve pets, food, urinals and toilet bowls. Decomposition odors can be caused by anything from just the common spill of a beverage that's penetrated too deep for traditional cleaning methods, all the way to bodily fluids such as blood leftover from unfortunate events such as trauma and crime scenes.
When someone dies, the body immediately begins the decomposition process and the smell of death can begin. The body will begin to smell due to various gases created by microorganisms during the stages of decomposition.
PREVENT THE CROSS-CONTAMINATION of DANGEROUS PATHOGENS
These odors are not only unpleasant they may provide evidence of health hazards such as dangerous airborne pathogens, bacteria or harmful gases such as H²S, more commonly known as "sewer gas." This gas typically derived from the decomposition of organic materials and bodily fluids can be toxic at certain levels and are a major cause of respiratory ailments causing allergies, asthma, and pathogenic infections of the respiratory tract.
In addition to the extremely unpleasant odor, body decomposition fluids or bodily fluids such as blood, urine and feces can permeate porous materials, which can include carpet, subflooring, walls, concrete, and more, causing a smell that cannot be removed by ordinary cleaning methods. Cross-contamination and exposure to these fluids can also lead to infection and need to be neutralized.
Meets Bloodborne Pathogen Standards for Decontaminating Blood & Body Fluids
Providing broad spectrum disinfection at 1:256 dilution, Virex® II 256 is bactericidal, virucidal and fungicidal and kills microorganisms including HIV-1, VRE, MRSA, GRSA, MRSE, PRSP, Herpes Simplex Types 1&2, Influenza Type A2, Adenovirus, Rotavirus and many more. It also meets bloodborne pathogen standards for decontaminating blood and body fluids.
Blue in color, Virex® II 256 has a soothing, refreshing minty scent and is neutral to floor finish so it will not dull, pit or soften floor finishes. This featured Virex® II 256 1.4 liter container features intuitive SmartDose™ solution that provides better cost control and accuracy than any other dosing system. It eliminates guesswork by automatically calculating two accurate doses of concentrate for bottle, bucket, auto scrubber and toilet applications.
Virex® II 256 quaternary-based disinfectant cleaner concentrate is FDA approved, EPA registered and ideal for use in healthcare, waste and refuse, institutions, funeral homes, portable restrooms, disaster events, zoo's and other facilities where cleaning and prevention of cross-contamination are critical. Get clean today.
Orders. Questions. Volume Discounts.
Click or Call
Monday - Friday 8:30am - 4:30pm EST
+800.274.4637 | +716.668.4001 |

[email protected]

| Fax +716.668.4496
"We want you to return home safely every day"