World Centric®

Compostable Foodservice Products

for a Better World
FDA Approved for Food Use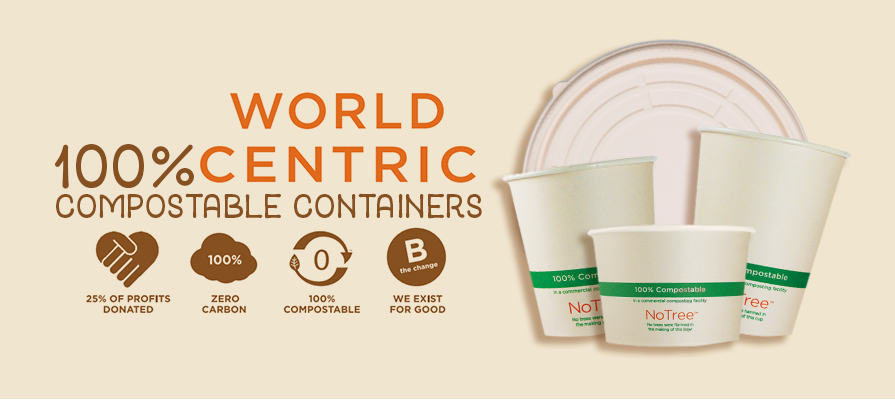 Over 28 million tons of petroleum-based plastic are disposed in U.S. landfills alone each year. With human activity testing the limits of our planet's bio-capacity, we humans need to find better ways to tread lightly. Choosing eco-friendly products is one way to help our ailing environment.
Used to protect, serve or transport foods and beverages to homes and businesses, foodservice disposables are eventually tossed into the garbage and processed into our landfills where studies show, it can take 100+ years to decompose. Products made from plants, not petroleum, conserve oil resources and support cleaner production methods while protecting the health of our planet, ourselves and diverting waste from landfills.
World Centric® was founded in 2009, became a certified B-Corp in 2010 and converted to a California Benefit Corporation in May 2013. Their mission, vision, and values have stayed the same since their founding - to make an impact and create a more just and sustainable world. World Centric® provides plant based sustainably made food container products that are designed to transform into healthy, new soil through composting.
HELP SAVE BIODIVERSITY & HABITATS
You may be wondering why World Centric® certified compostable products are a leading alternative to plastic and Styrofoam disposables? First they use less energy to manufacture. In fact, the energy used to make one compostable product is equivalent to making 2 to 3 petroleum based plastic products. World Centric® products are made from annually renewable plants which are non-toxic, non-polluting and breakdown into healthy soil within 2-4 months.
CERTIFICATIONS:
These claims are third party certified:
Biodegradable Products Institue (BPI) certifies that compostable products meet ASTM D6400 and ASTM D6868 standards for compostability.

USDA Biobased Product labels indicate that a product is composed partly or entirely of renewable plant material

Forest Stewardship Council (FSC®) enforces responsible management of forest

B Corporations are a new type of corporation which use the power of business to solve social and environmental problems
PRODUCTS THAT BEGIN AND END IN THE SAME PLACE: THE EARTH
SUGAR CANE FIBER AND WHEAT STRAW FIBER PLATES, BOWLS, TRAYS AND CLAMSHELLS
Made from leftover agricultural fiber

No wax or plastic lining

Microwave and freezer safe

Conform to FDA guidelines for food use
TRLA (70% PLA AND 30% TALC) UTENSILS
Made from non-GMO cornstarch and talc

Conform to FDA guidelines for food use
PAPER HOT CUPS AND BOWLS WITH INGEO™ LINING
Made from Forest Stewardship Council® paper

Ingeo™ lining made from corn

Conform to FDA guideline for food use
COLD CUPS, DELI CONTAINERS, STRAWS, HOT CUPS AND HOT CUP LIDS
Made from Ingeo™ compostable plastic derived from corn grown in the USA

Conform to FDA guidelines for food use
TRASH, SHOPPING & YARD WASTE BAGS
Made from a mixture of Ingeo™ and synthetic polymers

Strong and durable

Many different sizes available
Every choice we make reveals how much we care for our world. Today, the divergent paths are clear. Will our actions forge a world with collapsing natural ecosystems, mass scale species extinctions, growing pollution and waste, increasing social and economic disparity, and a lack of basic services to billions on the planet? Or will they contribute to healthy ecosystems, social and economic equality, thriving habitats and a better quality of life for all? You can start now and …
Monday - Friday 8:30am - 4:30pm EST
Toll-Free +800-274-4637 | +716-668-4001 | [email protected]
*We Can Ship to Canada*
Each year World Centric® donates 25% of annual profits to support grassroots organizations working to reverse environmental damage and global humanitarian crises.
+watch YouTube Video and learn more about World Centric® here