Are Your Nutraceuticals Properly Preserved?
When it's About Brand Management - Don't Be Penny Foolish. Not All Desiccant Canisters Are Created Equal!
---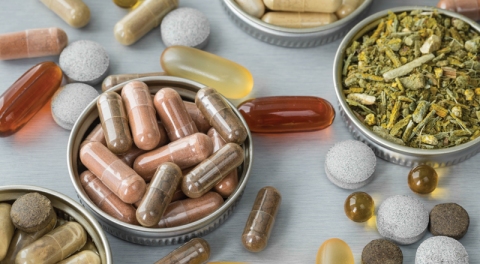 Pharmaceutical drugs have been at the center of national discussions for some time now. Under great scrutiny, prescription medication is being blamed for addictions, autism, liver disease, cancer and much more. These growing concerns along with increased participation in physical fitness and health awareness has elevated consumer demand and ultimately a rise in the production of dietary supplements and alternative drug products.
A growing segment of the population are switching away from pharmaceuticals and looking at alternative treatment methods for their medicines and supplements such as nutraceuticals.
-WHAT ARE NUTRACEUTICALS?
Nutraceuticals are a food or fortified food product that not only supplements the diet but also assists in treating or preventing disease. They provide medical benefits and are similar to pharmaceuticals but are not tested and regulated to the extent of pharmaceutical drugs.
Examples of nutraceuticals are natural foods, including antioxidants, dietary supplements, probiotics, fortified dairy products, citrus fruits, vitamins, vitamin drinks, raw honey, minerals, herbals, milk, and cereals. Herbal extracts in the forms of substances such as ginseng and garlic oil. Other types of these products are processed foods like soups, beverages, breads, and cereals that have vitamins or other supplements added to them. For example, you have cereals that have had folic acid or Vitamin B12 added to them, along with other supplements like iron, Vitamin C, Vitamin D, and other B vitamins. There are also marine nutraceutical products such as omega -3, kelp and algae astaxanthin.
-NUTRACEUTICAL PACKAGING & FULFILLMENT CENTERS
Packaging that protects a consumer's investment and delivers the expected benefits is critical for success. Nutraceutical packaging companies are typically contracted by producers to help assist them with their flexible packaging, cartons and fulfillment requirements. With an ever-growing number of health supplement products reaching the shelves, packaging differentiation, damage-free delivery and increased shelf life has never been more vital to branding.
-ENSURE THE CHEMICAL STABILITY, INTEGRITY & PROFITABILITY OF YOUR BRAND
Very important components to a branding success are to provide physical and chemical stability of your drug product, medical device or dietary supplement. You may have the hottest looking packaging, eye catching graphics and the best formulations, but a consumer who opens their product and discovers it has become clumped, brittle or has a foul odor might just persuade him or her to ask for refund or seek another product all together. This is where the use of a sorbent or desiccant can help.
Desiccants manage moisture. They're designed to preserve, prolong and protect nutraceuticals and pharmaceuticals along the distribution chain and maximize revenue. Desiccants also send signals to consumers that good manufacturing processes have been implemented and that you care about quality.
-BEWARE : NOT ALL SORBENTS ARE CREATED EQUAL
While nutraceuticals are not regulated, they're often viewed as having positive health benefits similiar to prescription medicine. Recognizing this, more nutraceutical factories are requiring the integration of sorbents. Unfortunately, some fulfillment centers don't fully comprehend desiccants and if they're to be incorporated inside your packaging, many shop for the least expensive solution they can find. When it comes to branding, this isn't the wisest practice. Here are some topics that you should consider:
Is the desiccant suitable for use in regulated food or pharma packaging? If you are going to incorporate a sorbent into food fortified supplements, why wouldn't you require it to meet stringent FDA regulations? Is there a Type III Drug Master File (DMF) on file? How can you regulate or ensure that the desiccant substance is consistent and safe for human consumption? Avoid recalls-all it takes is for one to rupture or dust.

Compare the quality and performance of the moisture adsorbing substances. Silica gel, indicating silica gel, molecular sieve, activated carbon and respective blends are not created equal.
Protect Your Brand & Keep Nutraceuticals in Pristine Condition
FDA Compliant, Pharmaceutical-Grade Silica Gel Desiccant Canisters are Pennies Well Spent!

We have the perfect solution for nutraceutical producers and packaging companies alike - ValuBran Silica Gel Canisters! They're the newest solution for those seeking zero tolerance to dusting and the hottest tool in brand management. These slim canisters incorporate a unique design with pharmaceutical grade HPMC coating. ValuBran Silica Gel desiccant canisters provide cost savings, space savings, and equivalent or better capacity and adsorption rates.
ValuBran desiccant canisters control moisture and volatiles to provide the physical and chemical stability of your drug product or dietary supplement. These advanced canisters were manufactured after extensive research into the challenges facing pharmaceutical, in-vitro diagnostic and dietary supplement product manufacturers.
These compact phartmaceutical-grade silica gel canisters are designed to deliver cost effective adsorption rates while fitting your packaging requirements.
ValuBran Desiccant Canisters
The New Generation of Desiccant Canisters
Virtually Indestructible. Safe for Food & Pharma Contact!
Safe and non-toxic, ValuBran Silica Gel Canisters adsorb moisture and odor in pharmaceutical and diagnostic product packaging, and provide the physical and chemical stability of your drug product or dietary supplement. Featuring a non-dusting design and welded end caps, ValuBran canisters eliminate dusting and other problems associated with conventional canisters.
ValuBran canisters are made of FDA grade high density polyethylene (HDPE) so you don't have to perform additional stability testing, and it offers effective adsorption rates to protect your product. In addition, ValuBran canisters can withstand irradiation to allow for final product sterilization.
ValuBran Silica Gel canisters meet the requirements of the US FDA and 21 CFR for direct contact with food and drugs, and have a warrantied shelf life of three years.
Typical applications include:
Pharmaceuticals/Nutraceuticals

Medical devices and diagnostic kits

Vitamins/Supplements

Electronics
ValuBran Silica Gel Desiccant canisters are available in a variety of sizes and can be run on all canister dispensers with no tooling changeover. Protect your brand and produce along the distribution chain. Try these high-performing desiccant canisters to prolong and preserve your nutraceutical and pharmaceutical products today.
Monday - Friday 8:30am - 4:30pm Eastern Time
Orders. Questions. Sample. Volume Discounts.
+(800) 274-4637 | +(716) 668-4001 | [email protected]