Protecting

Those Who

Serve

to

Protect Us
Needlestick Hand Safety
The opioid crisis is not breaking news. According to the American Society of Addiction Medicine, drug-related overdoses are the leading cause of accidental death in the U.S. Death rates now rival those of AIDS during the 1990s. Overdoses from heroin, heroin laced with fentanyl and other opioids are now killing more than 27,000 people a year and this crisis is affecting more than drug addicts.
The percentage of abusers choosing to inject their opioid of choice hovers around 25%. First responders, police officers, firefighters, EMTs and correctional officers on the front lines of the growing opioid overdose epidemic constantly face the danger of needlesticks.
The hazards of hypodermic needlesticks are clear – just one puncture of the skin can transmit Hepatitis B, Hepatitis C, or HIV (AIDS). Because intravenous drug abusers are more likely to carry these bloodborne diseases, law enforcement personnel face the threat of contracting one of these diseases every time they perform a body or property search. Needlestick awareness, education and prevention are becoming paramount for those in law enforcement and public service. The push for needlestick protection is rising, as are proper needlestick safety protocols. This is where HexArmor® leads the industry.
Perform Pat-Downs with Confidence
HexArmor® is committed to continuous improvement and the highest standards of safety excellence. They create products that are purpose-built, application-specific, and deliver the highest possible levels of protection, without sacrificing comfort or dexterity. Listening to their customers is how they create products that are purpose-built, application-specific, and designed to meet a safety needs. Designed for first responders, law enforcement and correctional personnel, the PointGuard® line of hand protection is pure needlestick defense.
PointGuard® Ultra General Duty & Search Gloves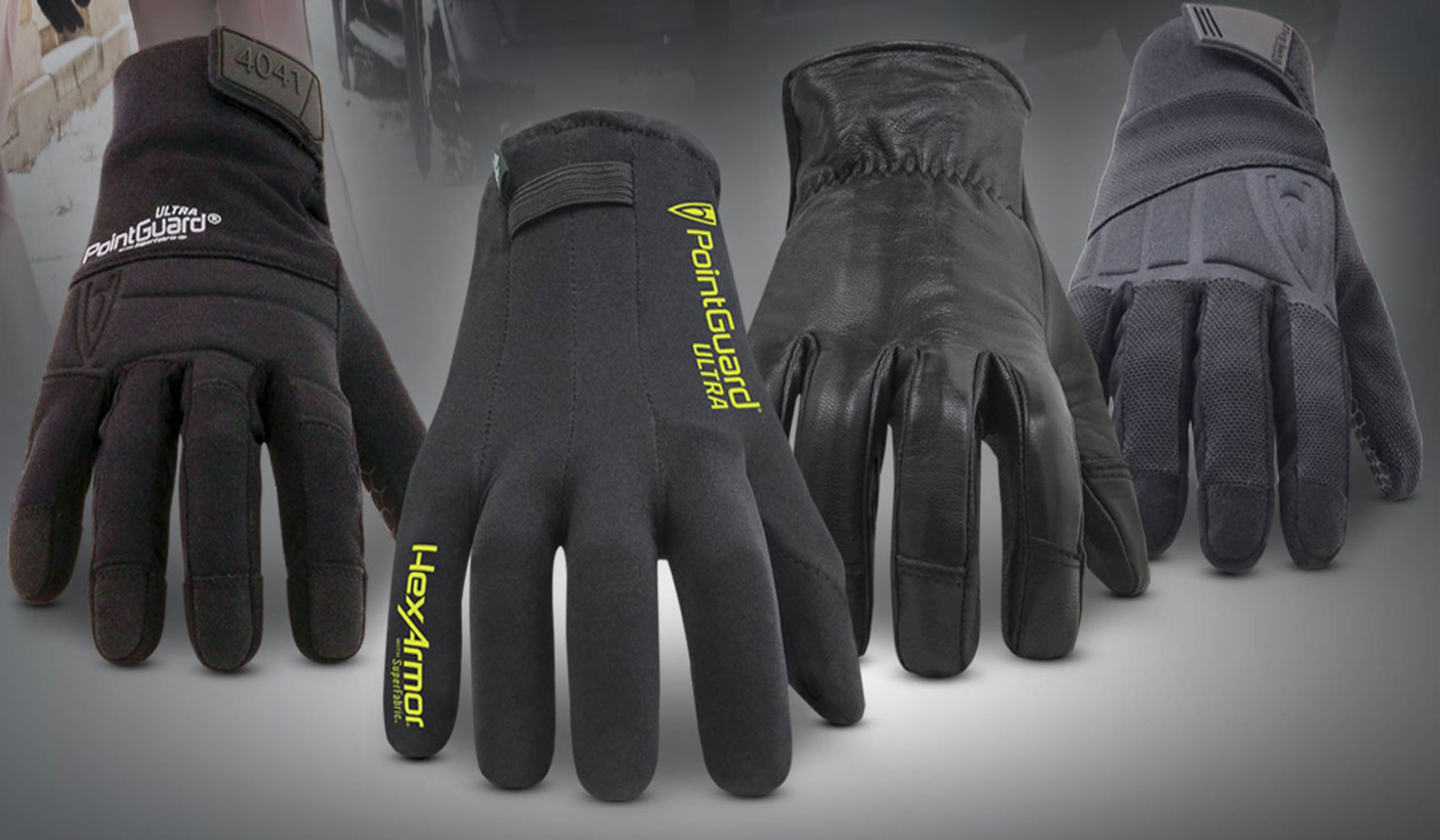 When needlestick protection is crucial to the job, HexArmor's PointGuard® Ultra line of hand protection brings unsurpassed puncture-resistant technology to hand safety. Specifically designed for law enforcement, these search and duty gloves are lined with a SuperFabric®* brand material.
SuperFabric's innovative technology blocks and deflects needle hazards keeping first responders' hands safe. This protective material is sewn under the palm and fingertips of HexArmor® gloves, providing needlestick protection unlike anything else on the market. Tested using actual 25 gauge needles against ANSI/ISEA 105 standard, PointGuard® Ultra Safety Gloves provide the highest level of cut resistance and are Needlestick rated (on noted enhanced areas).
Shop Now
Featured Gloves
Until the challenge of the opioid drug abuse has been solved, first responders and public service officials must be safeguarded so they can continue to protect and serve. When given the choice, select these PoiuntGuard® Ultra Gloves to protect those who serve to protect us!
Monday - Friday 8:30am - 4:30pm East Coast Time
Orders. Questions. Samples. Volume Discounts.
+(800) 274-4637 | +(716)668-4001 | [email protected]
"We Want You to Return Home Safely Everyday™"
*SuperFabric is the registered trademark of Higher Dimensions Materials, Inc. (HDM) at 570 Hale Ave, Oakdale, MN 55128. HDM is the owner and supplier of SuperFabric Brand Materials. HexArmor is an exclusive licensee of SuperFabric Brand Material.