Carry Things

on

Your Back Anywhere

with

this

Portwest

®

Back Pack
Stay Visible, Keep Organized & Protect Your Gear

When seconds count, having all your gear in one centralized location is critical in being productive. If you are an active person or travel frequently, a back pack is most likely a valued companion. From the beach to the classroom, from the jobsite to the amusement park, a backpack provides flexibility, versatility, portability and organization while allowing you to be hands-free and self-sufficient.
Choosing a backpack is an important decision. A good backpack should be comfortable, durable, lightweight and an investment that should last you through years of adventures while also being easy to carry around with all your gear inside it.
Designed for the most demanding industrial applications, Portwest® equipment gear bags will protect your personal safety equipment investment and are specifically designed to organize, carry, store and provide protection for gear and personal belongings while eliminating strain on the wearer's body parts like shoulders or back muscles.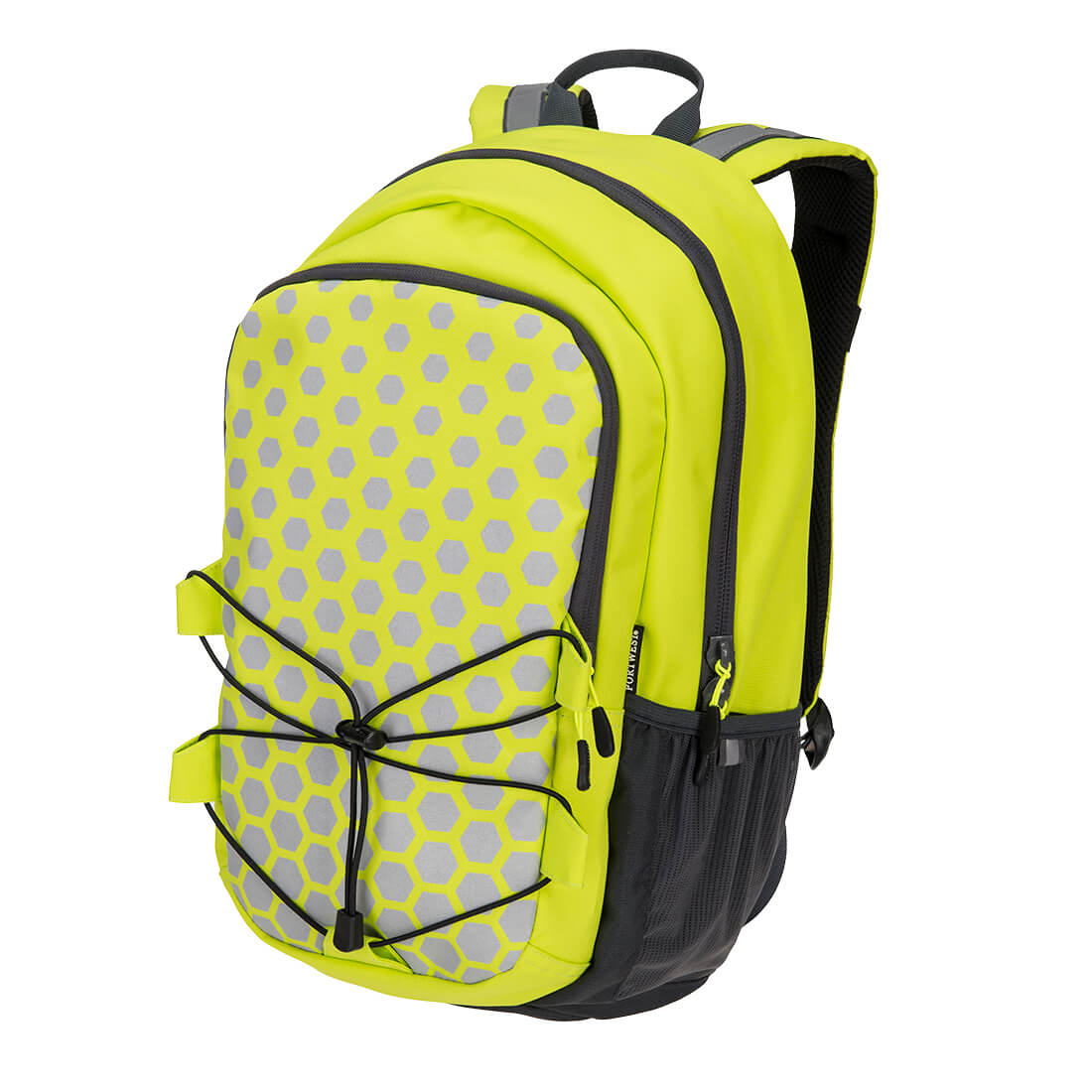 Never leave belongings at home again! Now you can cover your team with this quality made gear bag from Portwest®.
MILITRAY-GRADE
Designed to meet the most enduring work and weather conditions, these rugged and versatile B955 industrial backpacks are constructed with hard wearing 100% polyester 600D fabric that will last for years and will withstand sand, mud, rain and snow while standing tough against tears, rips and abrasion.
Perfect for equipment, personal protection equipment (P.P.E.), lunches, clothing and technology, these work bags are ideal for athletes, hunters, campers, new moms, hikers, students, fishermen or personal travel applications.
EASILY VISIBILE
The hi-vis yellow color really stands out in a crowd or field while the heat applied segmented retro-reflective accents are easily distinguishable from the surroundings and is ideal for low-light or nighttime conditions.
CONVENIENCE FEATURES
These generous sized 18 1/2" x 12" x 7 3/4" backpacks feature rugged zippers, a 15" padded laptop sleeve compartment, comfortable adjustable and padded shoulder straps with retro-reflective accents and D-rings, adjustable front elastic bungee system, 2 high quality mesh water bottle pockets, a large main compartment and an easy to access front compartment that includes multiple pockets, pen organizers and a zipper compartment.
Originally developed for military use, the backpack has become the go-to luggage-ware of the twenty first century and is gradually replacing a range of traditional carrying receptacles. Businessmen are ditching their briefcases, new moms are opting out of diaper bags and women are changing handbags to backpacks for its functionality and ease of use. And, a backpack can double as a carry-on ensuring you have everything you need during a flight at your fingertips.
Perfect for hectic jobsites and for school children that walk to school, these Portwest® B955 are easy to spot from a distance, make life simpler and are money well spent. But don't take out word for it. All you need to do is tap the link and ...
FREE SHIPPING ON ORDERS OVER $499. FREE EVALUATION SAMPLES FOR QUALIFIED BUSINESES.
Monday – Friday 8:30am – 4:30pm EST
Call or Click Today
Samples. Volume Discounts. Questions. Samples.
Toll-Free +800-274-4637 | +716-668-4001 | [email protected]
"We Want You To Return Home Safely...Every Day! ™