Transparent Tattoo Bandages
Promote Faster Healing & Brighter Colors
Tattoo Skin Aftercare
A new tattoo is an exciting time, but it is also an open wound that is prone to infection from dirt, germs and from scarring if the skin is not maintained correctly. For this reason, it is very important that the clients take good care of their tattoo once they leave the studio and for several days afterwards.
Wounds heal faster and better when they are kept moist and clean. If the skin is not kept moist, a dry scab can form and its' healing time can affect the color and quality of your tattoo. It can also leave a scar. Many people will apply skin creams, but creams dry fast and need to be applied 5-7 times a day!
Semi-Permeable Medical Membrane Promotes Healing
View Guard® is a medical-grade transparent adhesive bandage dressing that prevents infections, speeds up and simplifies the healing process to prevent scabbing. View Guard is a sterile protective breathable barrier against water, dirt an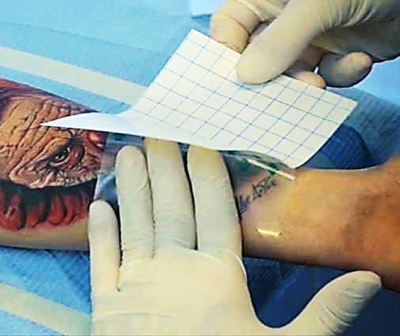 d germs. Its breathable membrane is designed to trap and use the skin's natural healing fluids plus oxygen for faster healing...and less scarring! The result is a more pronounced and colorful tattoo.
View Guard is light, flexible and stretchable and conforms to body contours without putting stress or friction on the skin. It prevents scabbing, lowers itching, lowers pain and can be worn up to seven days. View Guard tattoo aftercare dressing allows full range of movements and will not limit activities. It is easy and fast to use and most importantly it is effective.
Applicatio

ns Tips
Depending on how much the tattoo bleeds, the first bandage can be left on for 8-48 hours. Remove, gently clean, pat dry and apply a second bandage that can be left on for several days
A small amount of lotion/ointment can be applied directly on the tattoo before applying bandage to prevent adhesion.
When cutting to size, rounded corners are recommended
For larger areas, overlapping is acceptable. Overlap by 1/2"
When applying to a joint (knee, elbow), make sure it is neutral, neither straight nor completely bent
If using a soap, be sure to rinse thoroughly to reduce possible irritation
Tattoo Transparent Healing Bandages are available in different size rolls and sheets and can be cut to size. Click the links below to view, buy and try today!
View Guard Adhesive Bandage Rolls - 2" x 11 yards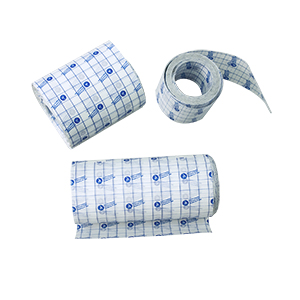 View Guard Adhesive Bandage Rolls - 4" x 11 yards
View Guard Adhesive Bandage Rolls - 6" x 11 yards
View Guard Adhesive Bandage Sheets - 2-3/8" x 2-3/4
View Guard Adhesive Bandage Sheets - 4" x 4-3/4"
View Guard Adhesive Bandage Sheets - 6" x 8"
---
+Click Here
to View our full-line medical-grade tattoo safety supply items
.
Call MDS for samples, volume discounts or to place an order!
+800-274-4637/+716-668-4001 | [email protected] | Fax +716.668.4496