Advanced Wound Care Dressings for Bed Sores & Pressure Ulcers
According to the Mayo Clinic, Bedsores — also called pressure sores or pressure ulcers — are injuries to skin and underlying tissue resulting from prolonged pressure on the skin. Bedsores most often develop on skin that covers bony areas of the body, such as the shoulder blades, ears, back of head, spine, heels, elbows, ankles, hips and tailbone.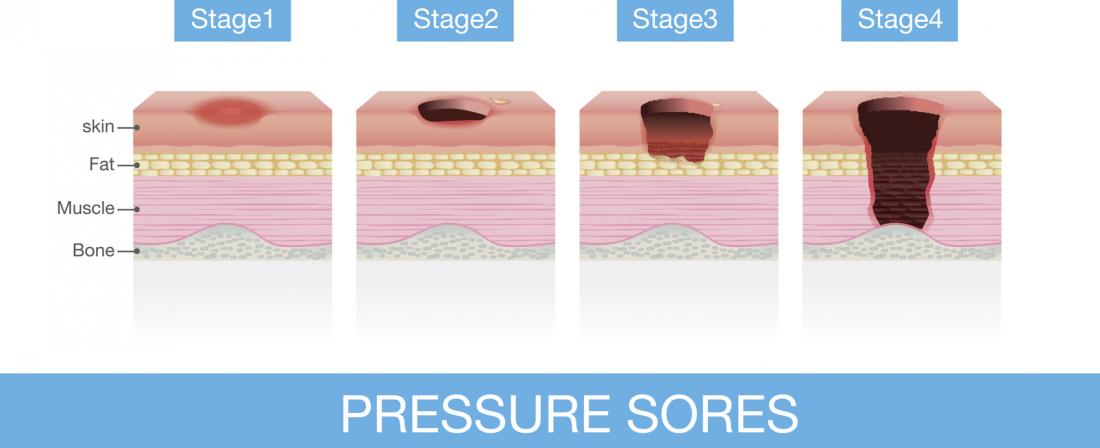 People most at risk to bedsores are those with a healthcare or medical condition that limits their ability to change positions, requires them to use a wheelchair or confines them to a bed for long periods of time. Frequent and gentle position changes that minimize pressure on the bony areas of the body are most important in preventing pressure ulcers. Developing quickly, bedores are easier to prevent than to treat, and visual inspections for suspected tissue injury can prevent further complications. The National Pressure Ulcer Advisory Panel (NPUAP) has dfined the stages of pressure ulcers as follows:
Stage 1: the sores are not open wounds. The skin may be painful, but it has no breaks or tears. The skin appears reddened and does not blanch (lose color briefly when pressed and released). In a dark-skinned person, the area may appear to be a different color than the surrounding skin, but it may not look red. Skin temperature is often warmer. And the stage 1 sore can feel either firmer or softer than the area around it.
Stage 2: the skin breaks open, wears away, or forms an ulcer, which is usually tender and painful. The sore expands into deeper layers of the skin. It can look like a scrape (abrasion), blister, or a shallow crater in the skin. Sometimes this stage looks like a blister filled with clear fluid. At this stage, some skin may be damaged beyond repair or may die.
Stage 3: the sore gets worse and extends into the tissue beneath the skin, forming a small crater. Fat may show in the sore, but not muscle, tendon, or bone.
Stage 4: the pressure sore is very deep, reaching into muscle and bone and causing extensive damage. Damage to deeper tissues, tendons, and joints may occur.
Wholesale Wound Care Dressings
Wound Care Management
Advanced Wound Dressings are designed to promote healing by keeping a wound moist, creating a barrier against bacterial infection and keeping the surrounding skin dry. Dressing choices include semi-permeable films, alginate fibers, gauze, foams, hydrogels, hydrocolloids in a variety of sizes. To learn more about wound dressings +click here.
MDS is proud to announce a new line of affordably priced advanced wound care dressings that compare to national brands offered by DermaRite, Hartmann Conco, ConvaTec, Smith & Nephew, Molnlycke, Hollister, Coloplast, 3M, Dermasciences, Mckesson, Covidien, Gentell and Medline. These national equivalent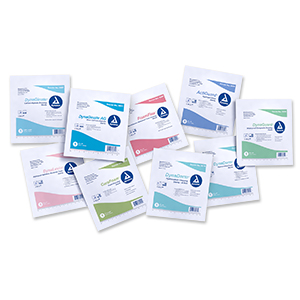 dressings accelerate the healing of many difficult-to-treat wounds or chronic wounds but are sold at a fraction of the price of the other brands. +Click here for cross reference chart.
CuraFoam Foam Dressing:

Manage minor and acute wounds from ulcers to donor sites. For Wound Stages: II, III, IV

DynaDerm Hydrocolloid Dressing:

Used on non-infected wounds such as ulcers. For Wound Stages: II, III, IV

DynaLevin Waterproof Adhesive Bordered Foam:

Used to manage chronic and acute wounds. For Wound Stages: II, III, IV

FoamFlex Non-Adhesive Waterproof Foam:

Used for ulcers and low to moderate exuding wounds. For Wound Stages: II, III, IV

DynaGinate Calcium Alginate Dressing:

Used as a topical wound dressing for moderate to high exuding wounds. For Wound Stages: III, IV

DynaGinate AG Silver Calcium Alginate Dressing:

Used on infected wounds and wounds suspected of possible infection

ActiGuard Hydrogel Dressing:

Used on 1st and 2nd degree burns and skin tears. For Wound Stages: II, III, IV

DynaGuard Waterproof Composite Dressing:

Used on ulcers, chronic and acute wounds, and donor sites. For Wound Stages: II, III, IV

DynaFoam Waterproof Bordered Foam:

Used on ulcers, chronic and acute wounds, and donor sites. For Wound Stages: II, III, IV

Petroleum Gauze Dressing:

Non-adherent primary dressing that maintains a moist wound bed for healing. For Wound Stages: II, III, IV

CuraFoam AG Silver Foam Dressing:

Ionic silver inhibits microbial growth, preventing colonization on the dressing. For Wound Stages: III, IV

DynaFoam AG Bordered Silver Foam Dressing:

Self-adherent Ionic silver inhibits microbial growth, preventing colonization on the dressing. For Wound Stages: III, IV

SiliGentle Bordered Silicone Foam Dressing:

Minimizes pain and trauma to wound and its surrounding skin - locks exudates away. For Wound Stages: II, III, IV

DynaGel Hydrogel Impregnated Gauze Dressing:

Use for gentle filling of dry or minimally exudating wounds. Helps soften eschar and necrotic tissue. For Wound Stages: II, III, IV
---
Use advanced wound dressings for home healthcare, nursing homes, veterinary or burn treatments. Contact MDS with questions, samples, volume discounts or to place an order. Toll-Free +(800) 274-4637 | Fax +(716) 668-4496 | [email protected] *www.mdsassociates.com
+Click here for product line chart
+Click here to purchase today