Fentanyl Protection Starts with Aurelia® Single-Use Gloves
Fentanyl is so potent that even a trace amount – the equivalent of a few grains of salt – can be lethal. In fact, it would only take 118 pounds of fentanyl to kill 25 million people! Relatively easy and inexpensive to manufacture, the drug is often mixed with heroin or cocaine and it's turning up more on the streets as dealers strive to meet still enormous demand for opioids in the U.S.
Unfortunately, fentanyl has emerged as the most dangerous of a group of drugs blamed for creating a U.S. public health crisis. American deaths linked to fentanyl grew more than 50 percent to 29,406 from 19,413 in 2016 according to the National Institute in Drug Abuse. According to data from the Centers for Disease Control Drug, overdoses killed more than 72,000 people in the U.S. in 2018, which was a new record.
NIOSH has identified emergency responders and healthcare workers and other personnel in hospital and clinic settings as at-risk groups for exposure to fentanyl and its analogues. Paramedics, correctional officers, emergency medical technicians, police officers, firefighters, rescuers, and other trained members have been warned to handle fentanyl with extreme caution; some have fallen seriously ill after getting it on their skin, clothing or dealing with a vomiding victim. You can read more about preventing occupational exposure here. For these trained members who are first on the scene, we have fentanyl-resistant disposable gloves designed to protect you!
Latex-Free Single-Use Gloves Tested and Approved for Fentanyl and Chemotherapy Drug Resistance per ASTM D6978-05 Standard
Aurelia® Gloves (a division of Supermax Healthcare) is a leading international manufacturer of latex-free synthetic and natural latex disposable gloves. Since 1989 Supermax has provided superior quality hand protection products across the world to industries and individuals who depend on our gloves for their protection, safety, and piece of mind. For over 20-years Aurelia® Gloves has been a preferred glove brand in America for their consistent quality and comfort. Today, they are proud to announce a line of latex-free gloves certified safe for handling fentanyl and chemotherapy drugs.
-7.0 mil, patented MAX Grip™ texture
-High Visibility Orange
-Puncture & abrasion resistant
-Excellent chemical resistance and tensile strength
-4.5 mil, fully textured finish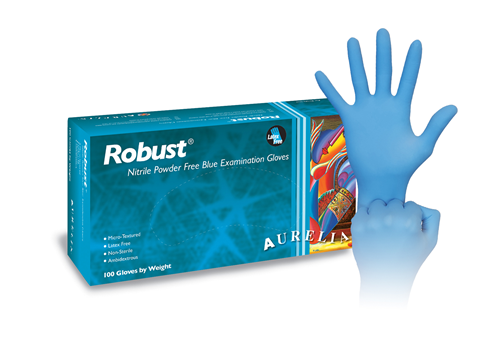 -Extended cuff for extra protection
-Puncture & chemical resistant
-4.5 mil, fully textured finish
-Blue color
-Puncture & chemical resistant
-Durable Black Nitrile
-5.0 mil, formulated for puncture & abrasion protection
-Black, fully textured for precision grip
-Oil and chemical resistant
-6 mil Powder-Free Nitrile
-Patented MAX-Grip™ Textured
-Excellent puncture resistance
-Superior chemical resistance and tensile strength
When you get that call and it's time to race to the scene, be sure to properly protect yourself and your staff with certified hand protection! Work with confidence and better focus! These styles boast long break-through times (the amount of time it takes before the glove's protective barrier degrades) and are completely latex-free. They may cost few extra pennies, but it's money well spent! Contact MDS for samples today!
Monday - Friday 8:30am - 4:30pm EST
Toll-Free +800-274-4637 | +716-668-4001 | [email protected]
"We Want You to Return Home Safely Everyday™!"