An Organized Facility

is an

Efficient Facility
Bowman® PPE Dispensing Solutions for Every Industry
Shopping for Dispensers? Our Prices Are Too Low To Advertise - We Encourage You to Visit MDS and Compare.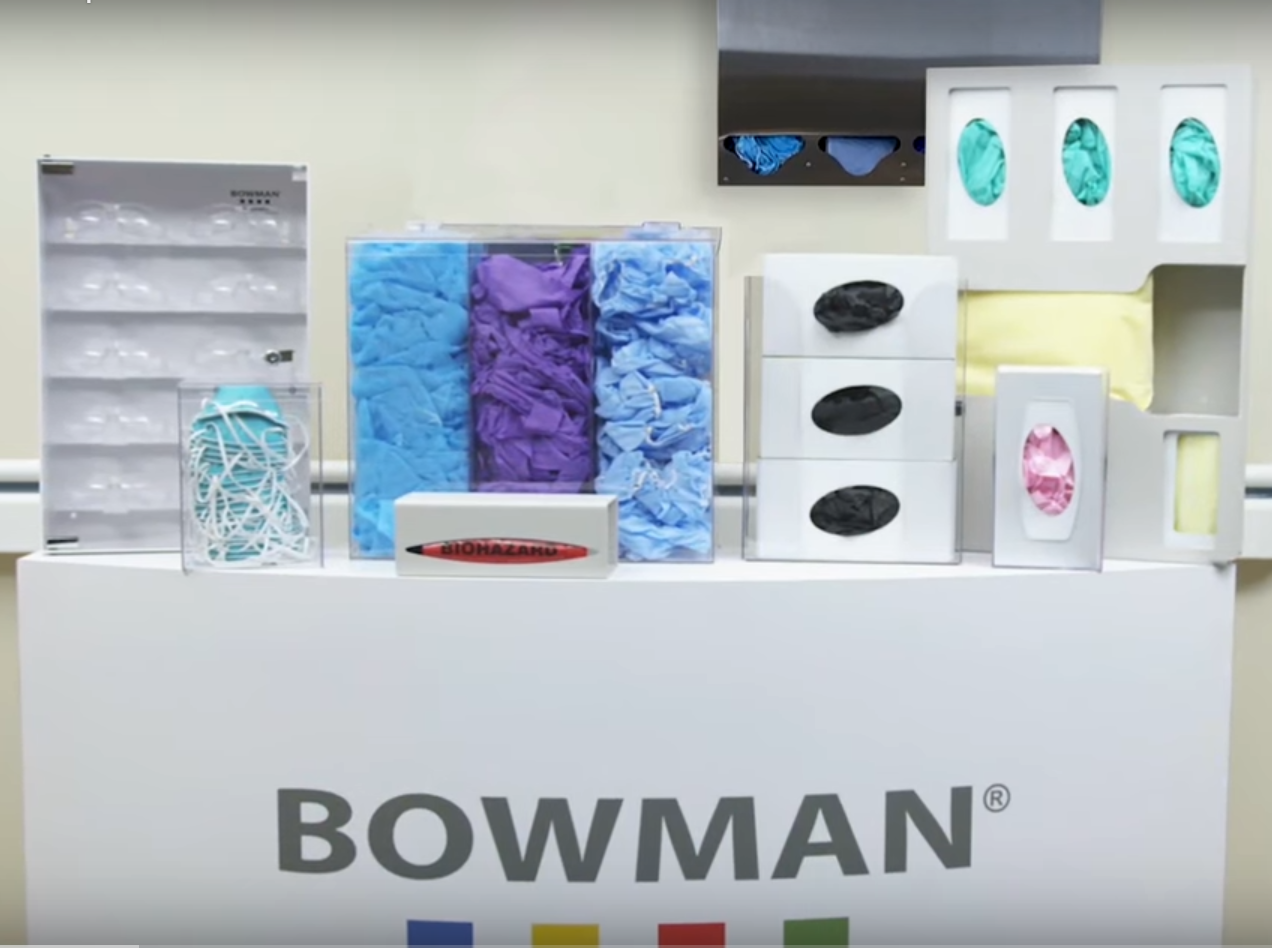 Back in the late 1980's, Bowman® launched its first glove box holder named "The Glove Butler" originally designed to be used in the back of ambulances. Over the last 30 years, the Bowman® product line has expanded beyond glove box dispensers and continues to develop innovative dispenser designs for gloves, masks, earplugs, mobile PPE carts and hygiene stations that includes over 60 different options.
Whether you need a standard location to store a few boxes of single-use gloves or have many areas or varieties of gloves to organize, Bowman® has solution for you. As the industry leader, Bowman® offers the most variety of material selection, color and styles. They offer good, better and best options to fit within any market and budget.
MATERIALS
The most economical solution is the coated wire dispensers made of heavy gauge wire to retain their shape and withstand normal use. The coated finish resists common chemicals and can be wiped clean with soap and water or normal hospital cleaners.
Sintra is a lightweight yet rigid plastic that is dent resistant and provides an excellent combination of rigidity and durability. Sintra dispensers are commonly used in the industrial safety market.
Not to be confused with fragile acrylic, Bowman's transparent dispensers are made with high-gloss PETG which offer extreme clarity and light transmission. PETG resists cracking, is shatter-proof and withstands most impacts without breaking.
Bowman's frosted line of dispensers is made of polycarbonate plastic which is a naturally transparent thermoplastic. One of the biggest advantages of Polycarb is its impact strength.
ABS plastic dispensers are strong, flexible and opaque making it ideal for situations for less visualization of content inside the dispenser is desired.
Bowman's Signature Series fauxwood dispensers provide a warm atmosphere within clinical healthcare settings. Also manufactured of ABS, the wood like finish are vinyl laminate which allows for the use of cleaning agents used within healthcare.
Nothing conveys strength more than steel. Bowman's powder-coated steel dispensers are very popular within food service, healthcare and manufacturing markets when high impact resistance is desired. Stainless steel is used overwhelmingly for its corrosion resistance. The bright stain resilient surface provides an aesthetically pleasing appearance and its reflective qualities project a professional image. Along with being sturdy, stainless steel is fire and heat resistant. Stainless products are popular in cleanrooms, sterile processing, food processing and manufacturing industries.
ORGANIZE. CONTAIN. COMPLY.
All of Bowan's glove boxes are available in single, double, triple and quad configurations to best fit your glove dispensing needs. For areas that require large volume dispensing beyond four boxes, two triple or two quad glove box dispensers can be mounted side by side or back to back.
Unlike the competition, many Bowman® dispensers come in divided and non-divided formats in both vertical and horizontal mounting options for nearly all their glove dispensers. This allows customers the flexibility to load from the top, left or right depending on your space restrictions.
SPECIALIZED SOLUTIONS
While most of Bowman's dispensers mount on a wall also available are mounting solutions to fit your cabinetry and specialized space saving dispensers that address space constraints that are difficult to overcome. From 16-in length cuff gloves, to extra wide dispenser boxes, to built-in recessed wall mount dispensers, Bowman® has a dispensing solution for your facility.
BULK PRODUCT SOLUTIONS
Sometimes regular glove boxes aren't always an option. Bowman's bulk glove dispensers can hold up to 250 loose gloves and are easily loaded from the top and dispensed from the bottom. Bulk dispensers can also be used to dispenses items like ear plugs, bouffant cpas, hand wipes, coffee pods and even candy! The majority of Bowman's glove box dispensers comply with the American Disabilities Act 4-inch projection guidelines.
Bowman® strives to create solutions for all your glove dispensing needs and understands that sometime traditional configurations won't meet your requirements. Bowman can create alternative options to help fill your needs. As a leader in glove box dispensers since 1988, Bowman understand your glove dispensing needs and has a best option to meet any budgetary requirements. Now all you need to do is tap the link and
It seems that our low pricing was upsetting the larger on-line retailers and consequently aren't allowed to advertise our prices on-line. We do however encourage you to shop and compare. And if we aren't the lowest we will sweeten the deal when you contact us.
Monday - Friday 8:30am - 4:30pm East Coast Time
Orders. Questions. Samples. Volume Discounts. Bowman Products Not Listed.
+(800) 274-4637 | +(716)668-4001 | [email protected]
"We Want You to Return Home Safely Everyday™"