Mobile PPE Carts Provide Accessibility, Protection & Control
There's a saying that an organized home is an efficient home and the same can be said for a hospital. When an emergency arises in a healthcare setting, it can be an extremely stressful situation, causing confusion on what steps to take next. Every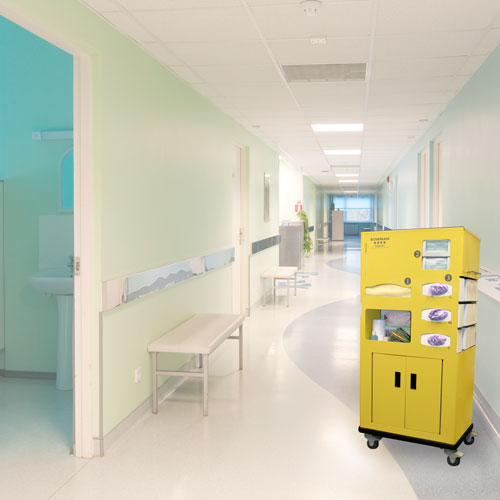 second becomes critical. It's important to know where emergency supplies are located because a few wasted seconds can mean the difference between success and failure.
An emergency department (ED), also known as an accident & emergency department (A&E), emergency room (ER), emergency ward (EW) or casualty department, is a medical treatment facility specializing in emergency medicine, the acute care of patients who present without prior appointment. Treatment of sick or injured patients require medical personnel to quickly don disposable personal protective equipment (P.P.E.) such as gloves, face shields, isolation gowns. This protective apparel is designed to prevent nurses, doctors and emergency medical technicians from exposure to blood borne pathogens or contamination.
Provide Protection When & Where It Is Needed
Important supplies are typically centrally located but this isn't always the case. Facilities faced with limited storage or poor access points are switching to mobile protection systems. These PPE carts streamline caregiving and move PPE close to the point of care. They're ideal for locations where space is at a premium and ideal for all patient care areas, emergency departments and patient floors to specialized areas such as ICU and isolation requiring personal protective equipment and isolation supplies. As the industry leader in specialized PPE dispensing, Bowman® offers the most variety of material selection, color and styles and has created mobile PPE carts so professionals can focus on the task at hand..
Improved Infection Prevention
BOWMAN® Patent Pending CT030-0000 Mobile PPE Cart II is made in the USA and holds laundered or boxed barrier gowns, earloop face masks or face shield masks, disposable gloves and has dedicated storage areas for additional isolation supplies. Some other features include:
Easy roll 3" casters with toe-locking brakes

Steel doors with magnetic closures

Process indicators visually identify donning order

Glove size indicators

Clear PETG lid with 50 lb. maximum weight capacity

Exceeds UL industry requirements for tipping stability

California Phase 2 Compliant
Product Specifications
Professional and attractive, this mobile PPE cabinet is designed for long-term use and heavy-duty applications. Bowman® PPE Cart II is constructed with safety yellow powder-coated aluminum and steel, gray powder-coated aluminum, brushed nickel hardware, and clear PETG Lid.
Specifications:
Chassis: Powder-Coated Aluminum

Doors: Powder Coated Steel

Lid: PETG Plastic

Base: Medium-density fiberboard (MDF)
These materials hold up well in the toughest of environments and are not affected by extremes in temperature, impacts or basic cleaning agents.
Dimensions: Dimensions rounded to the nearest 1/16"
26.10"W x 53.15"H x 16.67"D

66.3 cm x 135.0 cm x 42.3 cm
Contact us for volume purchase discounts. Item cannot be shipped UPS/FEDEX ground. Requires pallet delivery - special shipping charges apply.
Monday through Friday 8:30am - 4:30pm EST
Volume Discounts. Orders. Questions.
+(800) 274-4637 | +(716) 668-4001 |

[email protected]

| Fax +(716) 668-4496
+watch YouTube video on Mobile Protection System here