Disposable Gloves 101
If you think single-use gloves are the same, you would be wrong. Believe it or not, there are a wide variety of thin, elastic, colorful protective gloves that get used then disposed in the trash can. Whether you work in food processing, security, dental medicine, healthcare, the pharmaceutical industry, EMS or any other where inexpensive, disposable gloves are essential, there's an option for you!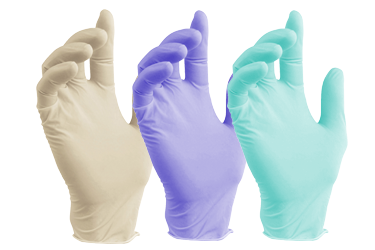 1.

Most Disposable Gloves are Thin
Advances in technology have enabled glove manufacturers to create ultra-thin gloves and despite the texture, they're actually very durable. Disposable gloves are manufactured to a specified mil thickness and the smaller the number, the thinner the glove. For professionals who require tactile sensitivity, a reduced 3-mil glove would be appropriate, but someone like an EMT or mechanic, a heavier gauge glove like an 7-mil is typically preferred.
2.

Textured Grip Surfaces
Disposable glove surfaces are smooth by nature and when employees wear disposable gloves, fluids of some type are typically involved and this can make handling small parts, instruments or tools tricky. A texture surface is added to almost all gloves to provide the wearer with enhanced gripping power. Some gloves have textured fingertips while others offer a full textured palm and fingers. Micro-texture is just that, an ultra-fine finish that resembles sand paper while a honeycomb texture or raised diamond texture channels fluids for greater surface-to-surface contact.
3.

Offered in a Variety of

Colors
The use of color in the workplace is becoming very popular and today's disposable gloves come in a rainbow of colors. They are available in white, many shades of blue, black, orange, green, pink, purple, magenta, lavender, gray and more. For those working in low-light conditions, disposable gloves made in high-viz lime green, magenta or orange will enhance safety.
Pharmaceutical and food processing plants are highly sensitive to contaminates in raw materials and finding a shred of a non-white, colored glove becomes easier to find and easier to trace back to the line or department. For some, colors can be a fashion statement and for others it helps masks contaminates. For example, black colored gloves hide grease, dirt, blood while pink is typically worn for cancer awareness.
4.

They're Available in Different Materials for Different Jobs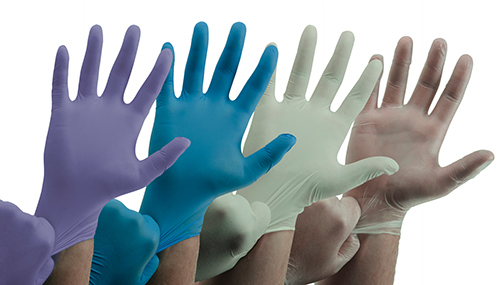 Latex gloves get a bad rap — even though they're excellent for elasticity, flexibility and touch sensitivity. While most of the population has no problem with latex, the people who do can suffer terrible allergic reactions. That's why latex-free style gloves such as nitrile and vinyl gloves are two other popular, alternative materials. Nitrile gloves are one of the most common disposable gloves, and they're appropriate for everything from parts handling and light janitorial work to pharmaceutical, dental and medical jobs. Nitrile gloves are flexible, durable, offers good touch sensitivity and are available in a wide variety of options. Vinyl gloves are commonly used in food handling, veterinary, security, janitorial, labs and even dental work. It's also very flexible, and thin enough for dexterous work but does not snug the hand. Polyethylene gloves resemble a plastic bag with fingers are common in food handling, veterinary exams and painting applications. Because they so inexpensive, they are sometimes worn over single-use gloves to prevent cross contamination when handling charts, answering a phone call or using a computer.
PLEASE NOTE: If the dispenser box is not labled as exam or examination then it is not to be worn for medical applications and protection against infectious agents and bodily fluids..
5.

Disposable Gloves Keep Improving All the Time
Technology keeps improving disposable gloves, so your choices keep getting stretchier, more resilient, healthier and better overall. Some are contoured or ergonomically correct (referred to as hand specific) for better fit, comfort and dexterity, and most gloves made today are powder-free. Some even have Allogel, Aloe Vera or vitamin E and lanolin moisturizing technology that keep the hands baby soft and aid against dry, irritated skin. And recently, we are seeing the introduction of single-use biodegradable gloves!
As long as people need inexpensive hand protection that can stand up to moderate and light duty work, disposable gloves will have an important job in personal safety and contamination control. They're not the strongest gloves you'll ever use, but, if you're looking for gloves that are suitable for dexterous, touch-sensitive work, then latex, nitrile, and vinyl are the best materials that the industry has to offer.
---
If you want to learn more about disposable gloves firsthand, why not request a free sample? And, for more information about the various types of disposable gloves that we offer...
Contact MDS Associates Monday through Friday 8:30am - 4:30pm EST.
+800.274.4637 | +716.668.4001 | [email protected]
We Want You to Go Home Safely...Everyday!