Rubber Gloves Ruining Your Skin?
These NEW Aloe infused gloves offer preventive alternative to traditional gloves
Many professions require workers to wear rubber gloves as they serve multiple purposes; they protect the wearer from hazardous or infectious materials, or help maintain hand cleanliness when working with paints, grease and other staining substances. They also protect products from human contamination – think pharmaceuticals, food service and clean rooms.

The problem is that rubber gloves can do quite a number on your hands, especially if you are changing gloves several times a day, interspersed with frequent hand washing. Health care professionals, clean room employees and those preparing food know how wearing gloves the majority of the day affect hands, from cracking and drying to rashes and infections. Anti-bacterial gels are filled with alcohol, only making that option worse.

Aside from the very real dangers of latex allergies, impermeable gloves impact wearers by drying out the hands. When you wear a single-use glove, your skin produces moisture in that enclosed environment. That moisture does not evaporate the way sweat does over the rest of your body. Instead, it stays trapped in the glove creating an excess of moisture.

If gloves maintain moisture, that's good, right? No. The moisture in the gloves signals your hands to stop producing the natural oils that keep skin healthy and soft. These areas of moisture can also quickly turn into rashes and infections, as warm and damp is the perfect environment for bacteria to thrive. Over-moisturizing afterwards can easily make things worse, aggravating sore spots and convincing your body enough moisture is present, when in effect it is only temporary.
Say goodbye to these problems and protect your most important tools – your hands. MDS is pleased to offer a series of aloe vera coated gloves that moisturize hands during use, greatly increasing the hydration your skin receives.
PCI +AlloGel® Nitrile Moisturizing Exam Gloves feature an AlloGel® interior coating that keeps hands healthy. These medical-grade gloves, available in magenta, copper and blue, feature Ultra Soft-Stretched™ and Perfect-Fit™ technology that provides excellent comfort, along with superior fit and less hand fatigue.

The AlloGel® Inner coating contains Allantoin, Collagen and Silicone for fresher, healthier hands and no residue. These gloves provide a very durable barrier and offer very good chemical splash protection. Latex- and powder-free, with micro-textured fingertips, these gloves are FDA 510k registered and meet or exceed all current FDA regulations and ASTM Standards. Ideal for dental, healthcare, EMS, industrial safety, laboratory and other uses.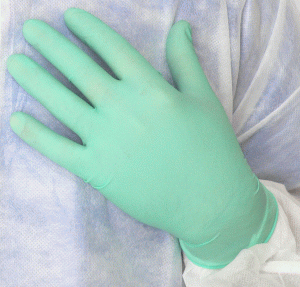 A more general-purpose exam glove, +Aloetex™ Latex Exam Gloves are coated with skin-soothing aloe that moisturizes the skin as the gloves are worn, soothing and moisturizing dry, chapped hands with no residue making these Dynarex® gloves perfect for professionals who change gloves frequently. The fingers are anti-slip textured for better gripping and the tapered cuff provides a more snug and comfortable fit around the wrist. Gloves are powder free and ambidextrous.
Last but certainly not least, +MaxiFlex® Active™ Grip Work Gloves feature an aloe vera and Vitamin E infused knit liner to protect those valuable hands. Breathable and ATG® formed to mimic the "Hand at Rest", MaxiFlex® Active™ palm coated gloves feature an ultra-light weight foam micro-cup finish, and a nitrile dip with white seamless knit nylon liner for a cooler wear.

Aloe Vera® and Vitamin E infused liner provides superior comfort and keeps the liner soft on the inside of the glove while the knit wrist ensures a snug fit. Designed to produce minimal lint and dust, they are also silicone free. MaxiFlex® Active™ gloves from PIP® are used in applications which require a high degree of dexterity and sensitivity, especially where grip is important, such as handling small oily parts and components, general assembly, gardening, landscaping, material handling, machining, micro-engineering, automotive components, painting, horticulture. Available in colors pink or blue.

When it comes to medical-grade, single-use nitrile examination gloves, MDS offers the top styles and brands used in the healthcare, research, pharmaceutical and dental fields. Even our exam grade aloe gloves combine moisturizing with strong, durable barrier protection and tactile sensitivity for all.
Samples. Questions. Orders.
+800.274.4637 | +716.668.4001 | [email protected]