Moisturize Dry, Irritated Hands Biodegradable Nitrile Gloves Featuring Patented EnerGel®
Skin Health Alliance (SHA) Accredited.
Ideal for Operators Who Regularly Wear SIngle-Use Gloves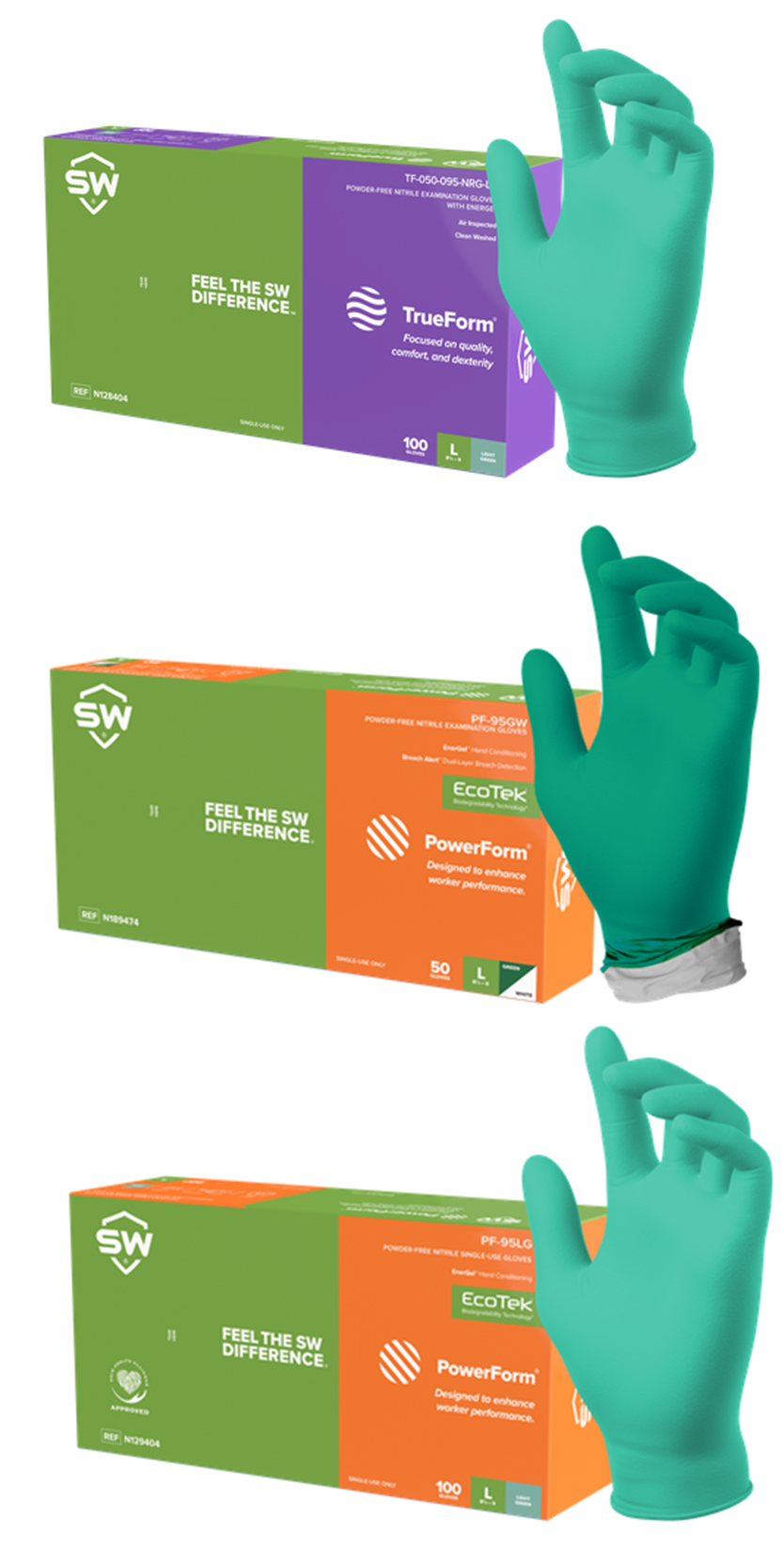 Versatile and affordable, single-use gloves are commonly worn by professionals in healthcare, food processing, laboratory and dental medicine for its' protective barrier properties. Single-use gloves are not only essential to protecting the hands from contamination or infection, but they can help keep environments cleaner as they minimize the spread or cross-contamination of germs and bacteria. Unfortunately the glove designed to protect a wearer's hands can inadvertently cause harm to the skin.
Disposable medical gloves are impermeable to liquids and consequently hot to wear. Because impervious type gloves do not allow the skin to breath, this causes the hands to perspire heavily. For some PPE wearers, sweat can cause dry and irritated skin over time which could lead to a medical condition such as dermatitis/eczema. If skin conditions worsen, it can have devastating effect to one's health and career.
SOOTHING RELIEF
If red, itchy rashes, inflammation, dry or cracked skin has you searching for a solution, perhaps you should consider latex-free examination gloves with moisturizing technology!
Prevention is crucial for healthy skin and consistent daily moisturizing helps protect the skin and fights dry, brittle skin but a daily regiment can sometimes be difficult to upkeep. It's also important to be proactive rather than reactive as many professionals only start to moisturize once they notice a hot spot but unfortunately this is often too late. Gloves with moisturizing release agents can be of great assistance especially if they're worn all-day, everyday
A Patented Additive Clinically Proven to Improve Hand Health
SW® Sustainable Solutions specializes in manufacturing, R&D and hand health technologies to provide premium hand protection products that enhance worker performance. SW® brings a different approach to the category. An approach that involves applying industry insight and an investment in manufacturing innovation to find better ways to advance worker safety, improve hand health, sustainability and increase job performance. It is a difference you can feel.
ENHANCED HYDRATION RETENTION
SW's proprietary EnerGel® moisturizing technology is designed to improve hand health, counter the effects associated with the wearing of disposable hand protection. EnerGel® is a Skin Health Alliance (SHA) Accredited glove coating that delivers 2-times more skin moisturizing benefits than standard Aloe technology. EnerGel® penetrates deep into the skin layer deploying key Aloe polysaccharides helping to retain moisture.
It is featured on these three SG® Latex-Free Nitrile Exam Gloves available in two BIODEGRADABLE formulations:
Combine EnerGel® with TrueForm® Nitrile Exam Gloves for ease of use and high dexterity.
Combine EnergGel® with PowerForm® Nitrile Exam Gloves to execute tasks with more confidence while optimizing on-the-job performance every day.
Aloe Vera, creams and other emollients are widely used as moisturizers. However, due to its high molecular weight, they cannot penetrate the skin surface and are easily washed away leaving the skin hydrated only for a short time.
REDUCED CONTACT DERMATITIS
Nitrile Examination Gloves featuring EnerGel® technology are designed to hydrate and rejuvenate the hands for all-day comfort and better long term hand health. When wearing gloves with EnerGel®, it assists the body's healing process, soothes skin, and reduces inflammation and irritation. EnerGel® technology only releases Aloe Vera moisturizer while the glove is being worn and it won't leave any trace residue or make the hands sticky when you remove the gloves. Your hands will feel hydrated, refreshed and soft!
When it comes to soft, supple skin, a daily moisturizing regimen helps the skin stay hydrated and switching to EnerGel® gloves will help you accomplish healthier hands. All you need to do is tap the link and …
Monday – Friday 8:30am – 4:30pm EST
Call or Click
Samples. Non-Published Volume Discounts. Questions.
Toll-Free +800-274-4637 | +716-668-4001 |

[email protected]
"We Want You To Return Home Safely...Every Day!™