Innovative Single-Use Latex-Free Nitrile Exam Gloves
A dependable pair of disposable gloves when working in the healthcare field is of the utmost concern. Single-use hand protection is a first line defense in protecting the wearer from infectious agents and cross contamination and a key component i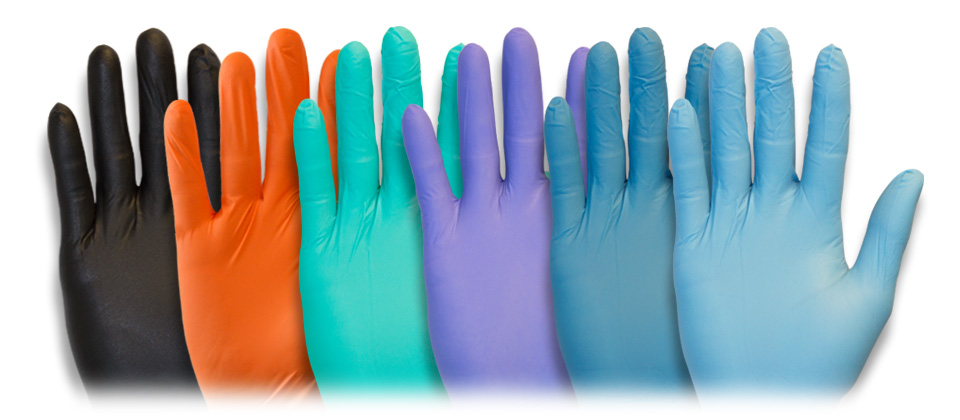 n infection-control and infection prevention. Proper hand protection reduces the professional's chance of exposure to bloodborne pathogens and passing along contagious diseases with failed or non-medical gloves.
Having exam gloves break or expose a staff member to untold diseases or chemicals because of poor quality is certainly one of, or perhaps even the most scary moment of any employees career. They put their health and the well-being of others in dependability of their exam gloves.
Don't let this happen to you and your staff, trust the professionals at MDS for your hand protection supplier.
Our selection of medical-grade single-use nitrile examination gloves includes the top style and brands offered and used in the healthcare, research, pharmaceutical and dental fields. Their formulations and composition ensures strong, durable barrier protection and tactile sensitivity for all.
All of our disposable nitrile exam gloves are FDA 5/10K registered, exceed current FDA examination glove standards and are fully guaranteed by the manufacture. We offer gloves in a wide variety of colors, mil-thickness, formulations, grip textured surfaces, lengths and packaging!
-Excellent Tactile Barrier Formulations
Exam gloves need to be comfortable. For many, gloves are a way a life-worn everyday hours at a time and the wearer needs to be able to use them with peak efficiency. Ultra-soft stretch nitrile gloves provide the wearer with high tactile function and exert less force. The glove texture is drapable, lightweight and offered in 2.0, 2.5, 3.0, 3.5 and 4-mil reduced mil thicknesses. Their ultra-thin composition is deceivingly strong and provides great barrier protection. For those that prefer a heavier feeling glove, we offer a soft, low-modulus formulation that slowly conforms to hand as it works. Typically made in heavier gauges (5-mil+) it uses the heat from your hand to soften the compound.
-Distinguish & Brighten with Color
Color-coding has drastically grown in many industries thanks to the many colors now available to wearers of nitrile exam gloves. Pink, lavender or purple nitrile color gloves can be worn to make a visual statement such as your support for cancer awareness, and black nitrile gloves are typically worn in EMS, law enforcement or tattoo/piercing. Colored gloves can distinguish departments or lines and make tracing easier. They also add a splash of color to brighten the office.
-Gloves that Hydrate the Hands
Liquid-proof gloves are hot to wear, and the trade off to barrier protection is sweat. Sweat produces salt, and when the hand is subjected to sweat salt, the skin drys out and minor wounds can be further irritated or become inflamed. With each change of gloves, healthcare providers are also required to wash and/or sanitize their hands. These forces can further dry the skin and lead to Dermatitis if the hands aren't properly maintained and moisturized daily. For professionals who suffer from dry or irritated skin, check out our line of nitrile examination gloves with moisturizer. An innovative inner glove coating releases skin conditioners that hydrate the hands leaving them soft, fresh.
-Latex-Free | Powder-Free | Textured
Single-use nitrile examination gloves are powder-free and 100% latex-free. Our nitrile exam gloves can be used for those who suffer from latex sensitivities or allergies. A textured grip surface is ideal for secure gripping power in wet and dry applications, especially with small, delicate parts.
-Fentanyl-Resistant
As the opioid epidemic continues, it is creating challenges for the first responders on scene of potential opioid-related overdose calls and it's referred to as Transdermal fentanyl exposure or opioid toxicity. Law enforcement officers, emergency medical technicians and first responders have been warned to handle fentanyl with extreme caution; some have fallen seriously ill after getting it on their skin or clothing. For paramedics, emergency medical technicians, police officers, firefighters, rescuers, and other trained members who are first on the scene, we have fentanyl-resistant disposable gloves designed to protect you!
Hi-Risk or Extreme Protection
Operators who work in emergency medical services, medical research, central sterilization or chemotherapy are regularly exposed to harsh conditions. One case of exposure could result in serious illness. Most standard single-use gloves are made for applications that require tactile touch and are usually 9-inches in length which are more appropriate for applications such as patient exams or food processing but are not suggested hand protection for extreme or hi-risk circumstances. Over the years, many glove manufactuers have introduced single-use hi-risk gloves that feature an extended 12-inch cuff made with a heavier glove gauge. Designed for additional strength and coverage, hi-risk gloves are a better option in hand protection
Disposable exam gloves need to protect both the medical professional, co-workers, patients, and their families back at home. When the wearer counts on gloves to protect so many people, there's only one place to get them, MDS Associates.
Monday - Friday 8:30am - 4:30pm EST
Toll-Free +800-274-4637 | +716-668-4001 | [email protected]
"We Want You to Go Home Safely Every Day!"