Salon Gloves

that

Protect

a

Stylists Most Important Instrument

–

The Hands
Hairdressers and stylists are 17 times more likely to suffer from a range of skin conditions than other workers because of the huge array of chemicals in cosmetology products such as hair dyes, perm mixtures, bleach, conditioning treatments and hair relaxers. Repeated contact or exposure to hair dyes, perm mixtures, bleach, conditioning treatments and hair relaxers and even tap water will not only prolong the healing process, it can further aggravate existing skin conditions.
Single-use gloves cover exposed skin reducing the chance for a skin infection making them a must have product if you want to keep your hands clean and staff healthy while working. MDS has just the solution. Available in three styles, these single-use latex-free gloves offer performance, reliability and protection at very reasonable prices!
BLACK

LATEX-FREE VINYL SALON GLOVES

Shop Now
Disposable gloves should be worn by all workers, including nail technicians, cosmetologists, hair stylists, estheticians, massage therapists and barbers for its thin water-proof layer of barrier protection against a wide variety of chemicals, and its ability to prevent the cross-contamination of germs and bacteria between the operator and client. They can also prevent skin diseases such as chemical burns, eczema, and dermatitis.
Protect your hands with our latex-free powder-free vinyl gloves that allow optimal sensitivity and freedom of movement, yet are strong enough for the most demanding salon tasks, all at competitive pricing. Designed to be loose fitting, operators can slip in and out of these gloves fast and easy multiple times saving time and reducing usage.
They're thin enough to feel the water temperature, these gloves allow the wearer to manipulate instruments, foil, end papers, head bands, neck, wax strips and other spa essentials easily and will glide through hair with less snagging. The black color masks dye stains from hair coloring compounds while portraying a clean, stylish and sanitary image for your clients.
MAY WE SUGGEST

BIODEGRADABLE

?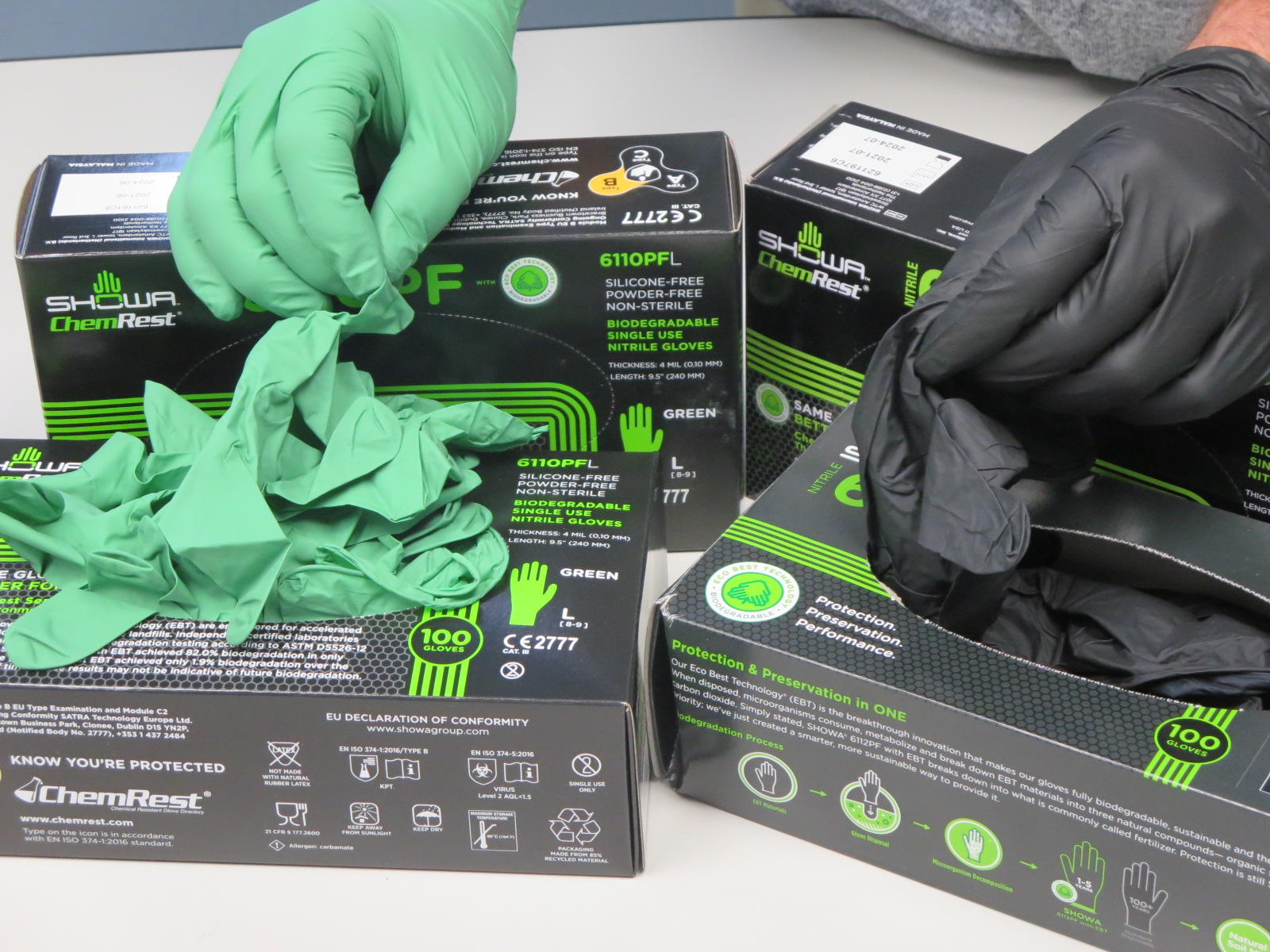 If you seeking enhanced chemical protection for extended periods of time, single-use nitrile gloves provide longer break-through times and a broader range of chemical protection. Snug fitting, strong and tactile, nitrile gloves are popular everywhere for its versatility. Growing in popularity are our GreenCircle Certified Biodegradable powder-free latex-free nitrile gloves!
An estimated 100 billion pairs of gloves are tossed in the garbage each year where studies have shown it can take 100+ years for gloves to biodegrade. Taking the next step in sustainability, SHOWA® has expanded its biodegradable product range of hand protection products featuring Eco Best Technology®±.
Shop Now
These revolutionary Nitrile EBT Gloves offer the same protection, performance and grip as their regular glove counterparts, but are better for the planet! May we suggest SHOWA® 6112PF Black Latex-Free Nitrile Gloves for aesthetic appearance or the SHOWA® 6110PF Green Latex-Free Nitrile Gloves for sustainability statement impact.
If your establishment offers a variety of cosmetic treatments and cosmetic services for men and women that include services such as professional hair cutting and styling, manicures, pedicures and/or cosmetics, single-use gloves should be regarded as essential to personal wellness and a hygienic work environment.
Monday – Friday 8:30am – 4:30pm EST
Call or Click
Samples. Non-Published Volume Discounts. Questions.
Toll-Free +800-274-4637 | +716-668-4001 |

[email protected]
"We Want You To Return Home Safely...Every Day!™
±SHOWA® EBT gloves achieved 82% biodegradation in only 386 days, while gloves without EBT achieved only 1.9% biodegradation over the same period of time.