Changing

the

Future

of

Disposable Hand Protection
Biodegradable in Landfill
A New Era Has Arrived! Sustainable Single-use Nitrile Gloves Are Designed to Solve the World's Plastic Pollution Problem While Reducing Environmental Impact.
---
Unfortunately when it comes to wearing single-use gloves, personal safety often trumps sustainability. Over our many years in business, several customers have told us they felt guilty tossing their dirty disposable gloves into the trash. While grateful for the protective barrier, these operators are fully aware that the gloves they dispose each day are destined for landfill where it will take hundreds of years to decompose.
In case you didn't realize it, 100 billion pairs of disposable gloves are thrown away each year resulting in gloves buried across our country. Because conventional nitrile gloves are made with a synthetic rubber compound (polymer synthesized from petroleum byproduct) they're very resistant to microbial attack which delays degradation for 100-200 years. This means the very first disposable nitrile gloves ever produced are still out there somewhere.
LANDFILL-FRIENDLY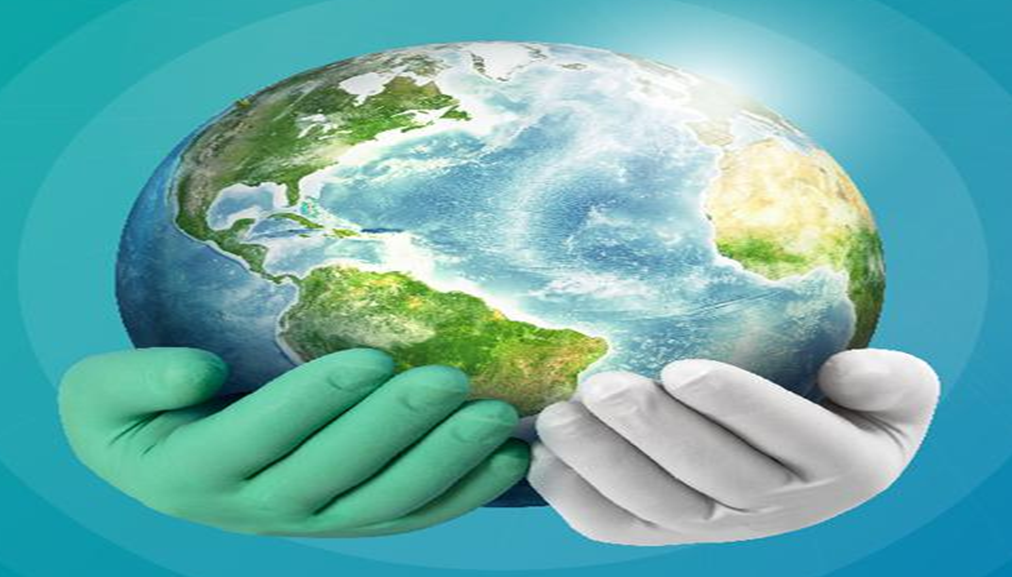 If I told you we can provide your facility with single-use powder-free nitrile gloves that breakdown 82% in as little as 386 days and performs, protects as good, if not better than your brand, would you consider converting to a biodegradable glove?
A HEALTHIER CHOICE FOR THE PLANET
Do you have a green initative? A new era in disposable hand protection has arrived and it allows facilities to protect and preserve their workforce and the planet. SHOWA® and SW® Safety Solutions are innovative glove specialists that have elevated the bar on glove sustainability.
BIODEGRADATION TECHNOLOGIES
Both of these glove producers currently offer an extensive selection of high performing biodegradable latex-free hand protection on the market. SW's Eco-Tek® technology and Showa's Eco-Best Technology® (EBT) are next steps in the sustainability journey: a way to reduce the impact that gloves have on the environment.
Available are biodegradable latex-free nitrile gloves that meet FDA food contact standards 21CFR, 177.2600 and styles certified safe for use with chemotherapy compounds, fatal toxins, pathogens and medical procedures in a variety of colors, thickness and lengths. Also available are the first ever biodegradable gloves 100% made in the USA by SHOWA® with many styles boasting TAA compliancy and nitrile gloves from SW® Safety that feature Aloe Vera moisturing technology and Breach Alert™ Visual Dectection.
VALIDATED & CERTIFIED BY A LEADING INDEPENDENT THIRD PARTY
Thanks to special additives, these eco-friendly gloves will decompose within 1 to 5 years in active anaerobic landfill, whereas conventional nitrile gloves need more than 100+ years. Both of these manufacturer's biodegradation abilities have been validated by GreenCircle – a renowned, independent certified laboratory using international test methods ASTM D5511 and D5526 -the standard tests developed for determining anaerobic biodegradation of plastic materials under accelerated landfill conditions.
HOW BIODEGRADATION WORKS
Special proprietary additives are added to the nitrile compound during production

Gloves are disposed

Gloves are discarded into biologically active landfill

Microorganisms break down the gloves

Organic soil and biogas is left in its place

THE ENVIRONMENTAL IMPACT IS THE ONLY DIFFERENCE
Biodegradable gloves require biologically active landfill (which are growing across the nation) for biodegradation to occur. This means these sustainable gloves can't begin to decompose prior to disposal.
Our line-up of biodegradable nitrile gloves do not leave any toxic residue behind yet offer the same barrier protection, fit, feel, performance and grip as their regular glove counterparts, but are much better for the planet! And they're competitively priced as well!
Benefits of Converting to Biodegradable Hand Protection
Reduced landfill

Prevents waste pollution

Supports stakeholder's Green Programs

Economic benefits - saves money

Qualify for local/national incentives for going green

Positive environmental impact increases company moral

Lower carbon footprint

Improves company image
These latex-free gloves offer the perfect balance between tactility, strength, sustainability and cost. If you're seeking single-use nitrile gloves, you can make a positive impact on our planet without sacrificing protection, performance or comfort! Now is the time to cover your team and switch to one of these sustainable glove styles today! What are you waiting for? All you need to do is tap the link and …
Free Shipping on Orders Over $499
Monday - Friday 8:30am - 4:30pm EST
Click or Call Today
●Orders. ●Volume Discounts. ●Questions. ●Samples. ●Special Requests.
Toll-Free +800-274-4637 | +716-668-4001 | [email protected]
"We Want You To Return Home Safely...Every Day!™