The

Fingerprint Legacy
Stop Contributing Landfill- Be Part of the Biodegradable Solution!
Conventional Nitrile Gloves Require 100+ Years to Fully Decompose In Landfill. This Means The Gloves You Disposed Decades Ago Could Be Traced Back To You Today.
---
From driving our car to heating our home, the choices we make in our everyday lives leave an impression on the environment. We've heard the term "carbon footprint" often used to describe the amount of carbon being emitted by an activity or organization, but have you heard the newest eco-term "landfill fingerprint"?
A landfill fingerprint is an unintentional legacy created by professional users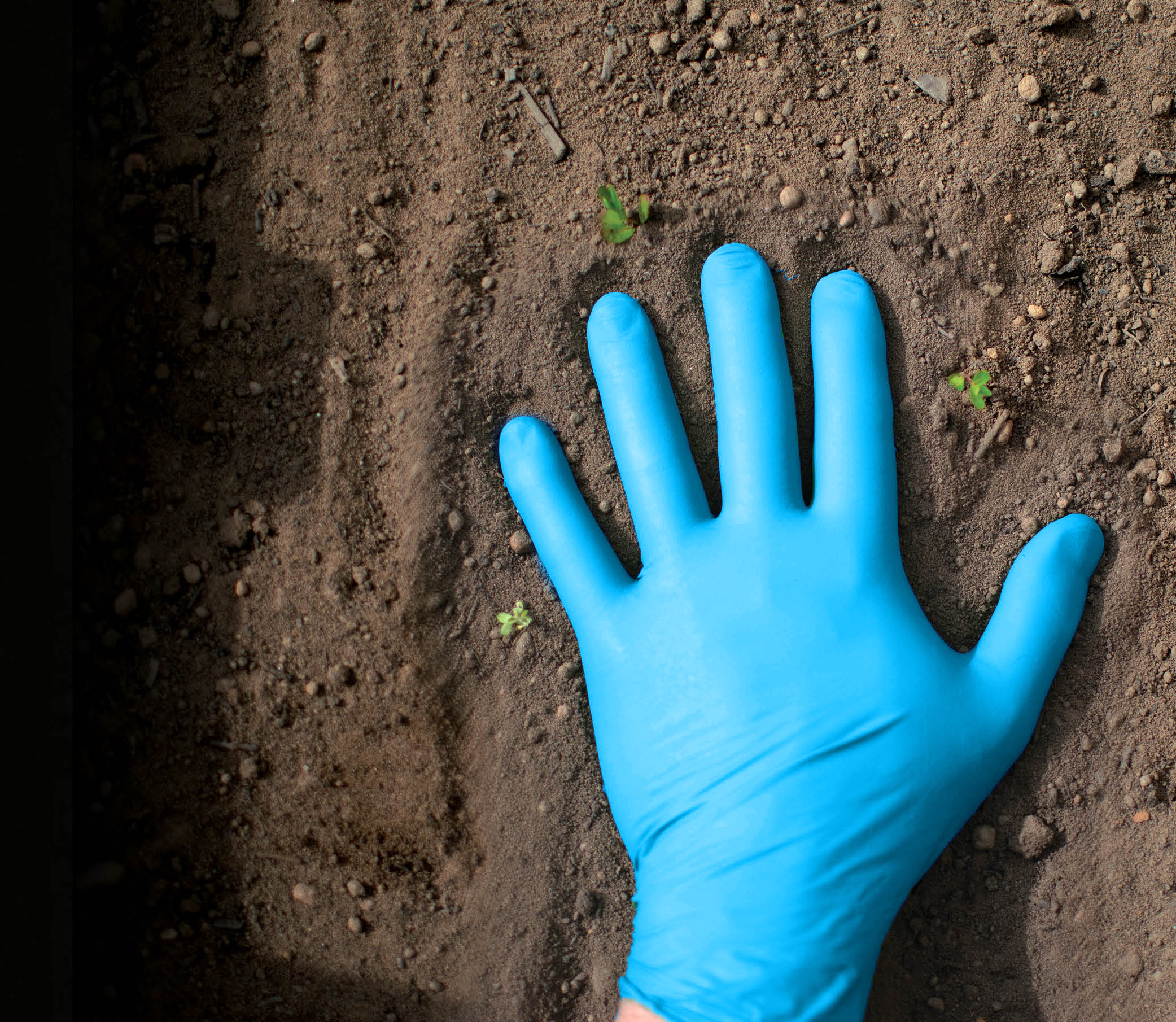 of single-use nitrile gloves. Because conventional disposable nitrile gloves are made of synthetic rubber, it's very resistant to microbial attack and requires 100+ years to achieve degradation in landfill.
Billions and billions of gloves are worn and disposed in landfill every year and this means virtually every glove ever worn is sadly still buried in landfill - take a minute and think about the magnitude of this problem.
THE LEGACY
With 10 fingerprints with every change-out, disposed gloves could potentially be traced back to the wearer decades later. While it would be like finding a needle in a hay stick, technically it could be accomplished because discarded conventional gloves will remain in landfill fully intact for future generations to inherit.
THE GLOVE INNOVATOR
This waste disposal problem has spurred industrial glove innovator SHOWA® Group to take a growing interest in the biodegradability of single-use nitrile gloves.
SHOWA's products include the world's first nitrile glove, introduced back in 1992, and the world's first biodegradable single-use glove, introduced in 2012. Today, SHOWA® delivers the most extensive selection of biodegradable hand protection in the world!
A NEW ERA IN DISPOSABLE HAND PROTECTION HAS ARRIVED
Taking the next step in sustainability, SHOWA® has expanded its biodegradable range of hand protection products that feature their patented soft, low modulus formulation combined with Eco Best Technology® (EBT). SHOWA's Eco Best Technology® (EBT) offers the same barrier protection, performance, strength, fit, chemical resistance and grip as regular nitrile gloves, but is measurably better for the planet!
SHOWA® gloves with Eco Best Technology® are specially engineered with proprietary organic additives that promote accelerated biodegradation in biologically active landfills (which are growing in popularity by the way). Long-term landfill biodegradation testing from GreenCircle® (an independent certified laboratory) has shown SHOWA's gloves with EBT achieved 82.0% biodegradation in only 386 days, while gloves without EBT achieved only 1.9% biodegradation over the same time per ASTM D5526 test method. This translates to less disposable PPE sitting in landfill and better waste management around the world.
SINGLE-USE LATEX-FREE EBT NITRILE GLOVES
Available from SHOWA® Group are latex-free biodegradable gloves in colors green, blue and black that meet FDA food contact standards 21CFR, 177.2600, sustainable nitrile gloves certified for use with chemotherapy compounds, fatal toxins (fentanyl) and FDA approved medical exam gloves. Other planet-friendly gloves include a growing line of reusable chemical-resistant gloves and the first ever biodegradable gloves 100% made and sourced in the USA that boast TAA compliancy. TAA compliance is important for any company seeking to do business with U.S. government via GSA Schedules.
SHOWA® BIODEGRADABLE SINGLE-USE LATEX-FREE EBT NITRILE GLOVE STYLES
+ SHOWA® 6110PF BIODEGRADABLE GREEN EBT NITRILE GLOVES
+ SHOWA® 6112PF BIODEGRADABLE BLACK EBT NITRILE GLOVES
+ SHOWA® 7500PF BIODEGRADABLE BLUE EBT NITRILE GLOVES
+ SHOWA® 7502PF BIODEGRADABLE BLUE ACCELERATOR-FREE EBT NITRILE GLOVES
MADE IN USA

/TAA COMPLIANT
+ SHOWA® 6005PF BIODEGRADABLE BLUE EBT NITRILE GLOVES
+ SHOWA® 7005PF BIODEGRADABLE BLUE EBT NITRILE GLOVES
+ SHOWA® 8005PF BIODEGRADABLE BLUE EBT NITRILE GLOVES
+ SHOWA® M7005PF BIODEGRADABLE BLUE EBT NITRILE EXAM GLOVES
+SHOWA® M7002PF BIODEGRADABLE BLUE EBT NITRILE EXAM GLOVES
We can't change Earth's past but we can change its future. Don't contribute to the problem but be part of a sustainable solution. A new ERA of disposable hand protection has arrived ushering the future of disposable hand protection. Convert your conventional nitrile gloves to our SHOWA® brand gloves with accelerated biodegradation and divert landfill.
Preserve the planet while protecting your team. MDS offers you a growing portfolio of eco-friendly hand protection. All you need to do is tap the link and …
Orders.

Questions.

Volume Discounts

.

Samples.

Special Requests.
Call or Click Today
Monday - Friday 8:30am - 4:30 EST
+800-274-4637 | +716-668-4001 | Fax +716-668-4496 | [email protected]
"We Want You to Return Home Safely Every Day"
As an authorized key distribution partner of SHOWA®, MDS can help you source single-use nitrile gloves from a carton to a container!