BIODEGRADBLE GLOVES
THAT GET DISPOSED ALONG WITH FOOD SCRAPS!
If You're Using Disposable Gloves In Your Food Operation, Consider This Line of FDA Food-Safe Biodegradable Hand Protection. Just Toss Them In The Garbage and Let the Landfill Do the Rest!
Nowadays glove dispenser boxes have virtually become a spokesperson for many corporations. As food service operators, the disposable gloves you wear to defend against the cross-contamination of germs are often on full display for patrons to scrutinize as they wait for their food items. Supply chain managers, business owners and sustainability officers should take note that if your single-use gloves aren't biodegradable, you might want to consider switching brands.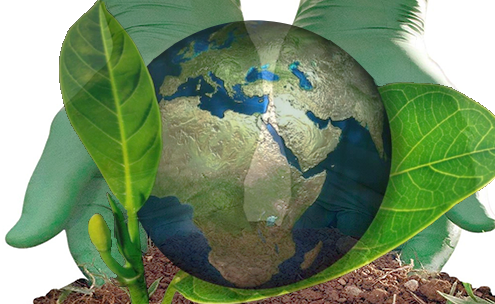 ENVIRONMENTAL IMPACT
From take-home food containers to drink cups and straws, consumers are now scrutinizing the environmental impact of the single-use gloves you opt to wear.
It seems that a relatively new selection of biodegradable gloves has patrons wondering what will come of your gloves once they're disposed, as conventional disposable gloves require hundreds of years to decompose in landfill.
With a growing segment of consumers expecting Eco-friendly items wherever possible and especially within food service and processing operations, the hand protection you use to serve dining guests can impact your company's image.
BIODEGRADABLE GLOVES FOR FOOD OPERATIONS
Unfortunately, almost all disposable gloves are NOT biodegradable; however SHOWA® Group (the originator and inventor of the world's first nitrile glove) has changed the landscape and introduced the first of its kind sustainable nitrile gloves with accelerated biodegradation!
With the state of our planet on the minds of the public more than ever, you can't afford to be seen taking a back seat when it comes to the environment. A growing segment of customers are growing increasingly concerned with Eco-friendliness and environmental impact making it imperative for food service operations to make changes to its hand protection protocol. SHOWA® sustainable latex-free gloves can leave a positive impression with guests without leaving behind a legacy in landfill.
If you cook, serve or handle food or cater outdoor events, work in a deli, cafeteria or food production facility you should know there are high-performing, sustainable FDA food-safe single-use latex-free gloves that comply with Federal regulations 21CFR, 177.2600. Some latex-free gloves also meet the ASTM D6978-05 standard for fentanyl resistance.
PRESERVE THE PLANET
Performance & Protection As Good, If Not Better Than Your Brand!
A new era in disposable hand protection has arrived and it allows food facilities to protect their workforce while preserving the planet. Taking the next step in sustainability, SHOWA® has expanded its biodegradable product range of single-use hand protection products featuring Eco Best Technology®. Gloves with EBT offer the same protection, performance and grip as their regular glove counterparts, but are better for the planet.
DISPOSE IN FOOD BINS
Because conventional disposable gloves require +100 years to decompose in landfill, many "green" food service operations have converted to our popular SHOWA® biodegradable latex-free nitrile gloves as these can simply be disposed along with food waste!
CERTIFIED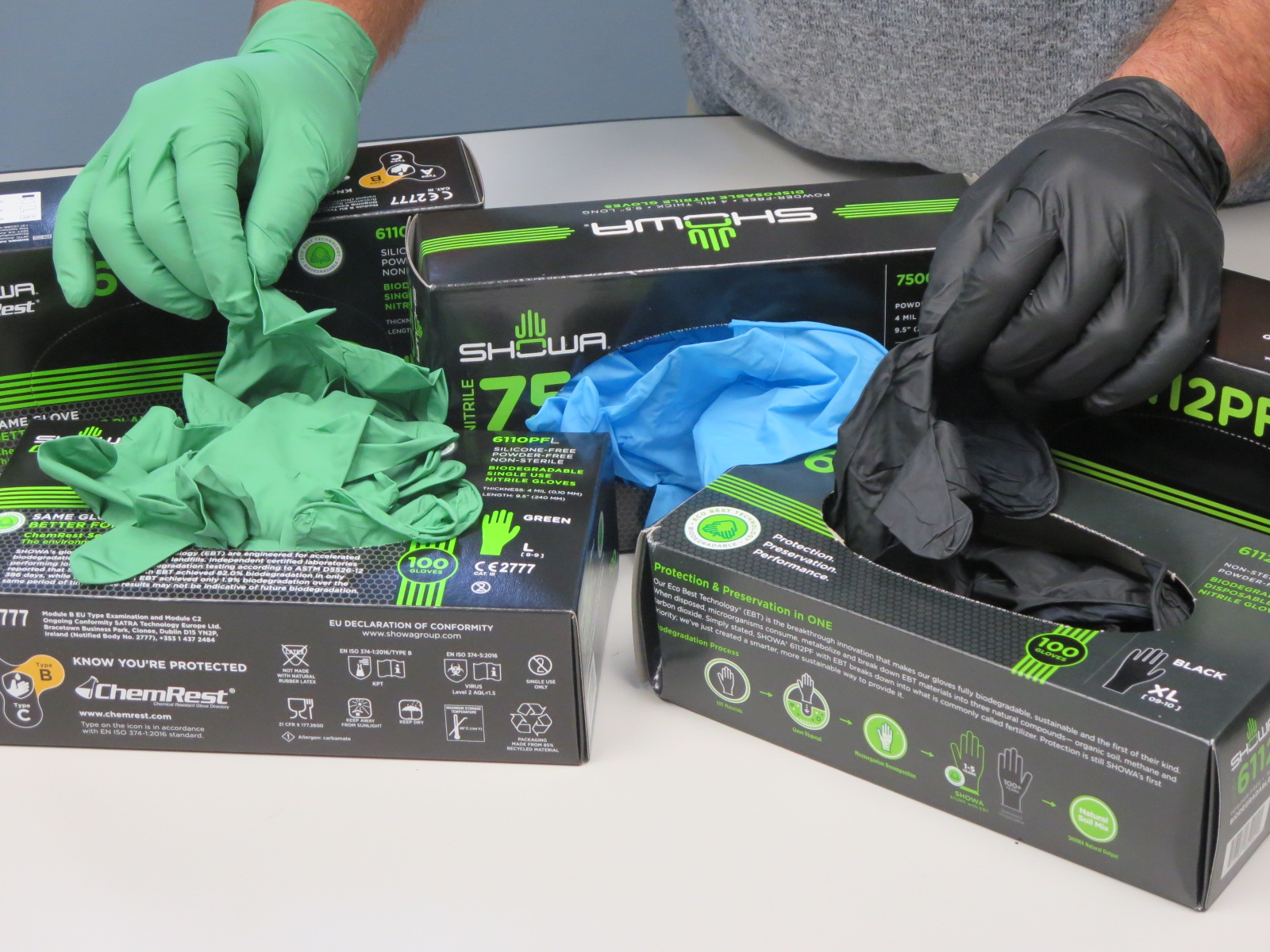 Validated by GreenCircle® – a renowned, independent certified laboratory using international test methods ASTM D5511 and D5526 -the standard tests developed for determining anaerobic biodegradation of plastics under accelerated landfill conditions, these SHOWA® nitrile gloves are certified to decompose 82% in as little as 386 days leaving behind healthy soil thanks to special additives.
COLOR-CODING
For a number of food facilities, color-coding is prized as a preventive control for its ability to easily and quickly communicate information essential for food safety. Available in popular blue, black and green colors, SHOWA® sustainable single-use EBT nitrile gloves are perfect for color coding production lines, departments and processes.
At 4-mil thick, SHOWA's patented soft, low modulus formulation provides users with a unique and comfortable glove wear experience. These disposable nitrile gloves are not only the perfect hand protection solution to protect food against direct contamination, cross-contact, and cross-contamination incidences, they're also resistant against a wide variety of chemicals and can be used with many institutional disinfectants and industrial cleaners.
PROVIDE IMPACT
These Eco-friendly glove products are a cheap and effective way to make sustainable changes within your catering or food service operation while impressing guests and strengthening your brand. The use of "green disposables" also reinforces to staff and customers that you are committed to important global issues and not just profits.
Whether your food business has been around for years or a new start-up, don't forget to advertise the ways you're contributing to a greener planet. By making your food service business more environmentally friendly, you can both appeal to a wider customer base and help reduce your business's negative environmental impacts all while enhancing your image. All you need to do now is tap the link and …
Questions. Samples. Special Requests. Volume Discounts.
Call or Click Today
Toll-Free +800-274-4637 | +716-668-4001 | [email protected]
Monday - Friday 8:30am - 4:30pm EST
"We Want You to Return Home Every Day™